Technoparks, Incubators, Business Angels: what can help a startup take off?
Cost of services:
from 1600 USD
Legal support of investment activity in Ukraine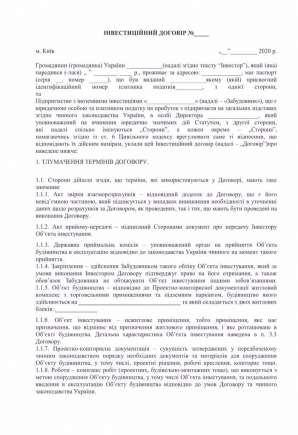 Reviews of our Clients
Partner, Denis Y. Lysenko, Vasil Kisil & Partners
... we would like to express our respect and gratitude for the fruitful cooperation.
... our work on joint projects assured us of your high level of professionalism

General director I.Logvinenko , Bravo Airways
Bravo Airways company expresses its gratitude to law firm "Pravova Dopomoga" for high quality and timely provision of legal services.

General Manager Stashkevych I.Y., LLC "Trading company" Rud"
We would like to indicate that law firm "Pravova Dopomoga" has become a reliable partner for legal services provision and we can recommend it as a team of qualified professionals who are easy and pleasant to deal with
President Tedeev E.S., Ukrainian wrestling association
Ukrainian wrestling association would like to express its sincere appreciation to the team of Law firm "Pravova Dopomoga" for mutually beneficial cooperation
General director Skibinskiy V., Yokogawa Electric Ukraine Ltd.
Yokogawa Electric Ukraine Ltd. recommends Vladimir Gurlov and his team of lawyers as a reliable legal partner and advisor for foreign businesses in Ukraine...
L. Chervonyuk, LLC "Vitalux"
Vitalux company highly appreciates results of cooperation with Law firm "Pravova dopomoga", can characterize it as a reliable partner and based on personal experience is ready to recommend it to interested persons...
G. Zeynep Kucuk, SANOVEL ILAC SAN. ve TIC. A.S.
Helped with the liquidation of a foreign representative office in Ukraine
Chief ophthalmologist of Ukraine, Oksana Vitovska, All-Ukrainian alliance of ophthalmologists
We would like to express sincere gratitute to the team of Law firm "Pravova dopomoga" and personally to Volodymyr Gurlov for professionalism and purposefulness in your work.
Technological advancements not only contribute to the creation of high-tech products but also give rise to a thriving multibillion-dollar business industry, aimed at supporting and aiding innovative companies and startups. Among the well-known entities in this industry are business incubators, technology and industrial parks, business angels, and venture funds.
In this article, you will discover the key types of organizations that can help your project thrive and expand. However, what are the prospects for such startups in Ukraine?
Industrial Parks in Ukraine
Industrial parks are designated areas where participants can engage in economic activities related to manufacturing industries, processing industrial and/or household waste (excluding waste disposal), as well as scientific and technical activities, and information and electronic communications.
Essentially, an industrial park is a specific territory equipped with the necessary infrastructure and resources to facilitate business development. Industrial parks primarily target businesses involved in manufacturing and producing new products or providing specialized services. They are not exclusively focused on attracting innovative projects and startups.
On the other hand, industrial parks are highly appealing to existing businesses and investors seeking to invest in such ventures. Developed economies often have government support programs for industrial parks, which may include tax incentives such as creating special economic zones or regimes, as well as budget support or low-interest loans.
For more detailed information on registering industrial parks and associated costs, you can refer to the following resources:
Land for industrial parks in Ukraine
The concept of an industrial park in Ukraine
Management companies for industrial parks in Ukraine
What taxes are industrial parks subject to in Ukraine in 2023?
Business incubators in Ukraine.
Business incubators are organizations that specialize in supporting projects and assisting in their commercialization. They provide valuable resources such as office space, guidance, material and technical support, and opportunities to connect with potential investors.
Business incubators primarily target startups and small-scale projects that require material and technical assistance, along with other professional services that help foster project development and scalability.
Within a business incubator, startups can benefit from:
Material and technical resources, including office facilities, equipment, and machinery.
Consultations on project management, planning, and business operations.
Assistance in identifying investors and securing additional funding sources.
Various other services tailored to the specific needs of startups.
While business incubators generally do not offer direct financial funding, they can assist in facilitating connections with potential sources of funding.
If you aspire to become a resident of a business incubator, our legal experts can help you address any legal considerations associated with obtaining such a status
You may also like: How to Open a Business Incubator in Ukraine?
Technology Parks in Ukraine
Technology parks are organizations designed to facilitate projects focused on technology implementation, scientific research, and innovation.
They are typically established on the premises of large industrial facilities that possess the necessary resources, equipment, and capabilities, or in some cases, in collaboration with universities (although this practice is more common abroad).
Technology parks serve as hubs where research and development (R&D) activities and prototypes can be conducted, paving the way for their future application in production processes.
According to the law, financial support for technology parks is provided through subsidies, loans, and budget allocations as outlined by the law. However, in practice, funding for these parks remains limited, impeding their overall development and potential impact.
To register a technology park, the following documents are generally required:
Completed application form
Project plan outlining the goals and development strategy of the technology park
Copies of the legal entity's founding documents or a notarized copy of the joint activity agreement
Tax clearance certificate from the State Tax Service
It's worth noting that technology parks are relatively uncommon in Ukraine. The Ministry of Education and Science's official website lists 12 registered technology parks, with 4 currently in the process of registration.
Technology parks are particularly suitable for startups established in collaboration with or with support from large enterprises. If your startup falls into this category, our legal experts can assist you with the necessary legal formalities to navigate this process successfully.
You may also like: Accounting and Taxation of Grants for Residents in Ukraine
Venture Capital for Startups in Ukraine
Another form of assistance available to startups is venture capital. Venture investments can come from venture capital funds as well as individual investors known as business angels.
Unlike venture capital funds, business angels are individual investors who use their own or borrowed capital. Compared to the more complex evaluation process involved in venture capital funds, business angels are often more flexible and have the ability to invest in projects with higher development risks.
In most cases, business angels or venture capital funds acquire equity in the startup rather than utilizing debt capital instruments such as loans or credits. If you plan to attract a business angel or venture capital fund, be prepared to share ownership, relinquish some control, and involve representatives of the venture capital market in your business.
Ukraine's legislation, specifically the "Law on Joint Investment Institutions," allows for the establishment of both unit and corporate venture capital funds. However, it's worth noting that in Ukraine, many venture capital funds are primarily used for tax optimization purposes rather than actively supporting and financing startups and innovative projects.
Nevertheless, if your project catches the interest of a venture investor, you may secure funding or other forms of support, particularly during the early stages, also known as the seed stage. Funding can be provided through loans or equity participation. It is highly recommended to seek legal counsel to protect your rights and ensure a smooth relationship with the investor, safeguarding the future of your startup.
You may also like: Repatriation of Investments: Bringing Returns Abroad
Alternative Funding Platforms in Ukraine
There are various alternative options available for startups in Ukraine to secure funding, including crowdfunding platforms. These platforms enable entrepreneurs to raise funds for their projects, although the actual amount raised can be unpredictable and depends on the generosity of contributors.
One of the most popular crowdfunding platforms worldwide is Kickstarter. However, there are also other platforms, each with its own specific focus. For instance:
GoFundMe caters to business-related initiatives,
Crowdrise specializes in charitable projects,
Causes supports social, political, and environmental causes.
Each crowdfunding platform has its own rules for accessing and withdrawing funds. In most cases, be prepared for the platform to charge a percentage of the funds raised as a service fee.
Here are some valuable tips for startups:
Take advantage of the available infrastructure to support your project.
Ensure that any collaborations with external parties, who are assisting your startup, are formalized through agreements such as joint venture or service contracts.
Keep in mind that business incubators, technology parks, industrial parks, crowdfunding platforms, and venture capital funds are profit-oriented entities. Therefore, it is crucial to establish clear terms of cooperation in advance.
Prioritize the legal aspects of your project. Regardless of the chosen infrastructure, safeguarding your rights to intellectual property, equipment, or any other resources involved is essential.
We are delighted to offer our assistance in navigating this process and devising a comprehensive business strategy tailored to your startup's needs.
You can find information about our service costs for startups here.
We are ready to help you!
Contact us by mail [email protected] or by filling out the form: