Foreign Investment Returns: The Realities of Martial Law
Cost of services:
from 1600 USD
Legal support of investment activity in Ukraine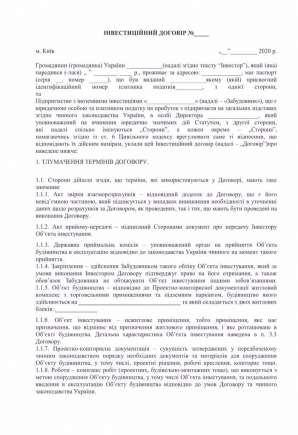 Reviews of our Clients
G. Zeynep Kucuk, SANOVEL ILAC SAN. ve TIC. A.S.
Helped with the liquidation of a foreign representative office in Ukraine
Partner, Denis Y. Lysenko, Vasil Kisil & Partners
... we would like to express our respect and gratitude for the fruitful cooperation.
... our work on joint projects assured us of your high level of professionalism

General director Skibinskiy V., Yokogawa Electric Ukraine Ltd.
Yokogawa Electric Ukraine Ltd. recommends Vladimir Gurlov and his team of lawyers as a reliable legal partner and advisor for foreign businesses in Ukraine...
L. Chervonyuk, LLC "Vitalux"
Vitalux company highly appreciates results of cooperation with Law firm "Pravova dopomoga", can characterize it as a reliable partner and based on personal experience is ready to recommend it to interested persons...
Chief ophthalmologist of Ukraine, Oksana Vitovska, All-Ukrainian alliance of ophthalmologists
We would like to express sincere gratitute to the team of Law firm "Pravova dopomoga" and personally to Volodymyr Gurlov for professionalism and purposefulness in your work.
President Tedeev E.S., Ukrainian wrestling association
Ukrainian wrestling association would like to express its sincere appreciation to the team of Law firm "Pravova Dopomoga" for mutually beneficial cooperation
General director I.Logvinenko , Bravo Airways
Bravo Airways company expresses its gratitude to law firm "Pravova Dopomoga" for high quality and timely provision of legal services.

General Manager Stashkevych I.Y., LLC "Trading company" Rud"
We would like to indicate that law firm "Pravova Dopomoga" has become a reliable partner for legal services provision and we can recommend it as a team of qualified professionals who are easy and pleasant to deal with
Ukraine's economy is going through difficult times, so the government is legitimately trying to keep funds inside the country without allowing significant capital flight. Currently, most foreign exchange transactions are restricted by the Resolution of the National Bank of Ukraine No. 18 of 24.02.2022 (hereinafter referred to as the Resolution No. 18). But what exactly is prohibited, and do investors have legal possibilities to return investments?
General information about currency restrictions in Ukraine
Foreign investors should bear in mind that foreign currency can be bought freely and transferred out of Ukraine only in certain cases directly provided by law. Currency restrictions are gradually diminishing, but they still do not allow businesses to conduct the majority of cross-border transactions.
The general idea of the current bans is that any "migration" of valuables abroad must be accompanied by an import of works or services into Ukraine. That is, almost every permitted transaction must provide for a resident to receive funds instead of certain valuables.
It is prohibited, for example, to transfer dividends abroad (more details about this below). There are some exceptions for individuals: they can transfer abroad up to 100K UAH during the calendar month.
You may also like: What is the Investment Agreement in Ukraine?
Liberalization of currency regulation in Ukraine
The government and the National Bank of Ukraine have recently introduced a number of relaxations in the foreign exchange market. The Cabinet of Ministers of Ukraine has abolished the concept of "critical imports", which had recently been used to determine for which goods businesses could transfer funds abroad.
Now imports of commodity products are actually allowed without restrictions. As for works, services and intellectual property rights, there are still certain prohibitions: the Cabinet of Ministers by its amended Resolution No. 153 has established a list of transactions for which the National Bank recommends allowing the purchase of foreign currency and its transfer abroad (hereinafter - the List). The NBU, in turn, updated the famous Resolution No. 18, expanding the options for cross-border transfers.
Examples of allowed transactions from Ukraine
While most of the items on the List relate to fairly specific areas for the average investor, here are the most common permitted transactions:
payments for Internet communication services and electronic services;
payments for software, access to websites and Internet platforms;
payments for advertising activities;
payments in accordance with the terms of license agreements (including payment of royalties);
payments for "other information services", consulting services;
payments for services of lawyers, auditors, tax consultants.
As we can see, the list in practice can become quite conditional, given some of its generalized wording. Therefore, transactions related to purchasing certain services abroad in order to withdraw currency from Ukraine may become common. Moreover, we expect that the list will be regularly supplemented, as it was with critical imported goods.
We routinely accompany and structure transactions that allow businesses to freely dispose of assets and develop within the procedures permitted by law. We know how to prepare legally accurate documents and coordinate the payments with financial institutions to avoid complications during transactions.
You may also like: Ukrainian Retail Investment for Foreigners: Everything You Need to Know
Additional issues of currency regulation in Ukraine.
The deadline for receiving payment for exports or prepaid imported goods and services is now 180 days instead of 120 days. If you bought currency to pay abroad, you can only use it within two business days. Otherwise, your bank will conduct a reverse transaction to buy the national currency.
As for dividends, the law does not prohibit their payment inside the country. However, one cannot buy currency and transfer dividends abroad, since such an operation is currently prohibited. You may, for example, accrue dividends now, but pay them out after the restrictions are lifted.
If the NBU continues its liberalization policy, we may expect some progress in this direction in the near future. The same applies to withdrawal of funds received from sale of assets in Ukraine as well as repayment of loans to foreign financial institutions.
We monitor the relaxation of currency restrictions and inform our clients when certain transactions become permissible.
You may also like: Loan Agreement as an Investment Instrument
Investing in the Ukrainian economy during the war
Given the currency restrictions on capital withdrawal, businesses can concentrate on reinvesting free funds in new areas. Despite the current situation, Ukrainian businesses in certain areas demonstrate high profitability and prospects for further growth, and the acquisition of assets in Ukraine can become extremely profitable.
If you are interested in further investment, please contact our specialists for the analysis and legal support of the investment project.
The cost and procedure of investment project support here.
Everything about doing business in Ukraine here.
We are ready to help you!
Contact us by mail [email protected] or by filling out the form: