Ukrainian retail investment for foreigners: what exactly you need to know
Cost of services:
from 1600 USD
Legal support of investment activity in Ukraine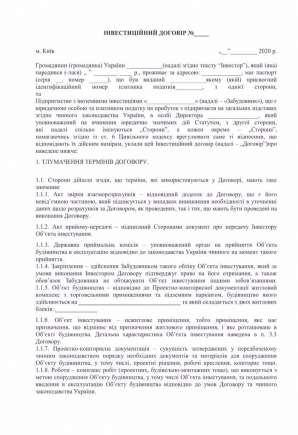 Reviews of our Clients
Chief ophthalmologist of Ukraine, Oksana Vitovska, All-Ukrainian alliance of ophthalmologists
We would like to express sincere gratitute to the team of Law firm "Pravova dopomoga" and personally to Volodymyr Gurlov for professionalism and purposefulness in your work.
Partner, Denis Y. Lysenko, Vasil Kisil & Partners
... we would like to express our respect and gratitude for the fruitful cooperation.
... our work on joint projects assured us of your high level of professionalism

General Manager Stashkevych I.Y., LLC "Trading company" Rud"
We would like to indicate that law firm "Pravova Dopomoga" has become a reliable partner for legal services provision and we can recommend it as a team of qualified professionals who are easy and pleasant to deal with
General director Skibinskiy V., Yokogawa Electric Ukraine Ltd.
Yokogawa Electric Ukraine Ltd. recommends Vladimir Gurlov and his team of lawyers as a reliable legal partner and advisor for foreign businesses in Ukraine...
G. Zeynep Kucuk, SANOVEL ILAC SAN. ve TIC. A.S.
Helped with the liquidation of a foreign representative office in Ukraine
L. Chervonyuk, LLC "Vitalux"
Vitalux company highly appreciates results of cooperation with Law firm "Pravova dopomoga", can characterize it as a reliable partner and based on personal experience is ready to recommend it to interested persons...
President Tedeev E.S., Ukrainian wrestling association
Ukrainian wrestling association would like to express its sincere appreciation to the team of Law firm "Pravova Dopomoga" for mutually beneficial cooperation
General director I.Logvinenko , Bravo Airways
Bravo Airways company expresses its gratitude to law firm "Pravova Dopomoga" for high quality and timely provision of legal services.

Ukraine is slowly recovering from the shock of full-scale military aggression, and the national economy, including the investment market, is reviving. In our previous publications we talked about the peculiarities of investing in real estate, investigated different legal schemes of investment crowdfunding, and described how you can safely invest in Ukrainian business.
But are there any nuances of investing in Ukraine for foreigners? Let's deal with specifics.
Are there any problems with the transfer of funds to Ukraine and their withdrawal abroad?
In order to invest in Ukraine you will most likely need a current bank account, we described all the aspects of opening a bank account in our publication. This will require a foreigner to visit Ukraine.
You can transfer funds to a trusted person, SWIFT transfers are not restricted. There are also money transfer systems such as Western Union, Moneygram, Ria, Meest, Intelexpress, and you can use them without opening an account. It is possible to receive cash in a foreign currency (the recipient must order the currency in advance from the receiving bank). You can transfer money to the account of a trustee in Ukraine, there are no restrictions concerning this operation.
Cashless payments in Ukraine are only possible in Hryvnia, there are no limits on them. Cash payments are limited: 10 thousand grivnas per day between the companies, 50 thousand grivnas between individuals.
Please note! Cash withdrawal is also restricted, now up to UAH 100,000 per day – this applies to both hryvnia and foreign currency accounts. The National Bank of Ukraine has set a ban on transfers relating to the Russian Federation and the Republic of Belarus, as well as transfers in Russian and Belarusian rubles.
Investments of 0,000 and more will allow you to immigrate to Ukraine, as we described in detail here and here. You should take care of opening a so-called investment account in the Ukrainian bank. In addition, you will need to get a tax identification number in Ukraine, which can be done remotely, by making a power of attorney (we described our successful experience here).
We have been assisting our Clients for many years to invest in Ukraine with a minimum of time. We arrange the whole process in such a way that your participation in the procedure is reduced to the minimum permitted by law.
Return of investments from Ukraine is practically impossible, because the National Bank of Ukraine by its Regulation No.18 imposed a ban on most currency transactions outside of Ukraine. There are restrictions even in the field of quasi cash (cryptocurrency, electronic wallets, betting shops, etc.).
This is a temporary measure, as the situation improves, the bans will certainly be lifted. We monitor for our Clients the changes in the Regulation No. 18 (more than fifteen since the beginning of the war) and advise on the best way to make investments in the current situation. We negotiate with banks and find the most suitable transaction conditions for our Clients.
Can a foreigner obtain the status of a sole proprietor in Ukraine?
For sole proprietors, the Tax Code of Ukraine provides an opportunity to choose the simplified taxation system, which allows for a significant reduction in the tax burden (5 or less percent of income, depending on the annual volume and type of activity, popularly referred to as "single tax").
Previously, there were disputes between lawyers and regulatory authorities about whether a foreigner can be a sole proprietor, and whether he (she) can be a single taxpayer. The disputes were finally resolved at the end of 2020 in favor of foreigners to whom the State Tax Service of Ukraine and the Ministry of Finance of Ukraine clarified the possibility of being entrepreneurs under the simplified taxation system, even without having a residence permit.
We know how to help you arrange everything properly and make your investment more profitable by reducing the tax burden. If you want to set up a legal entity in Ukraine, please click here and here to find the information you need.
Cooperation of foreigners with Ukrainian crowding platforms
In general, we do not see any obstacles to investing in this format, but you need to be careful about how your cooperation is fixed "on paper". The best option would be an official transfer of funds to Ukraine and their subsequent cashless crediting to the account of the objects of investment on the basis of a written agreement. But the reality is somewhat more complicated and the investment market is sometimes more dynamic than standard bank procedures.
If our Clients: transfer cryptocurrency, make payments by means of electronic wallets, through non-banking and financial brokers, buy tokens, we recommend fixing the purpose of your transaction.
You can do this in:
a contract;
a detailed purpose of payment;
a cover letter from the recipient regarding the purpose of the use of the goods received from you.
We and our Clients also practice receiving video recordings from counterparties with demonstration of documents and confirmation of receipt of currency values and digital assets. Such precautions, firstly, discipline your partners, and secondly, make you more legally protected.
If you are offered a non-traditional way to transfer funds, we advise you to consult with us on how to properly document the transaction. This will save your investment and nerves in the future.
Can you choose the legislation that will govern your transaction with an investor in Ukraine?
Foreigners in Ukraine may choose the law of the contract concluded with the recipient of the investment. This means that your transaction may not be subject to the law of Ukraine, but the jurisdiction of your choice.
There are some exceptions, for example the ownership of the property is determined by the right of location, the contract can not contradict the peremptory norms of Ukrainian legislation.
But in general you can think about choosing the jurisdiction that makes more sense to you. We usually help our Clients with this issue, and we have experience in drafting contracts according to the needs of a particular investment project.
Can you digitally sign a contract, will it have evidentiary value in Ukraine?
In Ukraine, electronic documents with the same legal effect as signed on paper must be drawn up using a Ukrainian qualified electronic signature. Such a signature can be obtained by a foreigner, but you must come to Ukraine for this purpose, as the service center must perform your identification and verification. Some Ukrainian banks can generate an electronic signature file remotely if you have an account or a card opened in Ukraine (for example, PrivatBank).
A notarial agreement in Ukraine (e.g. when buying real estate) can be concluded only by visiting a notary and signing it personally or through a representative by power of attorney.
Other variants of electronic signature, for instance, facsimile, exchange of scanned copies, e-mail correspondence, signatures by means of plugins in Adobe or Microsoft Office, correspondence in social networks or messengers have no 100% evidentiary value in Ukraine. That is why in case of a dispute with your partner there is no guarantee that you will be able to prove the existence of a contract of specific content between you. We develop for our Clients a safe legal way to fix agreements if parties do not have Ukrainian electronic signatures.
Can you get an electronic signature in your country which will be recognized in Ukraine? Not yet. For this purpose the countries should conclude the corresponding agreement. Ukraine is now working on it with the European Union, but so far at the stage of pilot projects.
Official investor information exchange with partners in Ukraine
As a general rule, an official message in Ukraine is considered to be the one sent by mail with the contents of the dispatch. You can also send a document by courier, but if you need to have proof of sending, then check that the courier service you choose allows you to write the name and details of the document being sent in the invoice.
It is common practice to use electronic letters, but your contract should stipulate that this type of exchange of messages is legally significant (it is even advisable to specify the electronic addresses). We always prescribe in our Clients' contracts the options of acceptable exchange of legal information. This issue seems insignificant, but in practice has saved dozens of transactions from misunderstanding between partners and the threat of litigation.
Control over the progress of the investment project in Ukraine
In practice, this is a very topical issue for foreign investors. We always recommend adding to the contract with the object of investment the obligation to report to you with a certain periodicity. Checks and audits can be agreed on separately.
Taking into account the peculiarities of the investment project, you can arrange the periodic monitoring of information about the counterparty from public sources. In Ukraine, there is a lot of public data, which you can use to monitor the business partner. For instance, a lawsuit has been instituted against a company or a scheduled inspection by supervisory authorities - we know about it and inform our Client-investors about it in a timely manner.
If necessary, we add analytics to the information from public sources, i.e. we do not just inform you of the scheduled inspection, but explain what this means and develop a legal defense plan.
If you buy corporate rights of a Ukrainian company, check its internal documents, at least on the following points:
what the management of the company has the right to do independently, what contracts they have the right to conclude;
the procedure for you to receive the company's financial documents;
what decisions the company cannot make without you, given your share of the business;
how the general meeting can be called;
whether you have pre-emptive rights to increase your share;
how you can withdraw from the project.
You can issue a power of attorney to your representative for direct inspections of your partner's activities. For example, in our practice there have been cases when we have visited a company on the investors' instructions, taken photos, talked to employees and checked original documents.
Can a foreign investor take ownership of current business assets in Ukraine?
In addition to the purchase of real estate, investment schemes in which the investor acquires equipment and gives it to the business for use (something like leasing) are becoming widespread. Also, some retail chains offer to open a retail outlet on behalf of an investor registered as a sole proprietor. In general, these options are available not only for Ukrainian, but also for foreign investors.
In this case, we check for our Clients if the investment project falls under a specific legislative regulation. For example, financial leasing is a financial service, which can be provided only after obtaining a license. If a Client buys machines or mechanisms of increased danger, their operation will require permits or declarations. Even to place a retail outlet and advertisement near the subway, you must have permits.
To avoid the risks of specific regulation, we will take care of the proper execution of the contractual relationship between our Client-investor and its partner. For example, the correct execution of the lease agreement as a general rule negates the risks of operating without permits for the owner, because this duty is transferred to the user.
As we see, investing in Ukraine has certain peculiarities for foreigners. But with the qualified legal assistance this specificity becomes your advantage, because it provides a framework for a foreigner to understand the highly profitable Ukrainian investment environment.
Didn't find an answer to your question?
Everything about investing in Ukrainian projects here.
We are ready to help you!
Contact us by mail [email protected] or by filling out the form: