Legal assistance when buying or selling real estate in Ukraine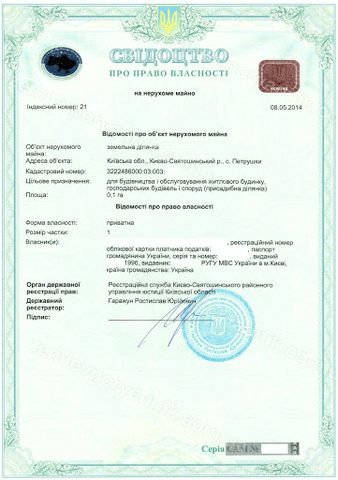 Reviews of our Clients
Director G. Smirnov, LLC "Olvita"
LLC "Olvita" expresses its gratitude to law firm "Pravova Dopomoga" for highly professional advices provided by your experts on legal issues
The Ukrainian real estate market is currently recognized as one of the fastest-growing in Europe. As a result, we frequently engage with foreign investors who are interested in the reliability of real estate properties in Ukraine.
Foreign individuals planning to purchase real estate carefully consider the most suitable investment option for themselves. This could involve buying an apartment, a house, or a commercial property.
In our article, we aim to shed light on common situations that increase the risk of encountering legal disputes instead of acquiring the intended property.
Common mistakes when buying an apartment in Ukraine
The first and most widespread mistake is neglecting to conduct a thorough check of the property's history. It is mistakenly assumed that if the purchase and sale agreements are prepared and notarized, it guarantees a secure transaction. In reality, numerous legal disputes arise from the invalidation of such agreements.
Our team of lawyers approaches property due diligence with utmost care and responsibility. This process involves analyzing the history of the property owner or developer and any related companies (up to 3 companies), reviewing registration documents, and checking for any arrests, ongoing court cases, or enforcement proceedings.
To conduct this verification, we utilize debtor registers and registers of court decisions. However, simply verifying the information is insufficient; it requires thorough analysis and evaluation of all potential risks. Analyzing the property's history allows us to assess the reliability of the purchase and identify any past unpleasant incidents. Therefore, it is crucial to seek the assistance of qualified specialists who can help navigate the process and uncover the truth.
We frequently come across legal disputes where an apartment was sold by a man while he was cohabiting with a woman in a de facto marriage. Subsequently, the wife decides to divide the property and initiates legal proceedings to declare the already sold apartment as joint ownership. In such cases, the validity of your purchase and sale agreement will be challenged, leading to protracted legal battles and considerable emotional strain.
For your own safety and peace of mind, it is advisable to involve lawyers in real estate transactions.
Neglecting to inquire about the previous owners of the apartment and the documents confirming property rights
Before signing any contracts, it's important to find out who has owned the apartment since it was first occupied.
Our team of lawyers always performs this procedure and checks the "Sudova vlada" web portal and the Unified Register of Debtors. This allows you to understand:
Whether the person has faced any legal accountability.
Whether any enforcement proceedings have been initiated against them.
Whether there are any liens or encumbrances on the apartment.
Whether the property has been involved in any legal disputes.
Whether the property has been used as collateral for a mortgage.
For example, it's not uncommon for individuals to discover during a notary appointment that an enforcement proceeding has been initiated against the owner. This can prevent the transfer of ownership and cause unnecessary delays. To save you time and avoid complications, we conduct a thorough check well in advance.
You may also like: How to Invest in Real Estate During Times of Military Conflict
Common mistakes when buying commercial real estate
Before purchasing commercial real estate, it is important to consider the following factors:
Determine when the property was officially recognized as a capital construction project.
Verify the current owner of the property
Ensure that the property is not tied to any outstanding loans or mortgages
Check whether the property is privately owned or under lease.
Our lawyers conduct thorough checks to ensure all the information is accurate. If there is a lease agreement, we verify the details such as the parties involved and the lease duration. Overlooking these details can lead to lease terminations and subsequent legal disputes, or even the demolition of the property. You may be familiar with stories of such incidents.
Another critical mistake is failing to investigate the recent sales history of the property.
Our lawyers examine the chain of previous buyers to understand the ownership transfers. Commercial real estate is often targeted by fraudsters who exploit the limited availability, sometimes involving unscrupulous notaries.
With numerous fraudulent schemes and the inherent value of commercial properties, it is crucial to seek the expertise of specialists and prioritize security measures.
You may also like: How to Acquire Commercial Real Estate for Foreign Legal Entities
Common issues in real estate sales
When selling your property, you may encounter certain problems that can complicate the process. For instance, if there is a minor listed as a resident, you need to address this issue by officially registering them at a new address and removing their registration from the property being sold.
To ensure a smooth transaction, it is advisable to involve the appropriate guardianship and trusteeship authority. This step will help protect the validity of the sale in the future.
Similar considerations apply when dealing with individuals who are legally incapacitated.
Another potential challenge arises when selling a share of a property that is jointly owned. In such cases, you must notify the other co-owners in writing of your intention to sell. If they decline or show no interest within a month, you have the right to sell your share to another party. Failing to comply with this process could invalidate the transaction.
If you and the other owners agree to sell the entire property, it should proceed without issues. Each owner will receive a portion of the proceeds based on their ownership stake.
However, it's crucial to note that you cannot sell a property that is deemed structurally unsound or under legal encumbrances, such as an active arrest on the property.
Our team of lawyers conducts a thorough analysis of potential complications that could lead to the invalidation of the sales contract when selling a property. If any issues are identified, our specialists assist in gathering the required documents and develop a detailed action plan based on the specific conditions of the property sale, in full compliance with the relevant laws. In essence, our lawyers can protect you from the risk of having the purchase and sale agreement declared invalid in the future.
You may also like: Acquiring a Building or Including it on the Balance Sheet of a Legal Entity
Possible issues when renting out property in Ukraine.
1) "Unpredictable lease extension" is one of the common problems. Many people, including foreigners, are unaware of the legal aspects and simply use a generic lease agreement found online.
For instance, let's say you rented out your apartment for six months. When the lease term ends and you plan to use the apartment, you receive a written notice of lease extension. Surprisingly, the tenant has the right to do so if they continue occupying the property and you don't object within a month. This means the lease agreement automatically renews for another term.
Your plans have changed, and rental prices in the market have significantly increased. To avoid such an inconvenient situation, we always develop a lease agreement tailored to your specific needs and coordinate it with the client.
Please note! We recommend adding the following statement: "The tenant's use of the leased property after the expiration date of the Agreement shall not be considered an extension (prolongation) of the lease relationship."
If you do not exclude the possibility of selling the property that you intend to rent out, explicitly state in the lease agreement: "The lease agreement terminates in case of change of ownership." This simplifies matters as potential buyers generally prefer properties without tenants.
2) Undrafted or incorrectly drafted Transfer and Acceptance Act.
Imagine you've rented out an apartment with a specific brand of television, but when the lease agreement comes to an end, you discover a different brand or no television at all. What do you do in such a situation? How can you voice your concerns or involve the authorities? And how do you provide evidence to support your claim?
This is where the importance of a well-drafted Transfer and Acceptance Act comes into play. It's crucial to ensure that all the details are accurately documented.
3) Unilateral termination of the agreement.
The current legislation in Ukraine offers limited options for terminating a lease agreement. To navigate this complex process and align it with your specific goals, it's essential to seek the guidance of a knowledgeable lawyer.
With our team's extensive experience in real estate transactions, we guarantee:
Reliability in execution. Once we take on a task, you can trust that it will be carried out with utmost diligence.
Safety and security. Our legal experts possess in-depth knowledge and expertise to comprehensively address any challenges and find optimal solutions.
Efficiency. With our diverse range of expertise, we can serve as your trusted legal partner across various fields.
Want to buy an apartment, house, or commercial property in Ukraine safely? Don't hesitate to contact us!
Buying property in Ukraine with us is a three-step process: place your order, provide us with the necessary details about your desired property, and sign the housing documents. Leave the rest to us!
Didn't find an answer to your question?
Everything about real estate operations in Ukraine here.
We are ready to help you!
Contact us by mail [email protected] or by filling out the form: