Detaining of a person by security personnel
Cost of services:
10000 UAH
Basic cost of a security license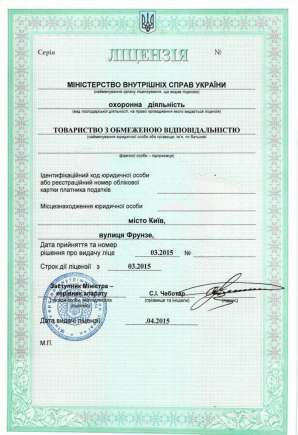 Reviews of our Clients
Director M. Kasyan , LLC "Security company "Hermes Security"
The services were provided in timely manner and we got the license for what we are grateful to our partner....
Director A. Berezko, LLC "Security agency "Bezpeka"
We enjoyed cooperation with the law firm "Pravova dopomoga" and would like to recommend this firm as a reliable partner in the field of security activities licensing ...
Director M. Naumenko, LLC "Respect MRG"
During our first conversation with Volodymyr Gurlov we understood that unlike other companies their team is professional, competent, attentive and treat Clients with respect and patience...
Director Danko Petro Pavlovych, Quick response forse "Tiger" LLC
Quick response forse "Tiger" LLC expresses gratitude to Law firm «Pravova dopomoga» for long-term cooperation, which brings only positive results.
Director Melnyk O.V., LLC "SECURITY COMPANY "SICH"
... Lawyers of the legal firm "PRAVOVA DOPOMOGA" provided legal help in seeking a specialist in organizing protection measures and obtaining the necessary license within tight deadline.
Previously we had examined powers of security. The feature is absence of physical contact between guardian and offender. However, the most contradictive part of the Law of Ukraine "On security activity" is related to physical contact with person who offends a public order. We will look through legal details of security's powers while detention of person.

The Article12 of the Law of Ukraine "On a security activity" defines that guardians have a right not to let inside and detent person who tries to get into a security object or leave it while they break rules. But security must report about it to the police. Legal features of this clause are related to categories of a security object. If there is a pass through regime then security has a right to detent person who break rules and report about it to the police. Most people are interested whether security has a right to detent person in a shop. The most popular situation is detention of a person who is suspected in thief. Obviously, it is an infringement. So a guardian has a right to detent person and report about it immediately. According to the Article 16 of the Law it is not an administrative detention. That's why an offender must be transferred to the police for examination.

However, there are legal problems of using this clause. The Article 29 of the Constitution of Ukraine guarantees citizens a right for freedom and personal integrity. This article regulates the rights of detented person which don't depend on the types of detention. As follows, right of person who is detented by security must be kept according to the Article 29. Unfortunately, guardians are not acquainted with this clause and it can lead to litigations in the future. So security should follow rules of the Constitution of Ukraine, tell a detented person about his or her rights and report about it to relatives immediately while realization of the Article 12 of the Law of Ukraine "On a security activity".

One of the most important moments is reporting to the police about detention. The law of Ukraine "On a security activity" defines that it must be done immediately. Personnel very often ignore this matter and try to compensate losses or get back goods by themselves. As a result report about detention comes not immediately and it is a violation of the law. That's why time and reasons of detention have to be noted. Legal acts don't regulate this procedure so it can be drafted by security and signed by them, representatives of a shop and detected person. This information is necessary for the police. This document together with a video record let justify actions of security in a case of examination by prosecutors in a court.
We are ready to help you!
Contact us by mail [email protected] or by filling out the form: