Where To Find A List of Medical Equipment For Licensing?
Cost of services:
from 16 000 UAH
1-2 specialties
from 16 000 UAH
Alteration
from 24 000 UAH
More than 3 specialties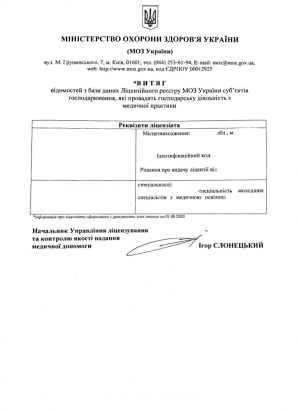 Reviews of our Clients
Director I. Garkusha, "Medyk" LLC
During provision of the services legal experts of the firm proved to be a professional team
Director L. Susenko, Medychni diagnostychi systemy LLC
We would like to express our appreciation to law firm "Pravova Dopomoga" for the provided services related to licensing of medical practice
I. Pruzhnyak , Sole trader I. Pruzhnyak
Despite complexity of licensing procedures, your lawyers got a positive decision about issuance of license for medical practice after the very first submission of documents...
Director S. Sokolova, LLC "Company"Nika-S"
Quick work of your lawyers allowed us to continue our medical practice without unnecessary breaks related to obtainment of the new license. Due to this we managed to avoid financial losses and continued providing high quality dental care services to our clients
Director A. Stelmakh, Private enterprise "ESTO"
We got consultations about organization of the medical center's work, formalization of labor relations with employees, legal regulations on use of different medical equipment...
N. Gorova, Sole trader N. Gorova
I want to recommend this firm to everyone, who wants to start his or her own medical practice...
S. Lyubynetskyi , Sole trader S. Lyubynetskyi
Without any recommendations I chose law firm "Pravova dopomoga" among all other companies on the market and not once did I regret my choice...
Director Mykhailo Bogdanovych Havrylyshyn, Kalush City Center of Primary Health Care
…we can confidently recommend the lawyers of Law firm «Pravova dopomoga» as reliable legal partners on the matters of medical practice licensing and other procedures related to the Ministry of Health of Ukraine.
Chief physician Romanyuk E.V., Municipal non-profit enterprise "Central district hospital of Busk"
... Having used the services of the Law Firm "Pravova dopomoga", we managed to solve our problems, as well as found a qualified and reliable partner.
Answers of a medical lawyer.
The list of equipment required for obtaining a Medical License can be found in the Order No. 739 of the Ministry of Health of Ukraine. It contains a list of equipment required for medical offices of a number of specialties.
It's important to understand that each medical specialty has its own requirements for the list of equipment and the doctor's office.
What is the next step after you have a list of required medical equipment?
Medical equipment shall be specified in the 7th para. of the Statement of the material and technical base of the business entity. It is very important to specify each equipment, its designation, model, manufacturer, country of manufacture, condition of this or that equipment and year of manufacture. Such a full description of all the equipment is necessary, so that the Ministry of Health can clearly understand the licensee's capability to fully carry out medical activities, as well as know how well all the equipment is functioning.
If you want to know more about how to properly fill in the documents for obtaining a Medical License and what to specify in each column, read a related article and watch a video here.



What problems can arise when filling out the equipment column in the documents for obtaining a Medical License?
While in theory everything is clear, in practice it's easy to get confused. The fact is that the list of equipment stipulated in Order No. 739 of the Ministry of Health, not always ensure the successful result at the commission. In our practice, there have been cases when the Clients has specified a complete list of equipment from the equipment list in the Statement, but they were refused a Medical License. This is due to the fact that the list of equipment doesn't contain simple, but still necessary things, such as, for example, a medical kit or thermometer.
That is why, if you don't specify, for example, the abovementioned medical kit in the Statement, which is not stipulated in the list of equipment, you risk failing the commission of the Ministry of Health and as a result being refused a license.
We have been providing services for obtaining Medical Licenses for more than 10 years. We know all the procedural nuances and even the train of thoughts of the licensing authority.
If you have any questions about the documents required for obtaining a Medical License, don't hesitate to call us, or look for information in the Useful Information section on our website. For example:
Can Two Doctors Work In A Single Office?
Where To Apply For A Medical Office?
Tax Optimization Of A Medical Business.
How To Advertise Medical Services.
Equipment Of Doctor's Offices.

We are ready to help you!
Contact us by mail

[email protected]

or by filling out the form:
We are ready to help you!
Contact us by mail [email protected] or by filling out the form: