Security company "turnkey". How to buy a company without debts?
Cost of services:
from 50 000 UAH
Security firm in Kyiv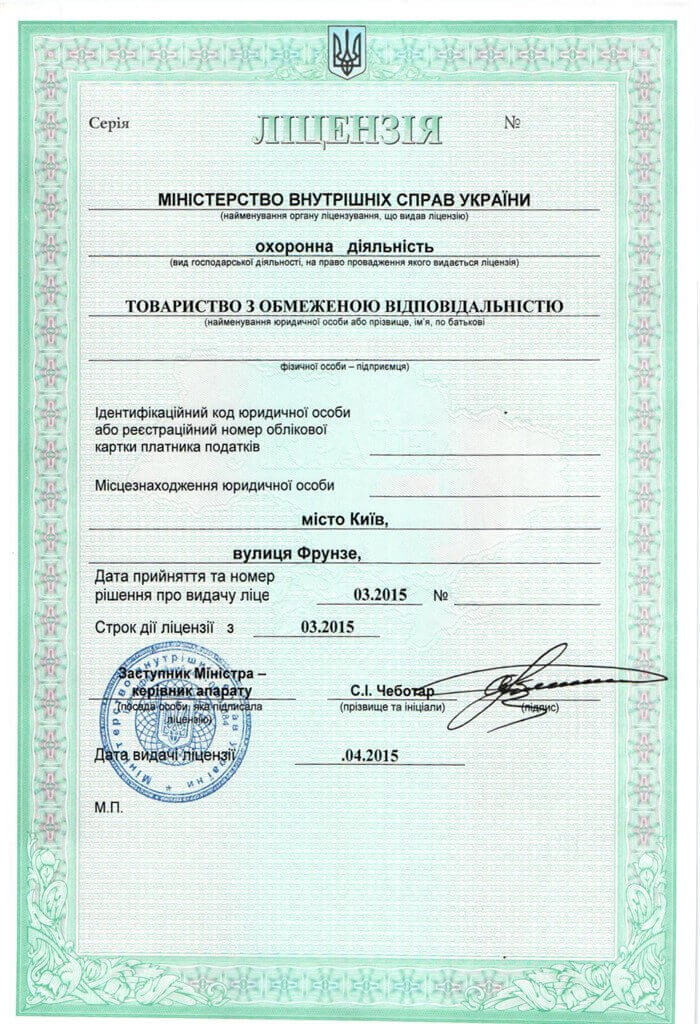 Reviews of our Clients
Partner, Denis Y. Lysenko, Vasil Kisil & Partners
... we would like to express our respect and gratitude for the fruitful cooperation.
... our work on joint projects assured us of your high level of professionalism

L. Chervonyuk, LLC "Vitalux"
Vitalux company highly appreciates results of cooperation with Law firm "Pravova dopomoga", can characterize it as a reliable partner and based on personal experience is ready to recommend it to interested persons...
G. Zeynep Kucuk, SANOVEL ILAC SAN. ve TIC. A.S.
Helped with the liquidation of a foreign representative office in Ukraine
General director Skibinskiy V., Yokogawa Electric Ukraine Ltd.
Yokogawa Electric Ukraine Ltd. recommends Vladimir Gurlov and his team of lawyers as a reliable legal partner and advisor for foreign businesses in Ukraine...
President Tedeev E.S., Ukrainian wrestling association
Ukrainian wrestling association would like to express its sincere appreciation to the team of Law firm "Pravova Dopomoga" for mutually beneficial cooperation
Chief ophthalmologist of Ukraine, Oksana Vitovska, All-Ukrainian alliance of ophthalmologists
We would like to express sincere gratitute to the team of Law firm "Pravova dopomoga" and personally to Volodymyr Gurlov for professionalism and purposefulness in your work.
General director I.Logvinenko , Bravo Airways
Bravo Airways company expresses its gratitude to law firm "Pravova Dopomoga" for high quality and timely provision of legal services.

General Manager Stashkevych I.Y., LLC "Trading company" Rud"
We would like to indicate that law firm "Pravova Dopomoga" has become a reliable partner for legal services provision and we can recommend it as a team of qualified professionals who are easy and pleasant to deal with
Due to quarantine many government agencies operate in a limited mode, and some do not operate at all. This also applies to licensing authorities. For example, the Licensing Department of the Ministry of Internal Affairs has granted only two Security Services Licenses since the beginning of quarantine until today. This is due to the following factors:
Firstly, the licensing authority does not accept documents directly, there is no mailbox at the entrance (as, for example, at every tax office and Ministry of Justice);
Secondly, as it turned out, it is almost impossible to submit documents using the services of Ukrposhta.
This means that you couldn't even submit your documents to apply for the license during quarantine.
What should those who have long thought about starting a security company do? Especially since now the security business is only going upwards - cases of looting have become more frequent and empty office premises need protection more than ever.
The best option would be to purchase a licensed ready-made security company. And you can find many such companies on the market. The only question is whether to look for a ready-made company with a history, or to buy one that has never had any activities?
Our lawyers will answer this question based on their own practice.
You may also like: Where To Get The Security Services License?
Which ready-made company is better to choose: Clean or with history?
As lawyers who have been assisting in the purchase and sale of ready-made companies for many years, we take the following position: if you have the choice and opportunity to buy a "clean" shelf company, it may be the best option for many reasons. For example:
Such company will be a lot cheaper than "promoted".
There may be skeletons in the closet of an operating firm. They may include not only debts, but also problem relations with the licensing authority. And if the presence or absence of debts can still be checked, then there is no information about any warning from the licensing authority in the public domain, and you are unlikely to be told about it by anyone.
A separate issue is the violations of the licensing regulations. Let's imagine the situation: inspection comes to a business entity, finds violations and issues an assignment to eliminate them. According to part 2 of Article 16 of the Law of Ukraine "On Licensing …", all violations shall be eliminated within 30 business days. That is, in fact, you have almost a month and a half. In case of failure, the license will be revoked. The owner, not even going to eliminate the violations, just finds buyers, sells the company and leaves within these one and a half months.
The new owner, happy with the purchase of a ready-made company, starts doing business and does not guess that the inspection will come soon to the company and ask if the violations have been corrected. In case of failure to eliminate these violations, it will issue the appropriate certificate and the license will be revoked.
We have repeatedly encountered such schemes in practice, so we strongly recommend our Clients to buy a ready-made company "without history", or offer to thoroughly check the firm for sale. However, unfortunately, there are such moments of activity, which even the most experienced lawyer can't learn about during the audit.
You may also like: A Shelf Company: How Does This Work?
What is the procedure of re-registration (sale and purchase) of a security company?
Once the seller and the buyer have reached a final agreement on the price, the buyer should think about what changes in the company he/she wants to make. For example, change of the legal address or even the name.
A change of ownership of corporate rights in the company must be made in the Unified State Register. The documents shall be submitted to the state registrar in two stages:
First, you should make changes to the shareholders;
Then, you can make all the other changes, even the change of director.
This two-stage procedure includes a large list of documents, most of which shall be certified by a notary. They include, in particular, the act of acceptance and transfer of the share in the authorized share capital, the new wording of the charter, the minutes of the general meeting.
Since notarial services are certain costs, it is better not to make any mistakes in the documents, so that you do not have to revise them. For example, if the minutes does not provide for certification of the new version of the charter, the registrar will not register it, even if it is certified.
Despite the fact that the company's re-registration takes place in two stages, it is possible to meet with the notary and sign all necessary documents in one day, if the process is properly organized.
One more important point is to decide who exactly will submit the documents to the registrar. The act of acceptance and transfer can be submitted by one of the parties (a seller or a buyer), while the minutes with other changes can be submitted by the current or new director. If none of these persons have the opportunity / desire to visit the state registrar, it can be entrusted to other person, as well as the organization and conduct of the entire sale and purchase procedure of the company.
If you want to start a security business within the shortest possible time, buying a ready-made company can be an excellent option. However, take care of your business security in advance - contact us. Our company has several "clean" security companies for sale and can support any other of your deal.
We are ready to help you!
Contact us by mail [email protected] or by filling out the form: