New license regulations for drugstores, drug producers and importers
Cost of services:
from 15 000 UAH
Drugstore license
from 30 000 UAH
License for a drugstore storage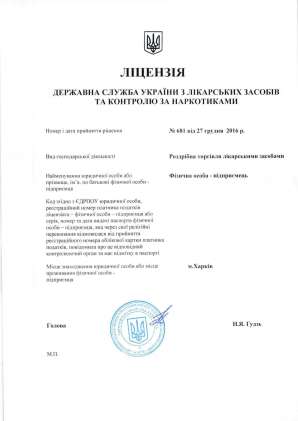 Reviews of our Clients
Savorona N., Sole trader Savorona N.
Lawyers of this firm answered all my questions and by doing so made me trust them. I didn't even need to be in Kyiv. I just had to provide a power of attorney...
O. Reshytnyak, Sole trader O. Reshytnyak
Your firm recommended itself as one of the best and reliable organizations...
L. Chervonyuk, LLC "Vitalux"
Vitalux company highly appreciates results of cooperation with Law firm "Pravova dopomoga", can characterize it as a reliable partner and based on personal experience is ready to recommend it to interested persons...
On the 30th of November 2016 the Cabinet of Ministers of Ukraine adopted new license requirements for activities related to production of medicines, wholesale and retail of medicines and their import to Ukraine. The new regulations enter into force on the 20th of December 2016, after their publication in the official newspaper of Ukrainian government. Some clauses of the regulations which are mainly related to import of medicines will enter into force on the 1st of March 2018.
We need to admit that the Law of Ukraine "On licensing some types of activity" which was adopted in 2015 regulates demand about approving new license requirements. According to this law not profilied ministry but Government had to adopt license requirements.
But it doesn't cancelled validity of other acts of the Ministry of Health of Ukraine. At the moment we have two license regulations on drugstores' activities as the order of the Ministry of Health of Ukraine wasn't cancelled. It is better to use Governmental regulations for licensees practically.
There will be a big article on the new regulations soon. Here we will look through the main novelties because activity of all drugstores and drug storages must be in accordance with new regulations in two months.
New license regulations combine rules of producers', sellers' and importers' work. There had been a separated act for importers which can't be executed by importers.
There are new corrected clauses which had made medicines' import impossible in Ukraine. It regulates that medicines' import can be done now:
with producers of medicines;
with providers of medicines;
with an owner of registration certificate.
Requirements for keeping control examples are simplified. They can be kept by importers and producers (it is regulated by an agreement) but they must be available in case of official request from state bodies.

License regulations have a lot of detail and reformulated articles which had been enforced by a control state body but hadn't had a legal clear regulation. For example, there is an obligation to provide a drugstore's entrance for a disabled people. And this entrance must be complied with building rules and standards.
There are some articles of Decree of Cabinet of Ministers of Ukraine no. 929 which regulate new rules of drugstores' functioning and getting a drugstore license for retail of medicines. For example, drugstores can be located only in non-residential premises. So it is forbidden to locate drugstores in small architectural forms.
There are also requirements for drugstores' signboards and advertising banners. It is forbidden to put information which can mislead buyers about social orientation of drugstore or some comparisons with other drugstores.
It is allowed to do medical practice in drugstores' premises according to the law. This activity can be done in a separated premise which has own entrance from trading room or from corridor of general use.
You must confirm absence of control over your company from countries which carry out armed aggression against Ukraine for getting a drugstore license. It can be written in an arbitrary form.
There is a new obligation for licensees to keep all licensing documents and their copies during validity term of license. This article is in a lot of license requirements but it is used for medicines for the first time. It is related to documents which confirm the right of lease or ownership of premises, where will located drugstore, qualification certificates of personnel and documents on equipment's examination.
As we have said previously, activity of all drugstores must be in accordance with new regulations until the 20
th
of February 2017.
We are ready to help you!
Contact us by mail

[email protected]

or by filling out the form:
We are ready to help you!
Contact us by mail [email protected] or by filling out the form: