Legal services for a foreign representative office
Cost of services:
from 1100 USD/month
Legal support of representative office of a foreign company in Ukraine
from 300 USD/month
Without activities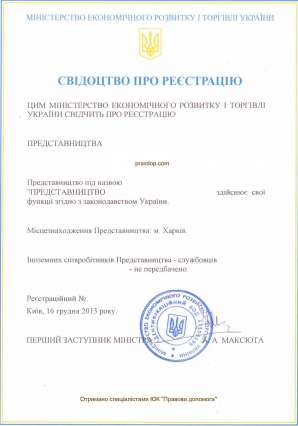 Reviews of our Clients
Chief ophthalmologist of Ukraine, Oksana Vitovska, All-Ukrainian alliance of ophthalmologists
We would like to express sincere gratitute to the team of Law firm "Pravova dopomoga" and personally to Volodymyr Gurlov for professionalism and purposefulness in your work.
General director I.Logvinenko , Bravo Airways
Bravo Airways company expresses its gratitude to law firm "Pravova Dopomoga" for high quality and timely provision of legal services.

General director Skibinskiy V., Yokogawa Electric Ukraine Ltd.
Yokogawa Electric Ukraine Ltd. recommends Vladimir Gurlov and his team of lawyers as a reliable legal partner and advisor for foreign businesses in Ukraine...
President Tedeev E.S., Ukrainian wrestling association
Ukrainian wrestling association would like to express its sincere appreciation to the team of Law firm "Pravova Dopomoga" for mutually beneficial cooperation
G. Zeynep Kucuk, SANOVEL ILAC SAN. ve TIC. A.S.
Helped with the liquidation of a foreign representative office in Ukraine
L. Chervonyuk, LLC "Vitalux"
Vitalux company highly appreciates results of cooperation with Law firm "Pravova dopomoga", can characterize it as a reliable partner and based on personal experience is ready to recommend it to interested persons...
Partner, Denis Y. Lysenko, Vasil Kisil & Partners
... we would like to express our respect and gratitude for the fruitful cooperation.
... our work on joint projects assured us of your high level of professionalism

General Manager Stashkevych I.Y., LLC "Trading company" Rud"
We would like to indicate that law firm "Pravova Dopomoga" has become a reliable partner for legal services provision and we can recommend it as a team of qualified professionals who are easy and pleasant to deal with
Our company offers legal support service for foreign companies intending to operate in Ukraine through representative offices.
Any developing company sooner or later thinks about expanding the boundaries of its market. In such a situation Ukraine is often a very profitable choice. Cheap labor force, its high qualification and beneficial tax rates for many business activities - these features attract many foreign investors to Ukraine.
We would like to note that you can enter the Ukrainian market not only by opening a representative office, but also through the registration of a Ukrainian company with 100% participation of foreign companies. Both options are good for specific situations and your needs. You can choose any business structure, and we can tell you which option will be more profitable in your case, based on many years of experience in the Ukrainian market.
With regard to representative offices, we will help you not only to undergo the registration procedure, but also offer legal protection and completeness of information for the further activities of the representative office in Ukraine.
It is not so important to understand how to register a representative office, as to know what to do with it further on.
You may also like: When Is It Worth Opening a Representative Office Rather than Registering an LLC in Ukraine?
What is included in the legal support services for a foreign representative office in Ukraine?
Clients who turn to us for assistance in introducing a foreign business to the Ukrainian market usually have two sets of questions:
What is the best way to do it? What business structure to choose, and how to make it legal?
Questions regarding the functioning of their type of business on the territory of Ukraine. That is, questions of taxation, employment of personnel in the representative office, appointment of the director, legal aspects of conducting specific activities, etc.
We solve most of these issues at the stage of business registration in Ukraine - we analyze the business plan of the Client, and then select the best option for its business, taking into account all the legal aspects and Client's wishes.
Then a representative office starts operating, and thus you need to organize all the processes in such a way that you generate a profit without any problems.
We have been working on the Ukrainian market for over 15 years. Our services are used both by Ukrainian and foreign companies who want to focus on making important decisions for their business, and need for this purpose clear and unambiguous legal advice from a local partner.
We offer several types of legal support services, depending on the type of your business in Ukraine and legal assistance you need.
Personnel services and legal assistance to the accountant
If you are just starting your business activity in Ukraine, you do not have a reliable accountant yet, and you do not want to hire an in-house lawyer and a project manager, we offer you a service package that covers these positions.
It includes:
Bookkeeping and working with the accounts of the representative office.
Legal assistance to the accountant.
Assistance in solving personnel issues, including the development of employment agreements for specialists required for your representative office, non-disclosure agreements, etc.
Guarantees of legality of accounting systems of the representative office.
Many of our Clients employ an in-house accountant who understands accounting issues in Ukraine. But all of them are faced with the fact that the accountant knows and understands only its part of the work, and may not understand the current rules of the law.
Some Clients prefer to outsource the duties of an accountant and a lawyer to us - in this case they will be confident not only in the correct maintenance of business accounting, but also in the fact that the accountant will be timely backed up by a lawyer in the field of tax law.
And, of course, an accountant will not be able to help with such matters as the right scheme to withdraw money abroad, calculating the best tax schemes or avoiding double taxation. This is where you need an experienced lawyer.
Legalserviсing
Representative offices face a great number of legal problems which can not be solved without knowledge of Ukrainian legislation and local business practices.
When developing your business, signing agreements and communicating with state authorities you need to be confident in your safety and correctness of actions.
Our second package includes services of the lawyer, who will help you solve any issues which your representative office may be faced with. This package includes:
Verification of agreements and contracts with counterparties.
Assistance with tax inspections and protection of your interests at all state authorities.
Assistance in the development of documentation, which may be required for the representative office.
Checking of contractors before concluding agreements with them.
Professional answers of the lawyer to the questions arising in the process of your business activity in Ukraine.
This package will enable you to always have an experienced lawyer at your fingertips to answer any questions regarding doing business in Ukraine. A personal manager will ensure constant contact with the lawyer and timely processing of all your requests.
These packages can be combined or we can develop a personal package of services for you.
We are your reliable legal partner in all matters in Ukraine. Our goal is to make solving your legal issues simple.
You may also like: How to Get a Temporary Residence Permit for an Employee of a Representative Office?
What is the price of legal advice and other assistance to foreign representative offices in Ukraine?
The cost of legal support services for a representative office will depend on the package or combination of services you choose.
We have developed service packages for you on our main service page, or we can offer hourly payment for lawyer's work, based on the cost of a lawyer's hour - from USD 100.
In this document you can find a standard price of all types of legal support services for foreign businesses.
By taking responsibility for legal support of your business in Ukraine we really do what it takes.
You will be able to manage your business, make decisions, and we will help remove all legal barriers to their implementation.
Didn't find an answer to your question?
Everything about registration and operation of a foreign representative office here.
We are ready to help you!
Contact us by mail [email protected] or by filling out the form: