Does the number of foreign employers matter for obtaining a mediation license for employment?
Cost of services:
from 24 000 UAH
Lisence with our partner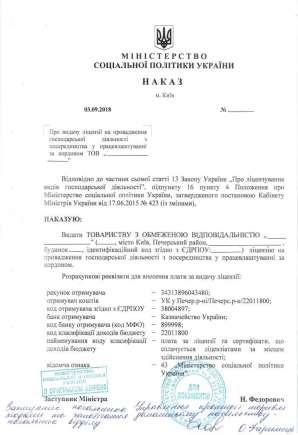 Reviews of our Clients
Chief ophthalmologist of Ukraine, Oksana Vitovska, All-Ukrainian alliance of ophthalmologists
We would like to express sincere gratitute to the team of Law firm "Pravova dopomoga" and personally to Volodymyr Gurlov for professionalism and purposefulness in your work.
General Manager Stashkevych I.Y., LLC "Trading company" Rud"
We would like to indicate that law firm "Pravova Dopomoga" has become a reliable partner for legal services provision and we can recommend it as a team of qualified professionals who are easy and pleasant to deal with
L. Chervonyuk, LLC "Vitalux"
Vitalux company highly appreciates results of cooperation with Law firm "Pravova dopomoga", can characterize it as a reliable partner and based on personal experience is ready to recommend it to interested persons...
Partner, Denis Y. Lysenko, Vasil Kisil & Partners
... we would like to express our respect and gratitude for the fruitful cooperation.
... our work on joint projects assured us of your high level of professionalism

President Tedeev E.S., Ukrainian wrestling association
Ukrainian wrestling association would like to express its sincere appreciation to the team of Law firm "Pravova Dopomoga" for mutually beneficial cooperation
G. Zeynep Kucuk, SANOVEL ILAC SAN. ve TIC. A.S.
Helped with the liquidation of a foreign representative office in Ukraine
General director Skibinskiy V., Yokogawa Electric Ukraine Ltd.
Yokogawa Electric Ukraine Ltd. recommends Vladimir Gurlov and his team of lawyers as a reliable legal partner and advisor for foreign businesses in Ukraine...
General director I.Logvinenko , Bravo Airways
Bravo Airways company expresses its gratitude to law firm "Pravova Dopomoga" for high quality and timely provision of legal services.

When starting a business in the field of overseas employment, the entrepreneur faces many opportunities and questions: Is there any difference in which country to send workers? Is it possible to work simultaneously with several employers from different countries? Does the number of employers make it difficult to obtain a license? And many others.
Today we are going to answer these and other questions that may arise in the process of obtaining the Employment Agency License using the examples from our practice.
You may also like: Employment Agency License with Our Polish Partner
Case in point: Obtaining the Employment Agency License in April 2020
In April 2020, we were contacted by a Client who wanted to mediate in the employment of people abroad and needed a license to do so.
Knowing that a new licensing authority had recently started to work, the Client was interested in the following issues:
Have requirements for licensees changed with changes in the licensing authority?
Is it possible to obtain the license for cooperation with two countries at the same time?
Are there countries for which it is easier or more difficult to obtain the licence?
During the consultation, our specialists gave answers to all the questions of the Client, starting from the fact that since the beginning of April 2020 a new licensing authority has been working. From now on the Ministry of Economic Development, Trade and Agriculture of Ukraine is responsible for licensing overseas employment agencies. But the licensing regulations haven't been changed, so the requirements to licensees remained unchanged as well.
We will answer the following questions in more detail.

Can I get a license for two or more countries at once?
It is important to understand that the license is not issued for a country. Having obtained the license, you can work with contractors from any country, having concluded an appropriate foreign economic agreement on cooperation.
The license itself, which is a record on the website of the licensing authority, does not specify either the name of the country or countries with which the licensee works, or any specialties it can select and recruit personnel for. Such information could be found in a separate table on the website of the previous licensing authority - the Ministry of Social Policy. The Ministry of Economic Development has not yet published such information. Perhaps, it will appear later.
In any case, if you have the opportunity to sign agreements with several foreign partners at the same time, you have the right to do so. However, our lawyers would recommend the following algorithm:
First, obtain the license with the documents of one partner;
Then just add copies of agreements with other partners to the license file.
From a practical point of view, it will be easier and faster to do so.
Read also: The Most Common Mistakes Made When Obtaining The Employment Agency License

It's worth noting that the cooperation agreement and the draft employment agreement shall comply, first of all, with Ukrainian legislation, which we have repeatedly mentioned in our previous articles. Because the state controls that our citizens are not sent to unworthy working conditions. This sometimes causes misunderstandings with foreign partners (employers).
So sometimes it is really easier to go the path of less resistance and get the license with the help of the documents of the partner who will agree to the draft documents we need. In the meantime, it is possible to seek consensus with others.
In addition, according to the current licensing conditions, the licensee must provide the licensing authority with copies of agreements with new partners only at the direct request of the licensing authority. Of course, there should be nothing illegal in the agreements, but it should be noted that the new agreements are no longer reviewed as carefully as when issuing the license.
Please note! If none of your foreign partners agree to sign documents in the form required, we can recommend you our foreign partner and help you to conclude a cooperation agreement with it.
You may also like: Things To Consider When Starting An Employment Agency
Which country is easier to get a license with, recruit people for and work in general?
In order to obtain the Employment Agency License, the country you are going to work with is almost irrelevant. Except, of course, the countries with which Ukraine has strained diplomatic relations.
As for all the others, your choice of a partner country will only affect the way a foreign partner will have to certify its own registration documents: to legalize, apostille, or it will be enough just to sign and seal documents with the issuing authority.
For example, an extract from the Judicial Register of Poland may be just certified by a notary, an extract from the Commercial Register of Germany must be certified with an apostille. And documents from countries that have not become parties to the Hague Convention should be legalized.
It will be easy to work with any country, if you use the legal support of experienced specialists.
As for our Client, he went by our advice and obtained the license using the documents of our partner, a Polish company. While he is still negotiating with other partners to agree on draft documents.
If you are thinking about obtaining the Overseas Employment Agency License - now is the right time. The state authority issues licenses again and we can obtain it for you in an easy and convenient way, taking into account all your wishes.
We are ready to help you!
Contact us by mail [email protected] or by filling out the form: