How to confirm the origin of money when opening an account in Ukraine?
Cost of services:
from 900 USD
Business registration in Ukraine
from 2000 USD
Foreign director
from 1400 USD/month
Basic support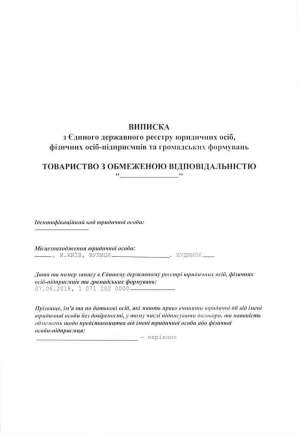 Reviews of our Clients
Chief ophthalmologist of Ukraine, Oksana Vitovska, All-Ukrainian alliance of ophthalmologists
We would like to express sincere gratitute to the team of Law firm "Pravova dopomoga" and personally to Volodymyr Gurlov for professionalism and purposefulness in your work.
General director I.Logvinenko , Bravo Airways
Bravo Airways company expresses its gratitude to law firm "Pravova Dopomoga" for high quality and timely provision of legal services.

General director Skibinskiy V., Yokogawa Electric Ukraine Ltd.
Yokogawa Electric Ukraine Ltd. recommends Vladimir Gurlov and his team of lawyers as a reliable legal partner and advisor for foreign businesses in Ukraine...
Partner, Denis Y. Lysenko, Vasil Kisil & Partners
... we would like to express our respect and gratitude for the fruitful cooperation.
... our work on joint projects assured us of your high level of professionalism

L. Chervonyuk, LLC "Vitalux"
Vitalux company highly appreciates results of cooperation with Law firm "Pravova dopomoga", can characterize it as a reliable partner and based on personal experience is ready to recommend it to interested persons...
President Tedeev E.S., Ukrainian wrestling association
Ukrainian wrestling association would like to express its sincere appreciation to the team of Law firm "Pravova Dopomoga" for mutually beneficial cooperation
G. Zeynep Kucuk, SANOVEL ILAC SAN. ve TIC. A.S.
Helped with the liquidation of a foreign representative office in Ukraine
General Manager Stashkevych I.Y., LLC "Trading company" Rud"
We would like to indicate that law firm "Pravova Dopomoga" has become a reliable partner for legal services provision and we can recommend it as a team of qualified professionals who are easy and pleasant to deal with
Opening a bank account for a foreigner is a quick and easy procedure. Our lawyers organize this process and accompany a foreigner to the bank, ensuring the right choice of bank, account opening, deposit and withdrawal of funds.
Usually we assist in opening an account in the process of solving complex tasks for foreign Clients, such as starting a business in Ukraine or the purchase of real estate. In this case we take upon ourselves all organizational issues and plan everything according to the possibilities and schedule of the Client.
Interestingly, it is important not just to open an account, i.e. to find a bank with experience of cooperation with foreign clients and the desired service, but also to take care of the correct process of transferring money to the account. The fact is that the bank does not care about the purposes for which and how you use the account. But in the case of buying real estate, it is important how the payment will be made through a bank transfer and how the funds will be introduced into Ukraine. You may even need proof of funds.
You may also like: How to Invest in Real Estate in Time of War?
The procedure of opening an account in a Ukrainian bank for a foreigner
In order to open a bank account in Ukraine, a foreigner must have the following documents:
original passport;
document with information about the place of residence / location of the foreigner in Ukraine;
Note: If you know which managers to contact – you won't have to provide this document, the bank employee can write down the data from your words, we can also help you with this.
a document confirming the solvency of the foreigner;
Note: opening an account in Ukraine and more is a paid service. And when doing so, bank employees may ask you to pay an annual service fee.
often foreigners need a TIN – it can also be obtained without the presence of the Client, in advance.
Our lawyers will not just help you with advice, but will arrange the whole procedure with the utmost comfort for you.
If you need help with which bank to apply to, without having the above mentioned documents – contact us, we can help you in this matter. We provide all organizational aspects, complete support and guaranteed time frame.
Opening of an account takes no more than 1.5 - 2 hours.
You may also like: How to Withdraw Profit in Ukraine to a Foreign Account?
How to deposit money into a current account in the national currency of Ukraine?
There is a category of income that confirms its origin in Ukraine. Usually it includes:
proceeds received as wages, allowances, royalties, or received as compensation for injury to employees and employees;
money from the sale of own property;
inherited funds;
money received as a result of foreign investment in Ukraine;
payment of insurance amounts;
money previously withdrawn by the holder from the account but not used or not used in full
other proceeds that are not contrary to applicable law of Ukraine.
You can deposit such funds into a foreign currency account:
in currency, which is transferred from abroad through authorized banks of Ukraine;
in cash currency imported to Ukraine and registered by the customs service upon entry into Ukraine (the customs declaration shall contain a note of the authorized bank of Ukraine on crediting of foreign currency to the account)
in currency according to payment documents taken to Ukraine by the account owner and registered by the customs service on entering Ukraine (the customs declaration shall contain a note by the authorized bank of Ukraine on the crediting of foreign currency to the account, and the copy of the customs declaration shall remain at the authorized bank)
in currency based on payment documents sent from abroad in the name of the account owner, according to the current legislation of Ukraine
in currency based personal payment documents (receipts) issued by authorized banks of Ukraine
in currency received in Ukraine as remuneration of labor, bonuses, prizes, royalties;
in foreign currency transferred to Ukraine by another natural person non-resident from its own current account in foreign currency;
funds, unused or fully used, in an amount exceeding the amount previously withdrawn from the account by the owner
in currency purchased by an authorized bank on the interbank currency market of Ukraine by order of a natural person, non-resident, at the expense of cash in national currency on the current account of such a natural person.
If you follow the specified options for depositing funds, you will not have any problems with the bank. This is a transparent procedure, the source of funds is considered to be established.
You may also like: How to Legalize My Income in Ukraine Received Abroad?
What about the receipt of funds transferred from abroad to the current account?
With respect to an existing and already identified bank client, the legislation does not set any limits on the crediting of funds to the account. That is, there are no limits or restrictions. However, you should take care about the purposes for which you transfer the money.
For example, you want to buy an apartment in Kyiv. You open an account, transfer the money, the bank does not ask you for any information about it. But over time you decide to sell the apartment. And here is the opposite problem – firstly, you need to understand the procedure of money transfer to your foreign account, that is, the withdrawal of funds from Ukraine. And secondly, strange as it may seem, you will be asked to confirm the source of funds for the purchase of the apartment.
We have several times encountered a situation where a foreigner, when withdrawing funds for the sale of real estate from Ukraine, was asked to confirm the source of the money at the time of purchase of the apartment. You had to provide not only documents about the sale of the apartment, but also to prove how the money for its purchase came to Ukraine, and from what sources.
Usually, when transferring money from one account to another, an individual has to go through a basic financial monitoring procedure in the bank. The bank carries out the procedure of the Client identification, during which it verifies:
the Client's passport;
availability of Ukrainian TIN;
source of origin of the money received on the account – for example, the contract on sale of an apartment, documents on accepting an inheritance, on receiving profit from business or salary in Ukraine.
However, when carrying out money bank transfers, you should take into account that transfers over UAH 400,000 may be subject to state financial monitoring, which can slow down their receipt in your account, and require additional interaction with the Ukrainian state authorities.
If the money for the purchase of the property was deposited a long time ago, not through an investment account, you will need to laboriously work to confirm their origin. Did the foreigner at the time have a residence permit in Ukraine? If so, did you open an investment account or a current account?
Or you will need to apply to banking and other institutions for certificates confirming money transfers to Ukraine.
Can the account be blocked and funds frozen?
When opening an account, the client provides the bank with information about himself/herself and his/her income. The bank monitors and knows the history of the client's transactions on a daily basis and knows which are usual for him/her
In case of any atypical transaction, which does not meet the financial capabilities of the client, the bank will ask for appropriate explanations.
The bank can not freeze funds without grounds.
On the basis of the above, it is worth very carefully considering the information about yourself and your income when opening an account. You should conduct transactions, so that the bank sees and understands your capabilities, and therefore have no questions about the sources of funds when you will withdraw them.
It is important to keep documents about the purchase of real estate, its sale or inheritance, as well as documentation about receiving funds from conducting business in Ukraine. It all depends on your specific situation. But this is what will allow you to withdraw funds from Ukraine, in the desired amount and time.
We cited an example of a common problem often encountered by foreigners who do not know the organizational processes and rules of doing business in Ukraine. There are many such problems, unfortunately.
We offer a simple solution for any legal problems in Ukraine. If you want to get high-quality legal support while residing in Ukraine or doing business here – don't hesitate to contact us.
Everything about starting a business in Ukraine.
We are ready to help you!
Contact us by mail [email protected] or by filling out the form: