How to get a license for a distance school in Ukraine?
Cost of services:
from 2000 USD
School license
from 90000 USD
University license
from 300 USD
Консультація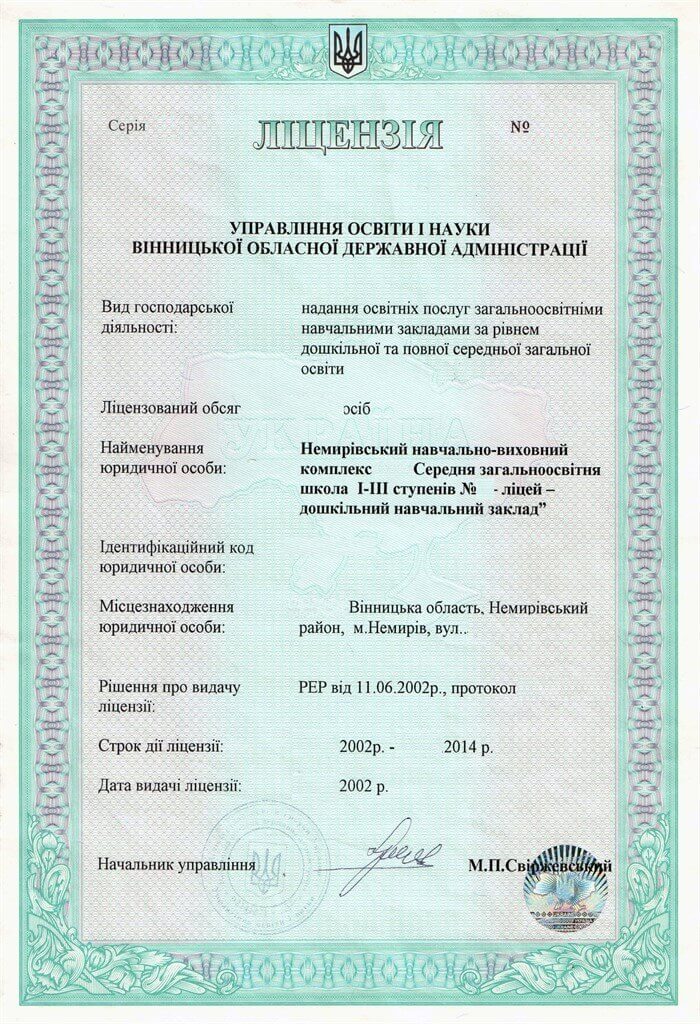 Reviews of our Clients
General director Skibinskiy V., Yokogawa Electric Ukraine Ltd.
Yokogawa Electric Ukraine Ltd. recommends Vladimir Gurlov and his team of lawyers as a reliable legal partner and advisor for foreign businesses in Ukraine...
G. Zeynep Kucuk, SANOVEL ILAC SAN. ve TIC. A.S.
Helped with the liquidation of a foreign representative office in Ukraine
Chief ophthalmologist of Ukraine, Oksana Vitovska, All-Ukrainian alliance of ophthalmologists
We would like to express sincere gratitute to the team of Law firm "Pravova dopomoga" and personally to Volodymyr Gurlov for professionalism and purposefulness in your work.
General Manager Stashkevych I.Y., LLC "Trading company" Rud"
We would like to indicate that law firm "Pravova Dopomoga" has become a reliable partner for legal services provision and we can recommend it as a team of qualified professionals who are easy and pleasant to deal with
Partner, Denis Y. Lysenko, Vasil Kisil & Partners
... we would like to express our respect and gratitude for the fruitful cooperation.
... our work on joint projects assured us of your high level of professionalism

General director I.Logvinenko , Bravo Airways
Bravo Airways company expresses its gratitude to law firm "Pravova Dopomoga" for high quality and timely provision of legal services.

President Tedeev E.S., Ukrainian wrestling association
Ukrainian wrestling association would like to express its sincere appreciation to the team of Law firm "Pravova Dopomoga" for mutually beneficial cooperation
L. Chervonyuk, LLC "Vitalux"
Vitalux company highly appreciates results of cooperation with Law firm "Pravova dopomoga", can characterize it as a reliable partner and based on personal experience is ready to recommend it to interested persons...
Recently, we were approached by a Client who wanted to revolutionize the education system by establishing cutting-edge educational institutions, particularly a school and a university offering distance learning programs.
They sought our assistance in organizing and legally structuring these institutions, as well as obtaining the necessary permits, including an educational license. To better grasp the Client's needs, we arranged an introductory meeting with our legal team.
During this online meeting, our lawyers engaged the Client in conversation to gain a deeper understanding of their specific requirements and the scope of the project. This enabled us to provide immediate recommendations and advise the Client on any additional information they could provide or improvements they could make. Subsequently, we prepared a comprehensive commercial proposal outlining the next steps.
Once the Client agreed to our proposal and completed the required payment, we initiated the core work. Given the intricate and time-consuming nature of starting a university from scratch, we decided to begin with the school — the Client's chosen starting point to test their capabilities.
An intriguing aspect of the school project was the Client's desire to establish a distance learning system. They were inspired by the success of existing online schools, such as "Optima," and aimed to compete with them in the future.
In this article, we will delve into how our legal team aided the Client in establishing a school offering distance learning programs.
You may also like: Do You Need a License for an Online School?
Analysis of existing documents and Client's data for opening a distance learning school
The Ukrainian education legislation is not yet well adapted to the current realities where most schools operate predominantly online in a distance learning format. The concept of an online school does not officially exist. Therefore, in order to open a school, having a physical premise is necessary.
Our Client had a small rented space with a total area of slightly over thirty square meters in the Kyiv region. When it comes to the licensing capacity, which refers to the number of students a school can accommodate, it largely depends on the available space. With a space of around 30 square meters, the expected licensing capacity would be approximately 60 to 100 children.
How was the issue of the premises resolved? If there is a small space, but the desire is to accommodate more students than the licensing capacity allows, it requires considering certain changes, such as scheduling classes before and after lunch. We addressed this aspect by incorporating the necessary adjustments.
Another crucial factor is the presence of a school director who meets the licensing requirements and possesses the necessary supporting documents. According to the licensing conditions for educational activities, the director of a private school must meet the following requirements:
Proficiency in the Ukrainian language.
Holding a higher education degree, preferably at the master's level.
Having a sound mental and physical health condition (meaning it should not hinder the performance of official duties).
Being a citizen of Ukraine.
In this case, our Client served as the director and fulfilled all the requirements. However, besides the diploma and passport, no additional supporting documents were available.
How was this issue resolved? We recommended the Client to obtain specific documents before applying for the license. These included:
A certificate confirming the level of proficiency in the state language, which can be obtained by applying to the National Commission for Standards of the State Language.
A medical certificate attesting to the individual's health condition, obtainable from any local clinic or medical facility.
Availability of instructional resources for a distance learning school.
This encompasses the following:
Approved educational curriculum.
An online platform that provides constant access to electronic versions of all the required textbooks for students.
A school website or dedicated web pages on the school's founder's website, offering information about the institution and its activities.
Library resources.
In our Client's case, they had a website that required some enhancements. Moreover, the Client believed that having a physical library for online education wouldn't be particularly practical.
How was this matter resolved? An electronic library is crucial for successful online learning. If it wasn't feasible to have a fully developed library at the time of obtaining the license, which includes all the necessary resources for the complete school curriculum, a written commitment was made to gradually populate the online platform with the essential materials needed to commence the educational process. As a result, the need for a physical library was eliminated.
You may also like: How to Obtain a School License in Kyiv? Have the Requirements Changed During the War?
Additional requirements for obtaining a license for distance education
For children with disabilities
If you plan to conduct education exclusively online, there won't be a need for physical premises. However, you must commit to creating accessibility conditions before the start of the education.
Fire safety and sanitary standards.
Although these requirements may not be necessary for obtaining the license, it's advisable to have them in place for legal protection, even though they may seem unnecessary for a distance learning school.
Teaching staff and employment arrangements.
There are specific requirements for teachers, which we won't go into detail about here. It's important to note that they must possess the appropriate qualifications. Citizenship is not a requirement, but there are criteria for mental health, just like for the director.
At the time of obtaining the license, having a complete staff is not mandatory. Apart from the director, you may not have anyone else initially. You can commit to assembling the entire teaching staff before classes begin. However, by the start of the education, you will need to have recruited and formed the teaching staff.
Teachers can work either full-time or part-time. It's crucial to address matters such as salary calculations, social security contributions, vacation allowances, etc. It is recommended to have an accountant or at least accounting support.
The Client has successfully obtained the license and launched their own distance learning school in Ukraine. Our next project with them involves establishing a higher education institution, and we have already commenced work on it.
If you also aspire to enter the education sector in Ukraine and require professional assistance in obtaining an educational license, don't hesitate to contact us!
We are ready to help you!
Contact us by mail [email protected] or by filling out the form: