How to get a CC2 building license with internal and external works?
Cost of services:
17 000 UAH
CC 2 General construction + internal networks
21 000 UAH
CC 2 General construction + internal networks + external networks
Negotiated price
CC 3 or special clauses of Designation nomenclature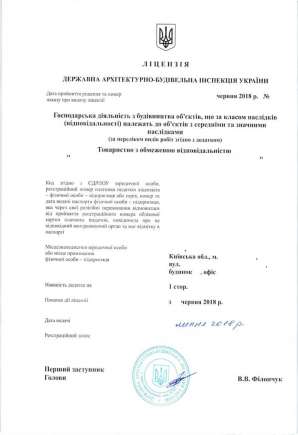 Reviews of our Clients
Director Danko Petro Pavlovych, Quick response forse "Tiger" LLC
Quick response forse "Tiger" LLC expresses gratitude to Law firm «Pravova dopomoga» for long-term cooperation, which brings only positive results.
Rector, Doctor of Law, Professor M. M. Kurko, Interregional Academy of Personnel Management
We wish to your firm continuous development and strengthening, new prospective and loyal clients!
In January 2020, our company was contacted by a Client (a local service company again) with an interesting request for obtaining a Construction License. The Client understood that he needed the license to carry out his business activity. However, he had questions regarding the choice of classes of work for the license, and the documentary nuances of obtaining the license.
The Client wanted to provide sewer laying services, but did not understand what kind of construction work in this case he needed to get the license for. In addition, he had a limited budget and did not want to spend extra money. That is why it was important for him not to include extra anchors in the license, increasing the cost of services, which he may not need at all.
You may also like: Where ToGet The Construction License?
The essence of the case: How to determine the types of construction work?
The practical problem was that the bound between the installation of internal and external engineering systems is quite blurred. We explained to the Client that from the point of view of the licensing authority, the boundary between the installation of internal and external engineering systems passes along the first latch of the water metering unit. Therefore, if the Client wants to change the sewerage system to the first hatch, up to 3 meters from the house, it is enough to obtain the Construction License for objects of CC2, class with general purpose works and installation of internal systems.
It should be recalled that the Construction License entitles the licensee to carry out directly envisaged construction work on objects of specific class of consequences.
This is due to the fact that the licensing requirements differ for different types of construction work, but there is no regulatory act that clearly describes the requirements for the licensee to carry out each individual type of work. Therefore, in certain problematic issues, employees of the licensing authority are guided only by their own understanding of how it should be.
As a result, business entities do not fully understand what types of construction work they can perform with the material and technical basis and personnel they have.
That is why our company always carries out a preliminary assessment, during which we:
determine the class of consequences of objects for which construction work is planned;
determine the possible set of works that the Client can perform during construction.
Our construction lawyer has outlined his position on the difference between classes of construction here.
You may also like: Problem Aspects Of Obtaining A Construction License
Legal assistance in obtaining a Construction License for СС2 objects
As for our Client's case, we did all the preparatory work, and the Client obtained the license in the shortest possible time, because he got to the nearest licensing commission. Thus, he was able to start work as quickly as possible, eliminating costs associated with equipment downtime and payment of salaries to employees.
If you are going to start a business in the field of construction, and do not fully understand what license you need to get, taking into account your material and technical base, human resources and business plan, don't hesitate to contact us. We will make sure that you get a license only for the work you need, and without unnecessary financial burden.
In order not to spend a lot of time and prevent rejection of the license, we suggest you use the services of our company. With our assistance, dozens of our Clients have obtained the licenses they needed, even in difficult cases.
Didn't find an answer to your question?
We are ready to help you!
Contact us by mail [email protected] or by filling out the form: