How to get a volunteer visa to Ukraine in 2023?
Cost of services:
starts at 800 USD
TRP on the basis of work in Ukraine
from 600 USD
Residence permit extension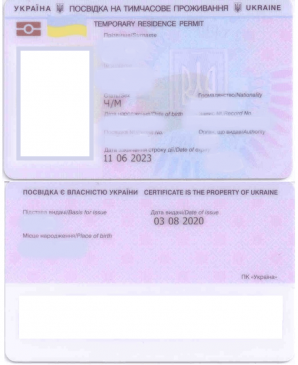 Reviews of our Clients
Daniel Holmes, Citizen of USA
Based on our positive experience of cooperation with Volodymyr Gurlov and his team we can recommend them as a reliable legal advisor on the matters of Ukrainian law...
Foreign volunteers enter Ukraine on a daily basis, but many of them are now facing a pressing issue - the expiration of their stay. Despite the ongoing war, the enforcement of legislative acts that regulate the legal status of foreigners in Ukraine has not been halted. This makes it imperative to properly arrange their documents for legalization.
If foreigners are citizens of countries that require a visa for entry (which is the case for almost all countries, except for Azerbaijan, Armenia, Georgia, Moldova, Uzbekistan, and a few others), it is absolutely essential for them to obtain a D-10 visa before traveling to Ukraine.
You may also like: Obtaining a Temporary Residence Permit in Ukraine through Work in Civil or Charitable Organizations
How to Get a Volunteer Visa and Travel to Ukraine?
Please note that obtaining a visa for Ukraine cannot be done within the country. Visas are issued by Ukrainian consular offices located abroad.
It's crucial to enter Ukraine with a valid visa, meaning you should not cross the border before the visa's validity period begins. For example, if your visa becomes valid from February 10th, you must not enter Ukraine before that date.
To obtain a D-10 visa, you'll need an invitation letter from an authorized organization or foundation that can host foreign volunteers. This information should be available on the official website of the National Social Service.
Equally important are:
The content of the invitation letter.
Proof of financial support.
Properly completed medical insurance policy.
You may also like: How to Obtain Official Volunteer Status in Ukraine for a Temporary Residence Permit in Ukraine?
What to do if you, as a volunteer, were not granted permission to enter Ukraine?
Many of our clients have come to us seeking assistance after being denied entry or lacking the necessary invitation to enter Ukraine.
Our team of skilled lawyers can help resolve this situation by meticulously preparing all the required documents and, if necessary, ensuring that the organizational documents of the organization or foundation are compliant.
In cases where volunteers are unable to find a suitable organization or foundation in Ukraine that is willing to engage them in their desired activities, or if they are unable to identify a suitable type of activity, our company's specialists suggest obtaining legal employment in Ukraine as a means of legalizing their stay.
For instance, we recently helped a client who was engaged in videography and photography with the aim of showcasing various aspects of life in Ukraine, such as its nature, architecture, cuisine, folk art, and more.
With our assistance, the foreigner obtained a work permit, which served as the basis for entering Ukraine and obtaining a Temporary Residence Permit.
Typically, a visa for obtaining a Temporary Residence Permit in Ukraine is granted for 90 days and allows for multiple entries. However, it's crucial to approach the migration service well in advance, at least 15 working days before the visa expires, if you're interested in obtaining a Temporary Residence Permit. Otherwise, you'll have to leave Ukraine and reapply for a new visa.
Our team can assist you in preparing all the necessary documents, including the required representation, and ensure they are properly submitted to the migration service. We can also help with document preparation in case you are called for an interview, which is currently a common practice by the migration service and sometimes by the Security Service of Ukraine (SBU). It's important to note that the outcome of such interviews may result in refusals for foreigners.
Our specialists will guide you through all the terms and conditions that need to be met for obtaining a Temporary Residence Permit.
We'll take care of preparing all the documents, providing interview preparation assistance, offering consultation, and outlining the step-by-step process in detail.
We are ready to help you!
Contact us by mail [email protected] or by filling out the form: