How to get the official status of a volunteer in Ukraine for a residence permit in Ukraine?
Cost of services:
starts at 800 USD
TRP on the basis of work in Ukraine
from 600 USD
Residence permit extension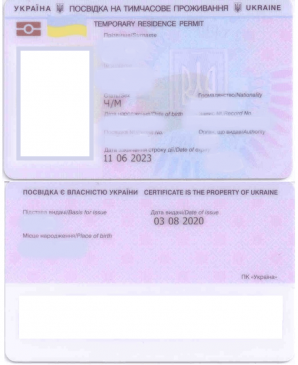 Reviews of our Clients
Daniel Holmes, Citizen of USA
Based on our positive experience of cooperation with Volodymyr Gurlov and his team we can recommend them as a reliable legal advisor on the matters of Ukrainian law...
Due to the difficult situation in Ukraine, we hear more and more often about volunteers and their assistance to both military and civilian population.
In our article, lawyers will tell you how to properly organize volunteer activity in Ukraine, and which organizational form is better to choose. The thing is that if a person plans to come to Ukraine to do volunteering activities, s/he will need a get visa first. Otherwise a foreigner will need to leave the country for a certain, rather long period of time.
Pursuant to the Ukrainian legislation, the visa may be granted on the basis of cooperation with a charity fund or a public organization. However, you need to choose the organization very carefully, because not everyone will be able to give you the opportunity to get a residence permit.
We will discuss the following issues:
What kind of organization does it need to be to make it legal (what kind of status should it have, how registered, with what registries, etc.)?
What are the pros/cons of obtaining a residence permit through volunteering? What are the alternatives for staying in Ukraine?
What requirements must a foreign volunteer meet in order to receive a residence permit in Ukraine through volunteering?
You may also like: Temporary Residence Permit in Ukraine Through Participation in a Religious Organization
What's the difference between a charitable foundation and a non-governmental organization for volunteers?
Volunteer activities can be carried out both in a charitable foundation and in a non-governmental organization.
Non-governmental organization is a voluntary association of individuals or legal entities aimed at implementation and protection of rights and freedoms, satisfaction of public, in particular, economic, social, cultural, environmental and other interests. The activity of the organization is primarily aimed at its members. Also, a non-governmental organization can be created by at least two persons.
It is crucial to correctly specify the purposes and scope of activities in the Charter. This is of fundamental importance, because if the documents specify ecology, environmental protection and animal protection, such an organization, for example, will not be able to raise funds for ammunition or assistance to the army. Then it would be considered misuse of funds.
While there is a war in Ukraine, state control over volunteers is simplified, but it should be remembered that the war will end and the tax authorities will start inspections.
Please note! The purposes in the Charter of the charitable organization cannot be other than those specified in the Law, as the list, which is given there, is exhaustive.
If you are a foreigner and want to come as a volunteer to Ukraine, our specialists will help you to check whether the organization or foundation, which you have chosen, can engage foreign volunteers in its activity, whether their programs correspond to the statutory documents. Whether the corresponding information about such organizations is published on a website of National Social Service. They will explain how to properly legalize yourself in Ukraine and avoid violating the migration legislation. They will prepare appropriate documents for a D visa and temporary residence permit.
If necessary, we offer organizations and foundations, with which we cooperate, and which meet all the requirements for the successful implementation of volunteer programs, including foreign citizens.
What are the requirements for volunteers to get a residence permit through volunteering?
There are no special requirements for volunteers. You do not have to have family ties in Ukraine or get a job offer from a Ukrainian company.
A foreigner must meet only basic requirements, namely:
have a valid passport document;
enter Ukraine and stay on its territory legally (without violating the terms of stay).
The pros and cons of a Temporary Residence Permit through volunteering in Ukraine
Obtaining a temporary residence permit for volunteer activity is not a difficult task. A foreigner does not need to obtain additional permits or have special knowledge or skills, for example for employment. A foreigner can stay in Ukraine for a year, leave and visit Ukraine at any convenient time without the need to constantly apply for a visa. This is an important thing for carrying out volunteer work, importing humanitarian cargo and etc. During this period a foreigner can get married in Ukraine, buy real estate and do other things.
However you should remember that this kind of permit does not entitle you to work in Ukraine, for this purpose you need to obtain a special work permit.
The procedure for obtaining a Temporary Resident Permit for a volunteer can be found here. Basically, it will include obtaining a request from a charity or public organization, obtaining a D visa, health insurance policy and preparing documents and their final submission.
The standard processing time for a volunteer residence permit is about 15 business days. However, in war conditions these terms may vary.
Important! If you are planning not only to volunteer, but also, for example, to work, we can offer you alternative ways of receiving a residence permit in Ukraine.
You may also like: What to do if the grounds on which you received a Temporary Residence Permit, Permanent Residence Permit or Work Permit in Ukraine have changed?
Volunteer organization must have a non-profit status
Obtaining non-profit status is a legal requirement. To obtain this status, one must file an application and Articles of Incorporation or Description with the tax authorities at the location of the foundation or organization. However, this is only during the war, because the Registries operate on a limited basis.
A foundation or organization acquires the non-profit status from the date of inclusion in the Register of Non-Profit Organizations and receipt of the appropriate certificate.
The non-profit status for a volunteer is an indicator of how the organization functions.
Does the foundation need to have the status of a volunteer organization?
Volunteer status is a status that allows a foundation or organization to engage you as a volunteer. In order to obtain the status, the appropriate application, an Extract from the Unified State Register and a duly certified copy of the Articles of Association must be submitted to the National Social Service.
If it is a non-governmental organization, it is mandatory to note in the Charter that volunteering is work and services performed pro bono to support the poor, unemployed, large families, homeless and other vulnerable populations. That is, it should be specified that the public organization extends its activities not only to members of the organization, but also to members of the community.
Volunteer activities are voluntary and gratuitous. When involving volunteers in various projects, it is advisable to conclude with them a volunteer agreement, which will to a certain extent secure both the non-governmental organization or charitable foundation on the one hand, and the volunteer, who will have clear rights, obligations and conditions of activity on the other hand. The conclusion of such an agreement is not obligatory.
Volunteers may also be issued with a volunteer card if necessary.
Involvement of foreigners in volunteering in Ukraine
Foreigners and stateless persons legally residing in Ukraine may become volunteers. Another prerequisite is the legal capacity of such persons.
For organizations, which plan to engage foreign volunteers, there is an additional condition - information about such an organization or foundation must be published on the official website of the National Social Service of Ukraine. After enrolling a foreign volunteer, this service must be notified accordingly.
Please note! Volunteer activity does not give a foreigner the right not to comply with the terms of stay in Ukraine. It is obligatory to obtain a Temporary Residence Permit - only this will allow you not to leave Ukraine at the end of the legally prescribed period of stay.
If you intend to stay in Ukraine to carry out volunteer work or other activities, don't hesitate to contact us. We will help you to arrange you legay stay in Ukraine for the required period.
The cost of obtaining a residence permit in Ukraine through volunteering here.
We are ready to help you!
Contact us by mail [email protected]avdop.com or by filling out the form: