How to pass a check during the liquidation of a company in Ukraine?
Cost of services:
from 1000 USD
Liquidation of the company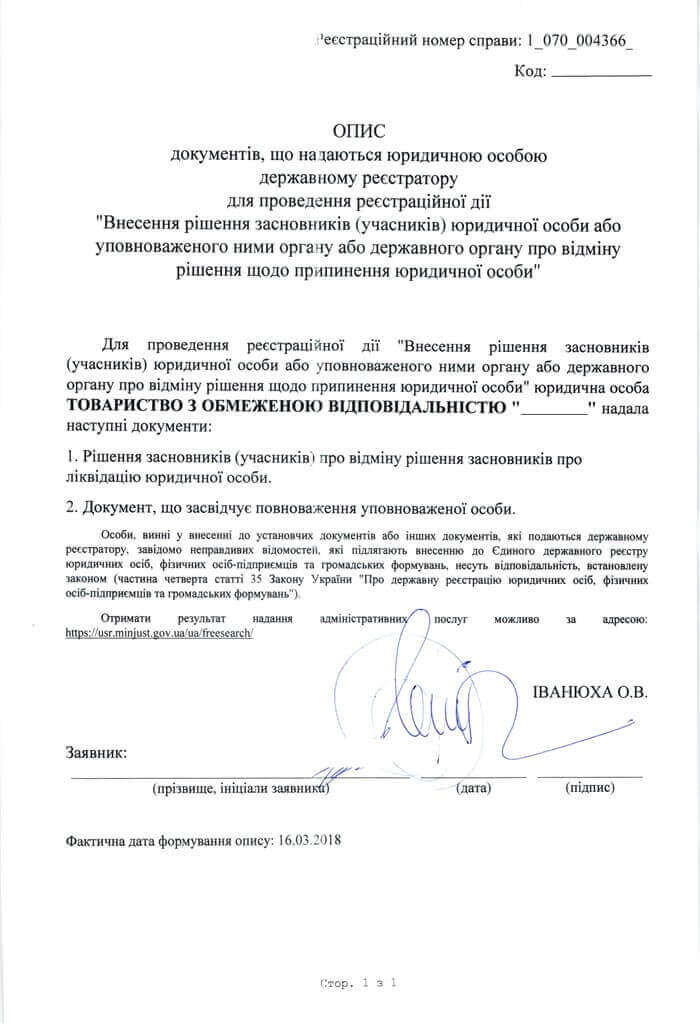 Reviews of our Clients
General Manager Stashkevych I.Y., LLC "Trading company" Rud"
We would like to indicate that law firm "Pravova Dopomoga" has become a reliable partner for legal services provision and we can recommend it as a team of qualified professionals who are easy and pleasant to deal with
L. Chervonyuk, LLC "Vitalux"
Vitalux company highly appreciates results of cooperation with Law firm "Pravova dopomoga", can characterize it as a reliable partner and based on personal experience is ready to recommend it to interested persons...
Chief ophthalmologist of Ukraine, Oksana Vitovska, All-Ukrainian alliance of ophthalmologists
We would like to express sincere gratitute to the team of Law firm "Pravova dopomoga" and personally to Volodymyr Gurlov for professionalism and purposefulness in your work.
President Tedeev E.S., Ukrainian wrestling association
Ukrainian wrestling association would like to express its sincere appreciation to the team of Law firm "Pravova Dopomoga" for mutually beneficial cooperation
General director Skibinskiy V., Yokogawa Electric Ukraine Ltd.
Yokogawa Electric Ukraine Ltd. recommends Vladimir Gurlov and his team of lawyers as a reliable legal partner and advisor for foreign businesses in Ukraine...
G. Zeynep Kucuk, SANOVEL ILAC SAN. ve TIC. A.S.
Helped with the liquidation of a foreign representative office in Ukraine
Partner, Denis Y. Lysenko, Vasil Kisil & Partners
... we would like to express our respect and gratitude for the fruitful cooperation.
... our work on joint projects assured us of your high level of professionalism

General director I.Logvinenko , Bravo Airways
Bravo Airways company expresses its gratitude to law firm "Pravova Dopomoga" for high quality and timely provision of legal services.

With the outbreak of hostilities in Ukraine, more and more people, unfortunately, want to close their businesses. Indeed, not all companies pass this difficult test, so the number of those wishing to liquidate their business is increasing.
Practice shows that the tax audit is one of the most difficult stages in the process of business liquidation. It is not only long but also quite a complicated procedure with many nuances that you may not take into account. Therefore, we will approach this issue systematically, telling you how to do everything correctly and which options are available.
We have extensively covered the company liquidation procedure here.
You may also like: Alternative LLC liquidation: Procedure, Terms and Cost
What inspections does the company need to undergo during liquidation?
To liquidate a company, you will need to apply to the following authorities:
the state registrar;
the State Tax Inspectorate;
the Pension Fund;
the Social Insurance Fund of Ukraine.
In general, the tax authority is the second state body to which one applies to terminate the activities of a business. However, before a company can be inspected by the STS, it must:
settle accounts with creditors;
pay salaries;
dismiss employees;
close accounts;
obtain certificates of account closure.
Please note! The tax office will definitely check all these documents thoroughly.
What documents do you need to prepare?
First of all, let us remind you that the STS may check the documents for the last 3 years. In fact, they may also check those that were earlier, but they may impose penalties if they find shortcomings in this period. As a rule, they are not interested in doing extra work, checking the company's activities for previous years.
During the inspection you must have, first of all, all the primary documents:
bank account statements;
documents confirming the legality of transactions ( agreements, acts of acceptance and transfer);
documents confirming the timeliness of reporting.
Despite the fact that the tax office records the submission of reports, you should still have confirmation (a copy with a stamp of acceptance or receipts from the electronic office).
You should also have:
Payroll information;
Orders for personnel (hiring, dismissal, leaves of absence, including at their own expense).
The Social Insurance Fund of Ukraine also requires the preparation of a certain package of documents.
Before 2015 there were two separate funds, known to all as the Fund of Social Insurance against Industrial Accidents and Occupational Diseases of Ukraine and the SFund of Social Insurance against Temporary Disability. Now the second one conducts documentary unscheduled inspections when legal entities terminate their activities.
The procedure is regulated by the Procedure for checking the correctness of the use of insurance funds by insurers of the Social Insurance Fund of Ukraine and the application of financial penalties for violation of the established order of their use.
This procedure does not provide a list of documents required to be submitted. In particular, it uses the notion of "accounting and reporting documents on insurance funds of the Fund". From this, we can conclude that you must have all related documents.
You may also like: How to Quickly Terminate a Business in Ukraine? Legal Advice
What difficulties may arise from the liquidation of the company?
The most common thing you have to deal with during the termination procedure is the lack of a set time limit within which an inspection by the State Tax Inspectorate must be scheduled. Often you have to wait for years. Also, when dealing with inspectors, a purely human factor may work, such as a request to provide information that you do not have to provide.
We will approach this issue professionally, with knowledge of the process and practical experience. This will help you pass the inspection as quickly as possible.
What result is to be expected, and what documents should be obtained?
After all the inspections are completed, both the State Tax Inspectorate and the Social Insurance Fund must issue certificates of deregistration of the company. After this, all the remaining primary documentation is submitted to the state archive, which in turn must also issue a certificate of surrender of documents. With this certificate, you will apply to the state registrar.
Then the entry about the termination of a legal entity is made in the Unified State Register of Legal Entities.
You may also like: Terms and Types of LLC Liquidation
How can we help you go through the liquidation process quickly and painlessly?
Our company can undertake full support of the procedure of legal entity termination: from the elaboration of the minutes of the general meeting on liquidation to making a record of termination.
In particular, we relieve clients from the need to visit and communicate with state authorities. If necessary, we can carry out a preliminary audit of the company's activity.
If you want to liquidate a company as quickly as possible, we recommend that you seek professional assistance.
Didn't find an answer to your question?
We are ready to help you!
Contact us by mail [email protected] or by filling out the form: