Obtaining the status of a volunteer organization in Ukraine: how to get into the register of volunteer organizations?
Cost of services:
from 1400 USD/month
Legal support for a charitable organisation
from 850 USD
Documents to start activities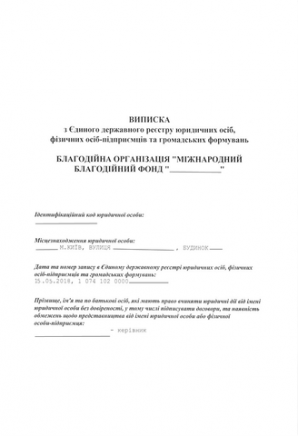 Reviews of our Clients
Vice President E. Nayshtetik , All-Ukrainian Council for Patients' Rights and Safety
We highly appreciate professionalism of your team as well as your personal qualities in the field of regulatory support of activities of charities, contractual formalization of relations, tax legislation
Today everyone is trying to help Ukraine and our Armed Forces. Many organizations and enterprises raise funds, buy necessary goods, help with transportation, etc. However, such activities very often fall under taxation.
In addition, there are difficulties with the legalization of volunteers, especially foreigners. It also becomes a problem for volunteer drivers to go to Europe to pick up humanitarian goods.
To avoid all these problems, our lawyers help to choose the best legal structure for a legal entity and get all the necessary permits to legally engage in volunteer activities. We can help you avoid fines and legalize volunteer activities.
The two most common requests today as follows:
obtaining the status of a volunteer organization for an already existing legal entity;
registering an organization with the right to carry out volunteer activities.
You may also like: How to Keep Track of Expenses of Non-Profit Organizations?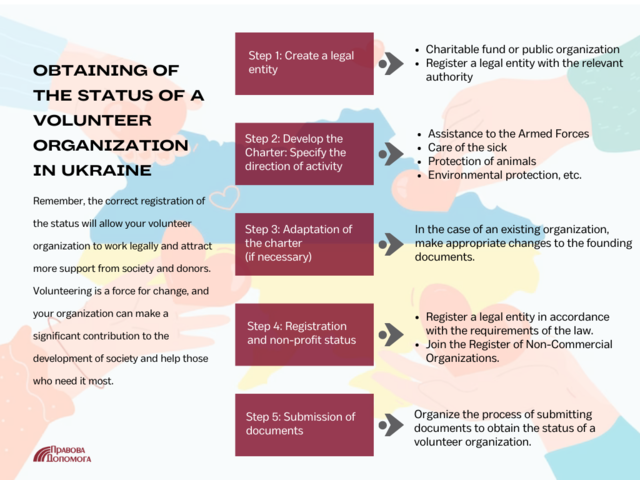 How to properly formalize the status of a volunteer organization in Ukraine?
Only legal entities that are non-profit organizations can obtain the status of a volunteer organization. In Ukraine these are charitable foundations and non-governmental organizations.
Another important issue is to correctly drew up a Charter. For this purpose, it is necessary to specify the direction of activity, which is carried out by rendering of volunteer help, to determine the type of volunteer activity:
assistance to the Armed Forces;
care of the sick;
protection of animals;
protection of the natural environment;
promotion of sports, cultural and youth events, etc.
In cases of operating organizations, we help make the appropriate changes to their constituent documents.
If a legal entity needs to be registered, we take all these points into account when drafting documents, and after registration, we apply for non-profit status. That is, the next condition is to be included in the Register of Non-Profit Organizations.
Taking into account all the points, we file the documents needed to obtain the status of a volunteer organization.
You may also like: Formalizing Relationships Between the Charitable Foundation, Employees, and Volunteers
Registering and obtaining the status of a volunteer organization
The National Social Service of Ukraine publishes the information on its website about organizations and institutions involving volunteers, including foreign volunteers.
At each stage, our lawyers can help you prepare the necessary documents, draw them up correctly and take into account all the changes that have occurred since the introduction of martial law.
Only after obtaining the status of a volunteer organization you have the right to involve volunteers in your activities. They can be citizens of Ukraine and foreigners or stateless persons.
It should be noted that foreign citizens must reside in Ukraine legally, namely have a Permanent Residence Permit. Another option is to obtain a visa D for volunteer activities which allows foreigners to get a Temporary Residence Permit.
Our company has been cooperating with volunteer organizations for a long time and has considerable experience in preparing documents for obtaining D-type visas and assistance in further crossing the Ukrainian border by volunteers.
Please note! During martial law, border guards have the right to make decisions regarding the entry of foreigners to Ukraine, so it is important to prepare and execute all documents correctly.
You may also like: Recognition of Humanitarian and Charitable Aid in the Charitable Foundation's Records
How do we help you set up a volunteer organization?
Our lawyers will help prepare and file documents for obtaining a Temporary Residency Permit.
We also help with the execution of documents for non-governmental organizations and charitable foundations, including:
contracts with volunteers (we explain when they are needed, provide document templates),
documents for volunteer drivers to travel abroad in order to receive humanitarian goods
etc.
Our company undertakes all organizational aspects, execution and filing of documents.
If you want not only to quickly get a charitable non-profit organization in Ukraine, that meets your goal, but also want to understand how to properly organize the activity of such an organization, don't hesitate to contact us.
We provide both services for registration of charitable foundations, and their support, including accounting services and legal advice.
The cost of registering a charitable foundation.
The cost of purchasing a ready-made charitable foundation.
We are ready to help you!
Contact us by mail [email protected] or by filling out the form: