How to register a children's charitable foundation?
Cost of services:
from 9000 UAH
Charity Fund Registration Fee
32000 UAH
Foreign Charitable Fund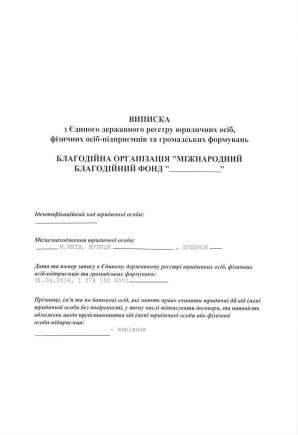 Reviews of our Clients
Palyonko O., Сaritable organization "International charitable fund"My native village"
I was convinced that the principle "We treat every client as a single one" indeed applies to this firm and is not just a loud motto...
Our firm provides services associated with the registration of charitable foundations of various kinds, including children's charitable foundations or cancer patient funds.
We are frequently asked whether the procedure of the foundation registration differs depending on their distinctive nature? Today we will talk about a case of registering a children's charitable foundation from our practice.
In October 2019, we were contacted by a Client who intended to set up a children's charitable foundation. The Client asked us the following questions:
How to set up a children's charitable organization (foundation)?
What are the peculiarities of setting up a children's charitable foundation?
During the consultation, our specialists answered all the Client's questions.
Related article: Our Lawyers Registered A Charity Aimed At Protection Of Homeless Animals
Procedure for establishing a Children's Charitable Organization
All charitable organizations are divided into three types only: foundation, society and institution. No other types are envisaged by law. Therefore, if you want to set up a charitable organization to help children, this should be stipulated in the charter of the future organization.
You can also specify the kind of help to be provided:
Treatment and rehabilitation of sick children;
Development of talented and gifted children;
Assistance in implementing advanced technologies in educational institutions, etc.
But you should bear in mind that this will narrow the scope of the organization's activities, and if you decide to provide assistance not only to children, you will need to amend the organization's charter and register its new edition.
Therefore, we recommended the Client to specify the widest possible range of activities in the charter, so that he was able to provide any activities he wanted.
Related article: Charitable Foundation: How To Establish? Our Experience In Ivano-Frankivsk Region
Distinctive nature of the children's charitable foundation
As noted above, there is no such kind of a charitable organization as the children's charitable foundation. Moreover, there is no such organizational and legal form. Therefore, this is nothing, but a charitable foundation.
It should be included in the Register of Non-Profit Organizations. The reports on the use of income shall be submitted to the local tax office once a year. And the payroll reports shall be submitted once a month, as in case of any legal entity.
Thus, the activities of the charitable foundation do not affect its legal status.
After the consultation, our specialists developed the foundation's charter in accordance with the Client's request. We also drafted all other documents necessary for the registration of the charitable foundation.
The foundation is registered as a legal entity within 24 hours upon submission of all documents. It takes a little more than a week to get a decision of the tax service on granting the non-profit status to the foundation.
Related article: Can A Public Organization Or A Charitable Foundation Obtain A License For Carrying Out Specific Kind Of Economic Activity?
If you need to register a charitable organization and develop constituent documents corresponding to the specifics of your activity, please contact our employees to find out the details of cooperation.
We are ready to help you!
Contact us by mail [email protected] or by filling out the form: