How to register a charity fund: interesting questions from our practice
Cost of services:
from 9000 UAH
Charity Fund Registration Fee
32000 UAH
Foreign Charitable Fund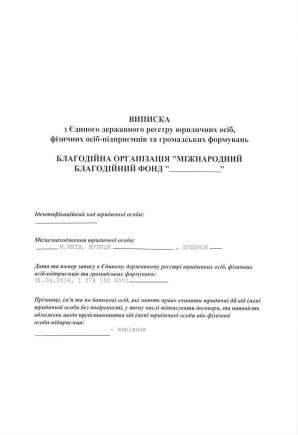 Reviews of our Clients
Palyonko O., Сaritable organization "International charitable fund"My native village"
I was convinced that the principle "We treat every client as a single one" indeed applies to this firm and is not just a loud motto...
The article will be useful for those who plan to register a charitable foundation under non-standard circumstances. We will tell you about specific requests we have encountered when registering charitable foundations for our Clients.
You may also like: Our Experience Of Registering A Charitable Foundation In Ivano-Frankivsk
How to register a charitable foundation with a non-standard name?
Choosing a name for a new organization is a creative process. We want the name to be sound, to reflect the essence and mission of the company. So, the options are sometimes very expressive.
So, we were contacted by a Client who wanted to register a charitable foundation, the name of which would contain a common obscene expression. Of course, documents with such a name failed the inspection of the Ministry of Justice and registration was denied.
We offered to register the foundation with a different name, which is similar to the intended one within the meaning. This helped us to smooth the situation with the Ministry of Justice. So when choosing a name, it is important to understand that not all words are equally acceptable.
In another situation, we were asked to register a non-governmental with the name of a well-known Ukrainian figure in the name. In this situation, the chances of success are much greater, and having obtained the necessary permits, we successfully carried out the registration. Learn more about this case here.
How to register a charitable foundation with foreign founders?
We are often asked whether it is possible to register a charitable foundation, where some of the founders would be Ukrainians, and some - foreigners. Of course, you can do so. However, this implies some differences in the procedure.
First, it is important to legalize the statutory documents of the foreign founding organization. This means that the registration documents will need to be apostilled or certified, depending on which country these documents come from.
Secondly, if a non-resident is appointed as a director of the foundation, he/she will need to obtain a TIN and a work permit. You must be very careful with obtaining a work permit, because a foreigner can only obtain it for positions listed in the Classification of Occupations.
In connection with this topic, let us answer another frequently asked question: How many founders should there be in a charitable foundation?
There should be at least two founders in a charitable organization. And if we are talking about charitable foundations, they may be created by one or more founders.
You may also like: Peculiarities Of Registration Of The Charitable Foundation With Foreign Founders
Does a charitable foundation need real estate or a legal address?
You don't need to buy real estate to start the charitable foundation. In this case it will be enough just to specify the address of one of the founders or the premises rented during registration.
A common option to solve this problem is to buy a legal address. And the ideal solution would be a legal address with postal services, so as not to miss important messages and correspondence from regulatory authorities.
If you want to register a charitable foundation and you have questions that can not be clearly answered by Internet sources or regulations, don't hesitate to call us. We will find the best solution for you.
We are ready to help you!
Contact us by mail [email protected] or by filling out the form: