How to register a public non-profit organization in Ukraine during the war?
Cost of services:
18000 UAH
Registration of a non-governmental organization
27000 UAH
Registration of non-governmental unity
from 54000 UAH
Accelerated or complicated registration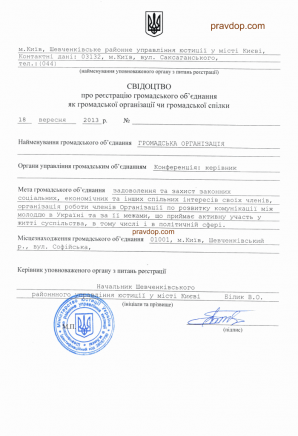 Reviews of our Clients
Chairman of the Board S. Yegorov, All-Ukrainian non-governmental organization "Association for the modernazation of enterprises"
The first step of our interaction was in the form of advising on peculiarities of foundation and regulation of activities of non-governmental organizations after which lawyers drafted charter of the organization in accordance with our requests
Chief ophthalmologist of Ukraine, Oksana Vitovska, All-Ukrainian alliance of ophthalmologists
We would like to express sincere gratitute to the team of Law firm "Pravova dopomoga" and personally to Volodymyr Gurlov for professionalism and purposefulness in your work.
Head of association O. Savchenko, All-Ukrainian association of Vasyl Sukhomlynskyi
Non-governmental organization "All-Ukrainian association of Vasyl Suhomlinskiy" awards Gurlov Volodymyr Oleksandrovich, a representative of law firm "Pravova dopomoga", for professional and competent legal support...
General director I.Logvinenko , Bravo Airways
Bravo Airways company expresses its gratitude to law firm "Pravova Dopomoga" for high quality and timely provision of legal services.

The war in Ukraine stopped the work of a large number of government agencies and important processes for the country. This included the work of state registrars, and thus the ability to create and register any kind of companies, institutions, organizations.
Despite the fact that in many regions state registrars and notaries resume their work, in our country there are still a lot of territories in hazardous areas, where the full work of registrars is impossible.
However, there has never been a greater need for opportunities to create charitable and non-governmental organizations to protect the interests and rights of diverse groups of people. For example, it is much easier and more reliable to talk to foreign partners about humanitarian or other assistance if you do it on behalf of an officially registered organization. When you can show the documents of registration, provide an official account, demonstrate the goals and mission of the organization, provide some guarantees, etc.
What to do in such a situation? How, having important goals for Ukraine and understanding how to help now, to be able to register the necessary public non-profit organization? All the more, the official registration and nonprofit status is important as well.
You may also like: The Management Bodies of a Non-Governmental Organization or Union
Can I register a non-governmental organization during the war?
Of course you can, but it will involve certain difficulties.
First, only a limited number of registrars can register organizations. This list is formed by the state and is constantly updated. Today, practically all departments work, except for the regions with active military activities.
Charitable and non-governmental organizations are almost the first types of enterprises that got the "green light" for registration or making changes. Everyone understands how important it is now for solving the issues with assistance in the regions, and on a nationwide scale as well.
There is another List - it includes those territorial and administrative units, which will not be able to carry out registration activities, that is, users will lose access to registries.
So, the first question you need to decide is where you can conduct registration actions in your case.
Registration can now be carried out both at the registrar and online - to do this, you must be guided by a list of working registries, draw up and submit electronic copies of documents, filing in an electronic form. Of course, it is necessary to have an electronic certified signature of the person authorized to sign registration documents (the applicant).
If not all of the documents were submitted - or they were improperly executed - the applicant will receive a refusal. If the application was submitted online - the answer will also be made online - by mail or through other means of communication available to the registrar.
Please note! Today, there are categories of charitable and non-governmental organizations that will not be charged for registration - these are organizations whose creation is aimed at helping the Armed Forces of Ukraine and other formations or persons who defend our country from the aggressor. Also, if you create an organization to protect the interests of persons who suffered from military aggression, and this goal is stipulated in your statutory documents, the registration fee will not be charged as well. In fact, all non-governmental organizations now fall under the notion of protection.
To summarize, the algorithm of actions, which you should focus on, is as follows:
Make preparations for registration - Hold the meetings of members, prepare all statutory documents;
Decide on the method of filing the documents - offline or online, and prepare for that;
Find the closest registrar who can accept your documents;
Carry out registration activities.
Our team offers you to do all this work for you, as well as:
Development of the structure of the organization or union that will suit you;
Development of the documents of the organization, including the Charter, which would clearly regulate the future life of the NGO;
All work taking into account additional wishes, for example, a foreign member or special rules of participation in the NGO.
Please check our service fees here.
Do you want to start a non-governmental organization or a union? Don't hesitate to contact us! We register companies even in wartime, and we can help you do it simply and safely.
Didn't find an answer to your question?
Everything about registration of non-governmental organizations in Ukraine here.
We are ready to help you!
Contact us by mail [email protected] or by filling out the form: