Legalization of stay for US citizens in Ukraine: residence permit, permanent residence
Cost of services:
starts at 800 USD
TRP on the basis of work in Ukraine
from 600 USD
Residence permit extension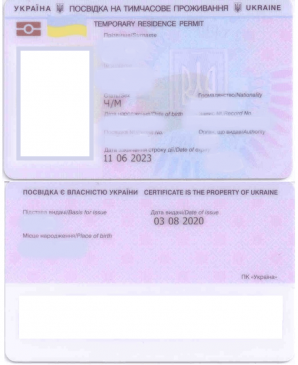 Reviews of our Clients
Daniel Holmes, Citizen of USA
Based on our positive experience of cooperation with Volodymyr Gurlov and his team we can recommend them as a reliable legal advisor on the matters of Ukrainian law...
Due to the fact that our company has a consistently high reputation, qualified team of lawyers from different areas of law, we are increasingly sought by U.S. citizens who are used to receiving services from trusted professionals. Many people choose our company to start businesses, work in IT, and, of course, for charitable or volunteer work, and sometimes to make a family. Our experts are ready to help in each of these cases.
In this publication we will look at some of the most popular services provided by our company to U.S. citizens.
LLC registration, if a US citizen needs business in Ukraine
We have successfully assisted with the registration of legal entities, charitable foundations and non-governmental organizations, including for volunteer activities.
For example, in May we sold a charity organization to a U.S. citizen, in order to manufacture fabric products. The procedure is organized in such a way that some of the products will be made in Ukraine and some by Ukrainian refugees in the US.
As a result, our specialists helped to organize the work of the foundation, to obtain a taxpayer identification number and a work permit for the foreigner. And not only for the foreigner, who is the head of the foundation, but also for the volunteers, who also came from the U.S. to provide volunteer assistance. All volunteers obtained visas and temporary residence permits in Ukraine on the basis of performing volunteer activities.
You may also like: How Can a Foreigner Start a Business in Ukraine: Sole Proprietorship or LLC?
How to get a Temporary Residence Permit through volunteering?
Many U.S. citizens come to Ukraine as volunteers to help. However, it is not always possible for the organizations they are members of to handle all documents correctly.
In order to prevent violations of migration laws, our lawyers provide practical assistance and advice on how to obtain the appropriate visas and residence permits in Ukraine, how to exchange and extend them, etc.
In addition, we closely cooperate with some organizations which involve foreigners in various volunteer programs. So if you have a great desire to help, but do not know how, we will help you to start a volunteer activity and properly execute all documents in Ukraine.
You may also like: Residence Permits for Volunteers
Obtaining a residence permit through registration of legal entities for U.S. citizens
We have a significant practice in providing legal entity registration services. We start with obtaining a taxpayer number for a U.S. citizen and then register the company in accordance with the economic activities chosen by the foreigner. If necessary, we open bank accounts. Also our specialists develop and approve the charter and employment agreements.
We assist in obtaining a permit for a foreigner's employment at the employment center and prepare a package of documents for visa D. After a US citizen enters Ukraine, he/she will immediately apply for a residence permit. Our lawyers can help to obtain such a permit for several years at once.
For example, our Client, a US citizen, who entered Ukraine just one week ago, is already waiting for his residence permit to be processed and issued.
For the last few weeks our specialists have been working on:
obtaining a tax identification number from the tax office;
registering an LLC;
drafting the charter of the LLC, which will carry out construction and repair activities;
applying for and obtaining a work permit from the Employment Center;
preparing the package of documents for the D visa;
preparation of documents for obtaining the residence permit.
The foreigner had to:
draw up a power of attorney;
submit documents to the consulate for a D visa;
enter Ukraine and apply for a residence permit.
The Client did not go into the peculiarities of our legislation on these issues, but relied entirely on the professionalism of our lawyers. As a result, he received a ready-made company and documents for legal residence in Ukraine for the next three years.
Our cooperation does not end here, as the Client decided to outsource all accounting and employment services for his company to our experts.
Our other Client, who was applying for a work permit a year ago, asked us to arrange and formalize his marriage with a Ukrainian citizen and, accordingly, to exchange his residence permit. Our lawyers prepared all documents for marriage registration and submitted them for permit exchange on the following day.
We take upon ourselves all organizational moments of preparation of the necessary package of documents: translations, legalization, medical insurance, payment of services and state fees, consultations with officials, submission of documents for appropriate checks, etc.
High quality of the service standard and our reliability are the reason why our Clients keep cooperating with us and return to us again and again.
We do not close our doors even in times of war, and maintain the quality standards of legal services during these difficult times.
Didn't find an answer to your question?
Everything about obtaining a Temporary Residence Permit in Ukraine here.
Everything about obtaining a Permanent Residence Permit here.
We are ready to help you!
Contact us by mail [email protected] or by filling out the form: