Obtained 7 private security licenses during one licensing commission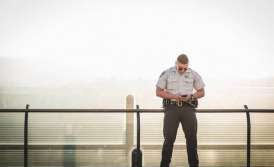 In August of 2016 we managed to get 7 positive decisions regarding issuing of private security licenses while the licensing procedures were undergoing some changes.
Thus, the package of documents for obtaining a license has slightly changed. A document was added confirming the labor relationship of the security organization specialist and the company that is going to get the license. It should be noted that the official employment of the indicated specialist at the enterprise of the licensee has been provided for by the licensing conditions for the implementation of security activities for a very long time. However, as always, the reason for the fulfillment of the Ministry of Internal Affairs of Ukraine requirements of the law was the non-individual cases of application of citizens, whose personal data were illegally used to obtain security licenses, to the department.
Thus, a copy of the employment contract or the work book of a security organization specialist has been added to the package of documents for obtaining a security license.
The procedure for obtaining licenses has also changed. Where in the last ten years, documents were submitted to the licensing authority without a power of attorney and, accordingly, without a mark on their acceptance, now it is possible to submit documents directly to the office and receive an incoming number. This is important for the reason that it is from this moment that the deadline, established by law for decision making by the licensing authority, begins.
A change in the procedure for issuing security licenses can also be attributed to the fact that the results of the consideration of applications began to be posted quite quickly on the official website of the department.
Despite the constantly changing rules for the issuance of security licenses, our company manages to provide quality service for its Clients and obtain licenses for the protection of persons and facilities within the agreed time frame - up to 1 month.
All seven security license applications submitted by us in August 2016 were reviewed with a positive result. Clients received their security licenses, scans of which are available on the service page - "Security license".
We are ready to help you!
Contact us by mail [email protected], by phone number +38 044 499 47 99or by filling out the form: