Our lawyers helped to license a number of dental offices in Ukraine
Cost of services:
from 16 000 UAH
1-2 specialties
from 16 000 UAH
Alteration
from 24 000 UAH
More than 3 specialties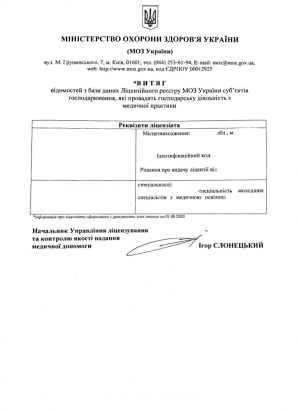 Reviews of our Clients
Director I. Garkusha, "Medyk" LLC
During provision of the services legal experts of the firm proved to be a professional team
Director L. Susenko, Medychni diagnostychi systemy LLC
We would like to express our appreciation to law firm "Pravova Dopomoga" for the provided services related to licensing of medical practice
I. Pruzhnyak , Sole trader I. Pruzhnyak
Despite complexity of licensing procedures, your lawyers got a positive decision about issuance of license for medical practice after the very first submission of documents...
Director S. Sokolova, LLC "Company"Nika-S"
Quick work of your lawyers allowed us to continue our medical practice without unnecessary breaks related to obtainment of the new license. Due to this we managed to avoid financial losses and continued providing high quality dental care services to our clients
Director A. Stelmakh, Private enterprise "ESTO"
We got consultations about organization of the medical center's work, formalization of labor relations with employees, legal regulations on use of different medical equipment...
N. Gorova, Sole trader N. Gorova
I want to recommend this firm to everyone, who wants to start his or her own medical practice...
S. Lyubynetskyi , Sole trader S. Lyubynetskyi
Without any recommendations I chose law firm "Pravova dopomoga" among all other companies on the market and not once did I regret my choice...
Director Mykhailo Bogdanovych Havrylyshyn, Kalush City Center of Primary Health Care
…we can confidently recommend the lawyers of Law firm «Pravova dopomoga» as reliable legal partners on the matters of medical practice licensing and other procedures related to the Ministry of Health of Ukraine.
Chief physician Romanyuk E.V., Municipal non-profit enterprise "Central district hospital of Busk"
... Having used the services of the Law Firm "Pravova dopomoga", we managed to solve our problems, as well as found a qualified and reliable partner.
The beginning of 2017 was marked by an increased activity in licensing medical practice. As in past years, dental specialties were the most popular. That is why we decided to separate licensing and support of dental offices, medical centers and health clinics from other medical law practices.
The most popular specialties among our clients are general dentistry, therapeutic dentistry and dental orthopaedics. Surgical dentistry and orthodontics are less popular, but still high-demand specialties. Children's dentistry is the least required specialty, and can be found mainly in large medical and dental centres that provide a full range of dental services. Searching a room for the dental practice has always been a hard process. Premises should meet sanitary standards, as well as they should be situated in the correct location from the standpoint of convenience for the patients at the same time. Only a long-term partnership with a lessor is suitable for such activities and that can often entail a number of potential risks to the owner of the dentistry. Read about such situation in the case studies of our practice of medical law OUR LAWYERS SUPPORTED SIGNING OF LEASE ON A DENTAL CLINIC
Searching premises for a dental office has always been a complex process. They shall meet health and safety regulations, as well as some requirements related to their location in terms of convenience for patients. Only a long-term partnership with the lessor is suitable for such activities, which can often entail a number of risks for the owner of the dental office. You can find more information on the practical cases from our experience in the article below.
OUR LAWYERS SUPPORTED SIGNING OF LEASE ON A DENTAL CLINIC.
Dentist and dental lab technician shall obtain two different licenses. Those years had witnessed a dramatic intensification in licensing the latter junior specialists. Dentists (dental hygienists) contacted our firm for licensing services both independently and as employees working for individual entrepreneurs or legal entities. At the same time, dental lab technicians worked either as a separate dental laboratory, which united several dental lab technicians, or as a dental laboratory within the dental clinic. Although the State Service of Ukraine on Food Safety and Consumer Protection has the decisive word on whether a premise is suitable for practicing medicine in, doctors looking for a medical office may rely on the general compliance criteria at the early stages. You can learn more about the general requirements for areas and structure of premises used for medical practice here.
The most popular trend at the end of 2016 and beginning of 2017 was licensing of individual entrepreneurs without medical education. To learn more about our experience in licensing individual entrepreneurs without medical education, please follow this link. Obtaining a medical license without having dental or other education in the medical field has become possible due to the latest amendments in the medical practice license regulations, which are highlighted here. More than ten businessmen with the staff of 5-7 employees have successfully obtained the license for a private medical practice with our help by now. Until 2018, the most problematic point of dentist's rooms opening was probably the placement of X-ray equipment. You can get information if where there any significant changes in the position of the Ministry of Healthcare from the article on our site THE MINISTRY OF HEALTH OF UKRAINE POINTS TO IMPORTANCE OF PROVISION OF ANTI-RADIATION PROTECTION IN DENTISTRY
Until 2018, the placement of X-ray equipment was probably the most sticking point when opening a dental office. You can learn whether the position of the Ministry of Health of Ukraine has changed significantly in this regard today from our company's information material.
The geography of requests for legal support and assistance in obtaining a medical license for a dental practice was not limited only to Kyiv, but also covers the vast majority of regions of Ukraine, including Lviv, Ivano-Frankivsk, Ternopil, Zhytomyr, Khmelnytsky, Chernivtsi, Odesa, Kherson, Poltava regions and even towns from the ATO zone.
We are ready to help you!
Contact us by mail [email protected] or by filling out the form: