How long can a foreigner stay in Ukraine: about visas and residence permits
Cost of services:
starts at 800 USD
TRP on the basis of work in Ukraine
from 600 USD
Residence permit extension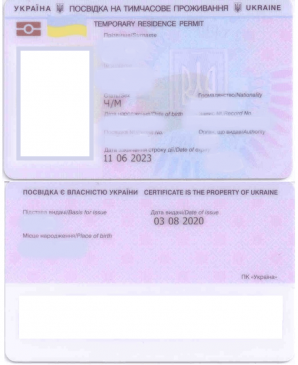 Reviews of our Clients
Daniel Holmes, Citizen of USA
Based on our positive experience of cooperation with Volodymyr Gurlov and his team we can recommend them as a reliable legal advisor on the matters of Ukrainian law...
Ukraine has always been known for its hospitality, rich culture, captivating nature, delectable cuisine, and impressive architectural landmarks. In a nutshell, we offer a plethora of intriguing, creative, and cultural experiences – there's much to see, hear, and savor here.
This allure frequently brings foreigners to our country. Each of them arrives with their specific purpose: some to get married, some for leisure or work, others for medical treatment, and a few to offer assistance. At this point, it becomes crucial to adhere to Ukraine's immigration laws, primarily focusing on legal residence.
There are multiple avenues for entering Ukraine – as a tourist, through an invitation, for employment, and more. Each of these categories (the purpose of your visit) necessitates its unique permission for residence and has a distinct duration during which you can legally stay in Ukraine. Let's delve into these timeframes, their observance, and their respective purposes.
You may also like: Permanent Residence in Ukraine for Uncommon Reasons
A Temporary or Permanent Residence Permit
Typically, our lawyers recommend starting with a temporary residence permit because it can be processed more quickly – in just 15 working days. The list of required documents is considerably shorter. Based on a temporary residence permit, you can secure legal residence in Ukraine for a period of one to four years, depending on the grounds, such as:
Education – up to 4 years
Employment – up to 3 years
For controllers, founders, and beneficial owners of legal entities – up to 2 years
Family reunification, volunteering, religious activities, work in a branch, participation in representation, and other grounds – up to 1 year
Documents for permanent residence permits are typically processed within a timeframe of up to 6 months when submitted within Ukraine and up to one year when submitted through a consulate. The permit is issued within an additional 15 working days.
A permanent residence permit is issued for 10 years.
This is considered the most stable and secure option for residency, as it allows for seamless entry and exit from Ukraine without concerns regarding renewal deadlines. However, it's important to note that every 10 years, the permit must be renewed, and any relevant changes, such as modifications to the holder's name or other personal details, should be promptly updated.
You may also like: How to Obtain a Residence Permit in Ukraine Without Eligible Grounds
Options for Obtaining a Visa to Ukraine: Short-Term, Long-Term, and Transit Visas
If you lack the grounds for obtaining a residence permit or need to make a short visit to Ukraine, it's advisable to explore other options.
The process of obtaining a Ukrainian visa is relatively straightforward. Each visa type corresponds to a specific period for which you are allowed to stay in Ukraine and aligns with the purpose of your visit.
Let's dive into more detail:
1. Short-Term Visa (Type C): A short-term visa is typically issued for six months. However, if the documents specify a different period justifying your stay in Ukraine, the consular officer may indicate an alternative period, not exceeding five years. The visa's validity cannot exceed the remaining validity of your passport. The type of entry allowed can be for single, double, or multiple entries.
Typically, the basis for obtaining a visa is an invitation from a legal or physical person, a religious organization, the media, or a government agency. The purpose of the trip can vary and may include:
Business purposes
Holding a foreign Ukrainian ID
Tourism
Medical treatment in Ukraine
Property ownership in Ukraine
Family relationships (spouses, parents, children) in Ukraine
And some others
This type of visa is generally obtained by citizens from countries in South America, Asia, and Africa, such as Algeria, Morocco, Vietnam, Indonesia, South Africa (RSA), India, Jordan, Syria, Russia, Afghanistan, Turkmenistan, Tunisia, and others.
This option is convenient for those who don't wish to change their citizenship or acquire permanent residence but desire the flexibility to stay in Ukraine for an extended period or visit Ukraine freely without the need for a separate permit on each visit. It's also a practical choice for individuals coming to Ukraine for specific purposes, such as marriage, immigration, or citizenship applications, handling inheritance matters, seeking medical treatment, or visiting family.
2. Long-term Visa D: This visa is issued to foreigners entering Ukraine for documentation purposes. It covers a range of activities, including family reunification, volunteering, employment, education, immigration, religious, sports, or cultural activities, participation in official representation, work in a branch office, or media-related work.
The duration of this visa is up to 90 days.
We typically assist clients in obtaining this type of visa when they visit Ukraine for subsequent temporary residence applications.
If you intend to apply for temporary residence in Ukraine, it's essential to secure a Visa D with the appropriate coding that matches your purpose, as visas for tourism or private visits are not suitable.
3. Transit Visas can have a validity of up to one year and can be issued for single, double, or multiple entries. The grounds for obtaining a transit visa include passing through Ukraine to a third country, transporting cargo, or carrying passengers.
In cases where international agreements allow it, foreigners may enter Ukraine without a visa. In such cases, the maximum duration of stay is 90 days for a single entry or a cumulative total of 90 days within the last 180 days for multiple entries. However, it's easy to become confused and miscalculate the timeframes, so our lawyers advise using the Migration Service's migration calculator on their website to ensure compliance.
You may also like: Ukraine D Visa: What to Do When It Expires?
Stay Durations and Visa Extensions in Ukraine: What to Know and How to Proceed
It is crucial to monitor the duration of your stay in Ukraine and, when necessary, either leave the country within the allotted time or, if you have valid reasons, apply for an extension. Grounds for an extension can include medical treatment, caregiving for a sick family member, pregnancy or childbirth, processing inheritance or immigration documents, obtaining Ukrainian citizenship, and other special circumstances. The main requirements for extension are that these reasons can be substantiated with supporting documents, they genuinely prohibit you from leaving Ukraine, and a host is willing to provide accommodation and financial support during the extension.
As a general rule, extension applications are typically accepted no sooner than 10 days before your legal stay period expires and no later than three days before. However, even if you exceed your lawful stay duration in Ukraine, you can still request an extension. In such cases, you will first need to pay a fine for violating immigration laws, which can amount to as much as 5,100 UAH.
In our lawyers' practice, we have successfully obtained over 200 entry visas for Ukraine, helped more than 80 foreigners obtain temporary or permanent residence permits in Ukraine, and assisted over 20 individuals in extending their stay. Each case is unique, with its own specific needs and life circumstances.
With over a decade of experience in immigration law, our lawyers are well-equipped to help you find the most appropriate and optimal solution for your situation.
You may also find the following services of interest:
Issuing invitations to Ukraine
Acquiring Ukrainian citizenship
We are ready to help you!
Contact us by mail [email protected] or by filling out the form: