How to get a residence permit in Ukraine if there are no grounds?
Cost of services:
starts at 800 USD
TRP on the basis of work in Ukraine
from 600 USD
Residence permit extension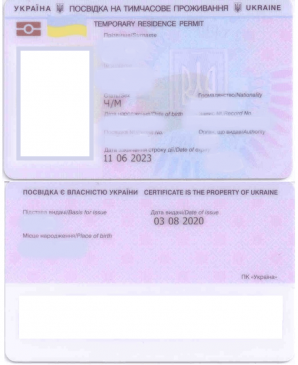 Reviews of our Clients
Daniel Holmes, Citizen of USA
Based on our positive experience of cooperation with Volodymyr Gurlov and his team we can recommend them as a reliable legal advisor on the matters of Ukrainian law...
Migration is a normal and familiar phenomenon in the world. Everyone has their own personal reasons for moving to live in this or that country. Ukraine has recently become one of the countries that foreigners choose for long-term residence. Even despite the war and sometimes because of it we receive requests for residence permits in Ukraine from foreigners.
Before the war representatives of IT profession, entrepreneurs and other persons who were looking for comfortable tax system and country with high level of services and economical cost of living often moved to Ukraine. All of this still exists today, but an influx of foreigners who want to help with volunteer work has been added.
Of course, one must not forget about the legality of stay. In case of violation of migration law, in addition to administrative responsibility in the form of a fine, you can get a ban on entry for up to 5 years.
Most often a foreigner who comes to Ukraine already has certain grounds for legalization: relatives, intention to marry, employment or business, volunteer work, charity and religious activities, etc.
Our lawyers analyze the documents and assist in obtaining visas and residence permits, but it often happens that the documents available to the client are not sufficient, or they do not meet the requirements. For example, it is impossible to confirm the relationship or degree of kinship, there are no grounds for legalization, etc.
It is for such cases our specialists use all their experience, select the option that can be realized just for you. We will cover the topic using examples of cases, which we have offered to foreigners and successfully realized for the last year.
You may also like: How Long Does It Take to Get a Residence Permit in Ukraine?
Starting your own company and getting a job in Ukraine
The most popular option is creating your own business. Choosing this option, we explain in detail all peculiarities of starting a firm in Ukraine, consult about types of activities, taxation, employment, etc. If necessary, we provide complete accounting and legal support.
Yes, for the last year we helped our clients to start up business in such spheres as IT, security activity, land clearing, food production and others.
Starting a business gives you employment in Ukraine. And you can already choose whether to use the company opened for you as a business in future or to leave it without activity, just for the permit.
Over the past year, our clients have become more than 80 companies, charitable foundations, organizations and legal entities of other forms of property.
Previously, few people paid attention to such companies, but after the outbreak of war, a new rule of law was introduced, obliging them to pay the unified social security tax. Of course, this must be correctly calculated and fixed in the accounts. Read more here.
If you do not pay the unified social security tax, there is a great risk of losing your work permit and therefore your temporary residence permit. You can apply for a new permit after one year at the earliest.
That is why we offer our clients accounting support for such "zero" companies, to ensure timely payment of the unified social security tax and safe residency in Ukraine. The cost of obtaining a permit and further support can be found here.
You may also like: Is It Allowed Not to Leave Ukraine While Waiting for Citizenship or Residence Permit?
Getting a job in a non-governmental organization or becoming a volunteer in Ukraine
Last year it was popular not only to set up various companies, but also to create charitable foundations and organizations.
There are quite a few companies, non-governmental organizations, and charitable foundations in Ukraine that attract foreigners to their activities. Not only as volunteers, but also as workers.
Employment is the basis for residence and obtaining a permit, which has many advantages. So, a foreigner is legally in Ukraine, has legal resources for existence, opens an account in a Ukrainian bank. In addition, at any time can terminate employment and leave the country, without wasting time on the liquidation of their own business.
It is also worth considering quite comfortable working conditions in Ukraine, the possibility of working remotely, part-time, paid vacation, etc.
How our specialists help you:
obtain a permit for the use of foreign labor. At this stage the foreigner is not required to be in Ukraine. Our specialists will prepare, submit documents and obtain a permit. We will also help develop an employment agreement/contract/gig contract.
prepare documents for visa D and residence permit. We make translations, insurances, drafts of applications and petitions from the employer, as required by law;
register the place of residence;
provide, if necessary, accounting and legal support to the company that employs foreign workers.
Of course, there must be an organization, which, firstly, will be ready to officially employ you or accept you as a volunteer, and secondly, such an organization must have the right to employ or engage foreign persons in volunteer activities.
Please note! Talking about employment and volunteering we mean different things with different conditions for obtaining Ukrainian citizenship. We have already covered this topic in detail here.
Even if you do not have grounds for obtaining a temporary residence permit in Ukraine, but you need to stay in Ukraine longer than possible on a tourist visa, we will find a solution for you.
Please contact our experts for advice and professional assistance.
Didn't find an answer to your question?
All you need to know about the residence permit in Ukraine here.
We are ready to help you!
Contact us by mail [email protected] or by filling out the form: