Real estate commissioning: what you need to know
Cost of services:
from 65 000 UAH
Support of construction with a building passport
from 54 000 UAH
Self-build legalization
from 150 000 UAH
CC1, CC2, CC3 project support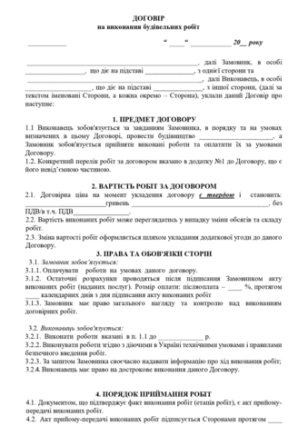 Reviews of our Clients
Partner, Denis Y. Lysenko, Vasil Kisil & Partners
... we would like to express our respect and gratitude for the fruitful cooperation.
... our work on joint projects assured us of your high level of professionalism

L. Chervonyuk, LLC "Vitalux"
Vitalux company highly appreciates results of cooperation with Law firm "Pravova dopomoga", can characterize it as a reliable partner and based on personal experience is ready to recommend it to interested persons...
General Manager Stashkevych I.Y., LLC "Trading company" Rud"
We would like to indicate that law firm "Pravova Dopomoga" has become a reliable partner for legal services provision and we can recommend it as a team of qualified professionals who are easy and pleasant to deal with
General director Skibinskiy V., Yokogawa Electric Ukraine Ltd.
Yokogawa Electric Ukraine Ltd. recommends Vladimir Gurlov and his team of lawyers as a reliable legal partner and advisor for foreign businesses in Ukraine...
G. Zeynep Kucuk, SANOVEL ILAC SAN. ve TIC. A.S.
Helped with the liquidation of a foreign representative office in Ukraine
General director I.Logvinenko , Bravo Airways
Bravo Airways company expresses its gratitude to law firm "Pravova Dopomoga" for high quality and timely provision of legal services.

President Tedeev E.S., Ukrainian wrestling association
Ukrainian wrestling association would like to express its sincere appreciation to the team of Law firm "Pravova Dopomoga" for mutually beneficial cooperation
Chief ophthalmologist of Ukraine, Oksana Vitovska, All-Ukrainian alliance of ophthalmologists
We would like to express sincere gratitute to the team of Law firm "Pravova dopomoga" and personally to Volodymyr Gurlov for professionalism and purposefulness in your work.
When does the construction of immovable property, a residential house, a building, or a structure qualify as unauthorized construction? This applies when:
It occurs on a land plot not allocated for such purposes;

It is undertaken without the appropriate documents granting the authority to conduct construction activities;

There is no approved plan or construction permit;

Urban planning conditions and restrictions have been revoked;

There is a violation of construction regulations and established norms.
It's worth noting that unauthorized construction encompasses not only newly created structures but also real estate properties that arise as a result of:
reconstruction;

major renovation;

rebuilding;

extension of an existing structure.
Additionally, this pertains to constructions undertaken without obtaining the requisite permits, as such actions cause the property to lose its alignment with the one for which ownership rights have been granted to the proprietor(s).
What are the consequences of unauthorized construction?
As a result, the property cannot be commissioned for use, and it remains ineligible for sale or inheritance. Moreover, in times of armed conflict and due to destruction or damage to the property, you won't be able to claim compensation from the government.
Such property is subject to demolition at the expense of the individual who undertook or is undertaking the construction, as determined by a court ruling.
Furthermore, fines may be imposed for:
illegally occupying a piece of land – ranging from ten to fifty thousand untaxed minimum citizen incomes;

conducting construction work without obtaining the necessary permits and operating structures that haven't been commissioned for use – ranging from two hundred and fifty thousand rubles to three thousand untaxed minimum citizen incomes (depending on the severity of consequences or liability of the structures).
However, in numerous cases, there's a prospect of legalizing unauthorized construction. Today, we will share our expertise in the property commissioning procedure. Are you curious not just about the process itself, but also about who can perform this procedure on your behalf? Feel free to consult our specialists.
Can ownership rights be obtained for unauthorized construction?
An individual who has engaged in or is currently engaged in unauthorized construction of real estate does not acquire ownership rights to it. Additionally, the state registration of ownership rights for unauthorized construction by the party responsible for the construction does not alter the legal status of the construction as unauthorized. This does not eliminate the possibility of demolishing such real estate as per the procedures established for unauthorized constructions.
A client has approached us to conduct an audit for the purchase of a land parcel. The prospective seller obtained ownership of the land through a non-competitive process based on Article 134 of the Ukrainian Land Code, citing the presence of the seller's property on the land plot. However, our investigation revealed that the structure was constructed and put into operation without obtaining the necessary permits. As a result, ownership rights were somehow registered for this property, and the land plot was transferred outside the framework of competitive procedures. Ownership rights to such a land parcel could potentially be revoked through a court decision.
Please note! During the legal audit of an investment property, we consistently analyze the foundation upon which ownership rights are established by the involved parties, as not everything within our registration system is flawless. This becomes especially relevant when there are defects in the registration process for the property. The situation becomes particularly complex when the process of allocating land, especially without an auction, can be called into question. This was precisely the case in our situation.
Hence, it's crucial to understand that unauthorized construction can lead to unfavorable consequences in the future. Constructing without adhering to legal requirements and without obtaining the necessary permits merely defers the resolution of issues to a later time.
However, if the problem already exists, there is a legislative avenue to potentially legalize unauthorized construction.
The commissioning of completed construction projects is carried out with consideration for the fact that during the period of martial law in Ukraine and within three months from the cessation or revocation of martial law, the deadlines for certain types of finishing work on facades and landscaping can be extended.
You may also like: Obtaining a Construction License During Wartime: How to Get Started?
Commissioning and establishing rights through construction amnesty via Declaration
The process of commissioning structures and formalizing property rights has been simplified for the following categories:
Individual (rural) residential houses and garden cottages with a combined area of up to 300 square meters.

Auxiliary (rural) buildings and structures with a combined area of up to 300 square meters, constructed between August 5, 1992, and April 9, 2015. This provision also extends to agricultural buildings and structures, constructed prior to March 12, 2011.
Furthermore, if construction permits were originally obtained but the structures were not put into operation in accordance with the documents and legal requirements of the time, there exists an opportunity to capitalize on the amnesty by bringing them into operation.
Nonetheless, it's important not to delay addressing this matter. During times of military aggression, in order to be eligible for compensation for damaged or destroyed immovable property, a prerequisite is the submission of document copies that validate ownership rights to the said property. However, this doesn't apply to situations where ownership rights to the corresponding immovable property have been registered in the State Registry of Property Rights.
Additionally, if the bill numbered 5655 is signed into law by the President, introducing an administrative fee for legalizing unauthorized constructions, individuals will be required to pay a fee for the legalization, equivalent to 7 times the subsistence minimum for able-bodied individuals.
You may also like: Construction During War: How to Operate Under a Declaration?
Commissioning properties whose ownership is court-recognized
When a court validates ownership of an unauthorized construction, the property can be put into use, provided that its safe and reliable operation is confirmed through technical inspection.
In cases where an heir hasn't completed the construction, initiated its use, or registered ownership rights, they inherit all rights. The heir holds the option to approach the court with a claim to recognize their property rights as the developer, which form part of the inherited estate, along with the responsibilities vested in the predecessor as the developer. This encompasses:
Ownership rights over construction materials and equipment used by the predecessor during construction.

The prerogative to finalize construction (as the legal heir of the predecessor), enabling them to continue the construction on their behalf, in alignment with the inherited rights.

The right to provide documentation for the property's clearance for use.

The capacity to register ownership rights under their own name.
A declaration signifying the property's readiness for use, for which ownership rights have been affirmed by a court decision, is submitted using a specific form.
Commissioning of objects constructed based on the building passport
The process of putting completed construction projects into operation, based on an issued building passport, involves registering a declaration of readiness for operation through an authorized body.
This declaration contains information about the permit number, issuance date, and the authority responsible for registering the notice of commencement of construction activities.
As per the building passport, in cases where the construction involves multiple structures, each of them can be individually commissioned for use. This implies that following the completion of construction for each specific structure and the completion of the relevant technical inspection, it can be put into operation separately from other structures that may still be under construction.
Residential homes can be put into operation even if interior finishing work has not been completed.
In the case of reconstruction or extensive renovation of construction projects without altering their external geometric dimensions or foundation plans, there is no requirement to provide documentation confirming ownership or land use rights.
For example, consider a situation where a client constructed a house and obtained all the necessary permits based on a building passport. However, with the beginning of a significant crisis, the question of putting the house into operation arose. Even though interior work had not been carried out, the commissioning procedure is permissible when the structural framework and roof are in place. Therefore, based on the conducted technical assessment, we submitted a declaration of the property's readiness for operation. Once it was registered in the construction activity registry, we registered the property's ownership rights under our client's name.
Commissioning of CC1 category properties
For properties falling within the category of those with minor implications (SS1), and for properties constructed based on a construction permit, the process of commissioning is carried out through the registration of a declaration of the client's readiness for property operation by the relevant authority responsible for state architectural and construction control. The date of registration of such a declaration is considered the date of property commissioning.
Cost of Obtaining the Declaration for Construction
If declarations of readiness for property operation have been duly registered, this serves as the basis for entering into contracts for the supply of essential resources required for the property's functioning, such as water, gas, heating, and electricity. Moreover, a registered declaration forms the basis for formalizing ownership rights to the real estate property.
Documentation confirming ownership or land use rights is not necessary when submitting a Declaration of Readiness for commissioning a property with minor implications in cases of reconstruction or significant renovations for:
Construction projects without altering the external geometric dimensions or foundation plans.

Roadways, railways, power lines, communication networks, pipelines, and other linear utilities within the confines of their designated land areas.
Additionally, this exemption applies to new construction of engineering and transportation infrastructure projects initiated by state authorities or local governing bodies on lands owned by either the state or communal authorities.
Commissioning of CC2 and CC3 Category Properties
The process of putting into operation completed construction projects that fall within the CC2 (moderate consequences) and CC3 (significant consequences) categories involves the following steps:
Submission of an application, accompanied by a certificate of property readiness for operation, to the relevant state authority responsible for architectural and construction control.

Issuance of a certificate by the state authority responsible for architectural and construction control.
Such applications are to be submitted exclusively in electronic form through an electronic portal or another government information system integrated with the electronic portal. The users of this system include both the requesting entity and the provider of the corresponding service.
Before commissioning CC2 and CC3 category properties, a control geodetic survey is conducted. The general procedural process, applicable to construction projects of CC1, CC2, and CC3 categories, unfolds as follows. Upon obtaining the construction permit or approved project documentation:
Notification or application is submitted and registered, leading to the issuance of construction work authorization.

Special property rights are registered.

Construction work is executed.

A technical inventory is conducted.

A declaration or certificate of property readiness for operation is submitted, resulting in the issuance of a certificate.
The cost of construction supervision can be found here.
We provide a complete range of services:
Construction supervision with the acquisition of a building passport.

Obtaining all necessary documentation.

Legalizing unauthorized construction.

Commissioning construction projects, and more.
If you need legal support during construction work or require assistance in registering property ownership rights, don't hesitate to contact us!
You may also like:
Legal support for real estate transactions
We are ready to help you!
Contact us by mail [email protected] or by filling out the form: