Legal support of the business: is it so important?
Cost of services:
from 900 USD
Business registration in Ukraine
from 2300 USD
Foreign director
from 1400 USD/month
Basic support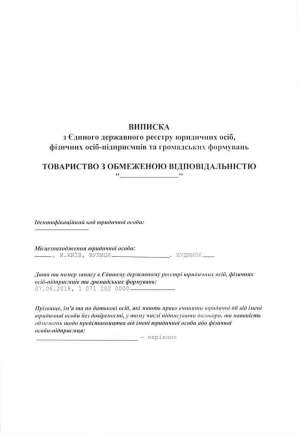 Reviews of our Clients
General director I.Logvinenko , Bravo Airways
Bravo Airways company expresses its gratitude to law firm "Pravova Dopomoga" for high quality and timely provision of legal services.

President Tedeev E.S., Ukrainian wrestling association
Ukrainian wrestling association would like to express its sincere appreciation to the team of Law firm "Pravova Dopomoga" for mutually beneficial cooperation
G. Zeynep Kucuk, SANOVEL ILAC SAN. ve TIC. A.S.
Helped with the liquidation of a foreign representative office in Ukraine
Chief ophthalmologist of Ukraine, Oksana Vitovska, All-Ukrainian alliance of ophthalmologists
We would like to express sincere gratitute to the team of Law firm "Pravova dopomoga" and personally to Volodymyr Gurlov for professionalism and purposefulness in your work.
L. Chervonyuk, LLC "Vitalux"
Vitalux company highly appreciates results of cooperation with Law firm "Pravova dopomoga", can characterize it as a reliable partner and based on personal experience is ready to recommend it to interested persons...
General Manager Stashkevych I.Y., LLC "Trading company" Rud"
We would like to indicate that law firm "Pravova Dopomoga" has become a reliable partner for legal services provision and we can recommend it as a team of qualified professionals who are easy and pleasant to deal with
Partner, Denis Y. Lysenko, Vasil Kisil & Partners
... we would like to express our respect and gratitude for the fruitful cooperation.
... our work on joint projects assured us of your high level of professionalism

General director Skibinskiy V., Yokogawa Electric Ukraine Ltd.
Yokogawa Electric Ukraine Ltd. recommends Vladimir Gurlov and his team of lawyers as a reliable legal partner and advisor for foreign businesses in Ukraine...
Anyone wishing to do business will sooner or later face the need to seek legal assistance.

Each businessman has a choice: to try to make sense out of complexity of Ukrainian legislation through its own effort when solving legal problems, or to save time and money by applying for legal support of the business.
There are many situations, when timely legal assistance can help you not only to solve certain issues, but also to save your business.
Today we will use the case from our practice to show you how qualified legal assistance and support can affect the outcome.
Our experience: Our Lawyers Drafted A Foreign Economic Agreement And Helped A Client From The USA To Undergo A Procedure Of Accreditation By Customs Authorities
Case: Setting up an IT company by a foreigner in Ukraine with the assistance of a business lawyer
In June 2019, we were contacted by a Norwegian citizen who wanted to start a business in Ukraine. The Client intended to set up an IT-company and was negotiating with potential partners from both Ukraine and other foreign countries.
The Client didn't know the procedure for setting up a company in Ukraine and legal registration of its activities, as well as had no time to learn this issue. At that time, the successful start of his business depended on the efficiency of addressing legal issues he was faced with.
That's why, the Client sought preliminary legal advice for his business and further assistance in his case.
During the consultation, the Client got the following questions answered.
How to formalize the relationship with business partners: to make them members of the company or to conclude an agreement with them?
This issue requires individual approach and depends on the roles and contributions that the potential partner is going to make to the business.
But the need to make the partner a member of the company arises in exceptional cases. For example, to start the production, you need to get premises, warehouse, technical equipment, vehicles, and the partner is ready to contribute this to the share capital of the company. But it should be remembered that the above facilities are contributed to the share capital once, and dividends will be paid out during the entire life of the company. Thus, if you can lease the necessary facilities for the production, it is better to stop at this option.
Note! If you do not own 100% of the company's share capital, there are always risks that something will go wrong. The fact is that the law of Ukraine provides for a list of issues that can be addressed only by all participants unanimously. Therefore, if any of the participants does not come to the general meeting, you won't be able to make a decision.
Our recommendation: if you want to have a full control over the business, the company must be 100% owned by you. You should conclude contractual relationship with your partners.
Related article: How To Withdraw From The Members Of A Problem Company?
Why shall a company enter into a lease agreement, if all employees work remotely and no one stays in the office?
Indeed, there is no longer any need for all workers to be in one place. More and more people work from home and even abroad.
But you need to have a legal address to register the legal entity with the regulatory authorities on the territorial principle. In addition, it is recommended to have a PO box for postal correspondence.
Our company can provide you with a legal address by concluding a sublease agreement, as well as offer you a PO Box.
Related article: Our Lawyers Registered A Company In Odesa And Obtained An Overseas Employment Agency License
How to appoint myself as a CEO? Shall I conclude an employment agreement with myself?
If you own 100% of the company's share capital, you can appoint yourself as the company's CEO by your decision. But the CEO of the company is also an employee with whom an employment agreement shall be concluded.
And if the CEO is a foreign citizen, he/she needs to obtain a work permit before such appointment. To obtain the permit, the current CEO, who is usually a citizen of Ukraine, concludes an employment agreement with the future foreign CEO on behalf of the company. Thus, you will not have to conclude an employment agreement with yourself.
Related article: Management Of The Company By An Owner, Not A Director - Legality And Conformity With A Law
It's also worth noting that if you are not a citizen of Ukraine, it is technically possible to appoint yourself as a CEO when registering a company, because the state registrar does not check the availability of a work permit. But we do not recommend to do so, because you may face some questions from the regulatory authorities in the future.
Result of our lawyers' business consulting
Following the consultation, our company and the Client concluded an agreement for registration of the company and legal support of its activities, as the Client understood that:
A qualified specialist can immediately find and set the right course of actions, assess all possible risks and properly arrange the entire process;
It is better to avoid situations that may raise questions from the regulatory authorities than to address them;
Attempts to handle all legal issues on your own may result in the loss of profitable agreements;
An in-house attorney is a good thing, but he/she will unlikely be an universal soldier. Therefore, it is worth seeking the support of a law firm, where each employee is a professional in his/her field.
Related article: Our Experience In Setting Up A Business In Ukraine For A Citizen Of The United States Of America
We hope that the answers provided during this consultation were useful not only to the Client, whom they were addressed to, but also to you.
If you have any questions or you want to get the support of a team of specialists, we are always ready and glad to cooperate with you. You can contact us in any way convenient for you.
We are ready to help you!
Contact us by mail [email protected] or by filling out the form: