We registered a charity with foreigner among founders
Cost of services:
from 9000 UAH
Charity Fund Registration Fee
32000 UAH
Foreign Charitable Fund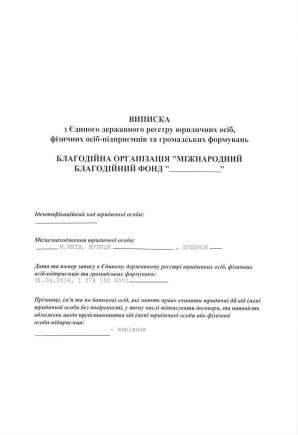 Reviews of our Clients
Palyonko O., Сaritable organization "International charitable fund"My native village"
I was convinced that the principle "We treat every client as a single one" indeed applies to this firm and is not just a loud motto...
Registration of charity in Ukraine with foreign founder
We had a Client who needed to register a charity as a Charitable Foundation with one of its Board members to be a foreigner. The Client wanted its Charitable Foundation to have among its governing bodies: the Foundation's Board supervised by the Board Chairman, the Foundation's President, the Executive Board headed by the Executive Director and the Foundation's Supervisory Board. Therewith, the Board shall have served as an executive body, the Executive Board shall have been an administrative and executive body, and the President would have had the right to act without a power of attorney and in a representative capacity.
Charity law explicitly provides for an executive board and a supervisory board, but it doesn't prohibit the establishment of other governing bodies.
In order to efficiently save time, our company decided to develop an individual Charter for the Client while obtaining a taxpayer identification number for the foreign founder, given that no one can become a participant of the charitable foundation or any other organization and enterprise without having it.
Thus, we provided our client with the full legal assistance in registering a charitable organization as a Charitable fFundation, including:
Consulting services on the registration procedures and key aspects of the charity activities;
Development of the individual Charter for the Charitable Foundation;
Registration with the relevant state authorities;
Inclusion to the Register of non-profit organizations and obtainment of a non-profit status for the Charitable Foundation.
The final stage of the registration procedure related to obtaining the status of a non-profit organization has become particularly challenging in recent years. However, our company is used to defend its position (and therefore our Clients' position) in the tax authorities, as well as to convince them by relying solely on the letter of the law. The Charity Foundation was successfully registered and included in the Register of non-profit organizations, and the Client have experienced neither incompetence, nor unfriendliness of the state officials.
We are ready to help you!
Contact us by mail [email protected] or by filling out the form: