What you need to know about electronic contracts under Ukrainian law?
Cost of services:
from 1600 USD
Legal support of investment activity in Ukraine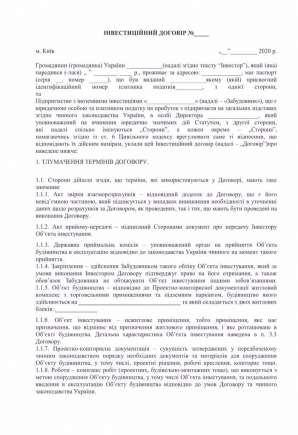 Reviews of our Clients
President Tedeev E.S., Ukrainian wrestling association
Ukrainian wrestling association would like to express its sincere appreciation to the team of Law firm "Pravova Dopomoga" for mutually beneficial cooperation
General director Skibinskiy V., Yokogawa Electric Ukraine Ltd.
Yokogawa Electric Ukraine Ltd. recommends Vladimir Gurlov and his team of lawyers as a reliable legal partner and advisor for foreign businesses in Ukraine...
L. Chervonyuk, LLC "Vitalux"
Vitalux company highly appreciates results of cooperation with Law firm "Pravova dopomoga", can characterize it as a reliable partner and based on personal experience is ready to recommend it to interested persons...
Chief ophthalmologist of Ukraine, Oksana Vitovska, All-Ukrainian alliance of ophthalmologists
We would like to express sincere gratitute to the team of Law firm "Pravova dopomoga" and personally to Volodymyr Gurlov for professionalism and purposefulness in your work.
General Manager Stashkevych I.Y., LLC "Trading company" Rud"
We would like to indicate that law firm "Pravova Dopomoga" has become a reliable partner for legal services provision and we can recommend it as a team of qualified professionals who are easy and pleasant to deal with
G. Zeynep Kucuk, SANOVEL ILAC SAN. ve TIC. A.S.
Helped with the liquidation of a foreign representative office in Ukraine
General director I.Logvinenko , Bravo Airways
Bravo Airways company expresses its gratitude to law firm "Pravova Dopomoga" for high quality and timely provision of legal services.

Partner, Denis Y. Lysenko, Vasil Kisil & Partners
... we would like to express our respect and gratitude for the fruitful cooperation.
... our work on joint projects assured us of your high level of professionalism

Technology is constantly moving forward, and we will soon begin to forget how to sign documents on paper. Even now, many things can be signed electronically, and people don't even think about how many things they sign just by checking a box on a website, or by entering a combination of numbers from a text message. We say goodbye to our privacy in a second by clicking the "I Agree" button in the annoying website box without reading it. However, there are still plenty of paper documents circulating around the world in the commercial realm.
Let's start with a case: a foreign company intended to buy an office in Ukraine by purchasing the corporate rights in the limited liability company that owned it. The contract of sale was signed in Germany, sent to Cyprus for a couple of days (the other signatory was there) and went to Ukraine with a courier. When the document came to Kyiv, it was solemnly signed by the last signatory and the lawyers were told to register the corporate changes.
In this story, the signing lasted more than a week, although it could have taken place in a few minutes electronically. Or could it not? What signatures make electronic documents having the same legal force as their paper counterparts? Which transactions in Ukraine shall be only on paper?
You may also like: Business Planning for Foreign Business in Ukraine
Electronic signatures that are valid in Ukraine
Ukrainian legislation allows different options to replace paper documents, here are the main:
Electronic signature with a single-use ID: when you enter in the application or on the website the combination of numbers received by e-mail or SMS. This option is suitable for B2C sphere, provided by the Law of Ukraine "On Electronic Commerce" (also used in banking);
Diia. Signature and BankID: electronic signatures available for individuals;
Facsimile reproduction or other analogue of a handwritten signature, but if there is a written agreement between the parties to use such signature (Part 3 of Article 207 of the Civil Code of Ukraine);
Signing with the use of electronic trust services (part 2 of Article 17 of the Law of Ukraine "On Electronic Trust Services"), more about this further;
Other methods, if provided for by: (a) agreement between the parties (Article 6 of the Law of Ukraine "On Electronic Documents and Electronic Document Circulation"), (b) separate legislation, (c) rules of information systems (part 6 of Article 11 of the Law of Ukraine "On Electronic Commerce").
Signing with a disposable ID is practically not applicable in B2B relationships, Action. Diia.Signature and BankID are not suitable for legal entities. There are other options, for example, entering your PIN is also an electronic signature. But if we're talking about commercial contracts, there aren't many options left.
You may also like: Legal Audit: When Do You Need It?
Signing contracts electronically, which is an analogue of a handwritten signature in Ukraine
In contracts, you can find a provision that the parties' documents with a facsimile reproduction of the signature (or other analogue) are legally binding for the parties. But it is not possible to sign immediately with an analogue, first you must stipulate a specimen signature or describe the procedure for using an alternative in the contract. That is, the parties must further agree in this form. The same applies to the exchange of emails: for our clients we add special provisions to the contracts so that in case of a dispute the courts have a better perception of electronic communication.
There are cases where the parties exchange scanned copies of contracts, with the text stating that they have the legal force of the paper originals. This option can be a problem if your counterparty defaults and later denies that the contract was properly entered into. A scanned copy is not even an electronic document, it is an electronic copy of a paper document, that is, a derivative of the original.
Comment from the team: For our clients, we always evaluate the balance between commercial expediency and legal formalism. For example, if according to the contract your company receives advance payment, the consequences of the counterparty's default are minimal for you. In this case, it is not reasonable to wait for a paper document and waste valuable business downtime. In general, the issue of paperwork should be considered in the context of the expediency of transaction costs.
Which electronic contract will have the legal force of a paper one?
Judicial practice in Ukraine is volatile, but the courts have a consensus on one option for digital signing of documents. The Law of Ukraine "On Electronic Trust Services" in article 17 determines that if a document on paper must contain a handwritten signature, its electronic counterpart must be executed using a qualified electronic trust service. We are talking about contracts signed with a qualified electronic signature (QES), more familiar from the name of its predecessor "EDS".
It is a combination of a private, public key and a certificate, or simply an electronic file on your computer, flash drive or a special encrypted carrier (token), with which you sign an electronic contract.
The signing process is similar to archiving files, but with a password and a time stamp. It is impossible to change the signed file; it contains the text of the contract, the signers' details and the time of formation. If necessary, the court or the parties without special skills can decipher the file. No more handwriting examinations.
There are many EDI services for businesses in Ukraine, which use QESs, but the document can also be "signed" for free, with the help of Ukrainian state Internet portals. We are constantly advising businesses on the proper electronic execution of contracts.
You may also like: Structuring Business in Ukraine as a Way to Save it
How do Ukrainian courts relate to digital progress?
The judicial system evaluates the legal significance of electronic communication in different ways. It is possible to find a decision of the Supreme Court that recognizes emails as customary business practices and normal legally significant practice. There are cases when even screenshots from messengers are recognized as evidence. Therefore, it is theoretically possible to prove in Ukrainian court the fact of certain communication. Correct wording in contracts gives more weight to electronic communication.
On the other hand, there is still a risk that the courts will declare inadmissible everything that was not signed using the QES. Cases of distrust of electronic documents are less common, but be aware of the risks if you have, for example:
a scanned copy of the agreement without the original;
agreements recorded only in the text of the e-mail;
messages sent to the e-mail addresses other than specified in the contract;
documents are signed by electronic signatures that do not have the appropriate status under Ukrainian law;
exchange of legally important information via messengers.
To the nuances of proof in such stories can be added tax and customs issues, analysis of the prospects of adequate perception by the state authorities of your contract in an atypical form for them.
When the Clients come to us with such issues, we analyze the case and give practical recommendations on how to solve the situation.
In the second part of the publication we will elaborate on the nuances of obtaining a QES by foreigners, about notarial contracts, and about the prospects of recognition of foreign electronic signatures by Ukraine.
If you want to organize your business activity in Ukraine and are planning to do it in the most comfortable way for you - don't hesitate to contact us. We will help you solve even such organizational issues simply and safely.
Consultation fee for businesses here.
Everything about doing foreign business in Ukraine here.
We are ready to help you!
Contact us by mail [email protected] or by filling out the form: