How to open a hotel in Ukraine?
Cost of services:
from 4000 USD
Start a restaurant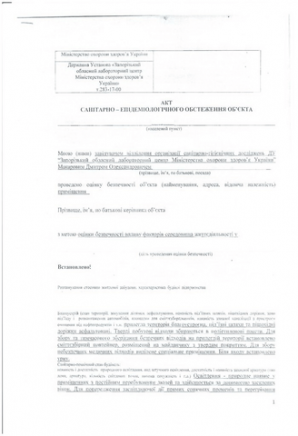 Reviews of our Clients
Partner, Denis Y. Lysenko, Vasil Kisil & Partners
... we would like to express our respect and gratitude for the fruitful cooperation.
... our work on joint projects assured us of your high level of professionalism

Chief ophthalmologist of Ukraine, Oksana Vitovska, All-Ukrainian alliance of ophthalmologists
We would like to express sincere gratitute to the team of Law firm "Pravova dopomoga" and personally to Volodymyr Gurlov for professionalism and purposefulness in your work.
L. Chervonyuk, LLC "Vitalux"
Vitalux company highly appreciates results of cooperation with Law firm "Pravova dopomoga", can characterize it as a reliable partner and based on personal experience is ready to recommend it to interested persons...
G. Zeynep Kucuk, SANOVEL ILAC SAN. ve TIC. A.S.
Helped with the liquidation of a foreign representative office in Ukraine
President Tedeev E.S., Ukrainian wrestling association
Ukrainian wrestling association would like to express its sincere appreciation to the team of Law firm "Pravova Dopomoga" for mutually beneficial cooperation
General director I.Logvinenko , Bravo Airways
Bravo Airways company expresses its gratitude to law firm "Pravova Dopomoga" for high quality and timely provision of legal services.

General director Skibinskiy V., Yokogawa Electric Ukraine Ltd.
Yokogawa Electric Ukraine Ltd. recommends Vladimir Gurlov and his team of lawyers as a reliable legal partner and advisor for foreign businesses in Ukraine...
General Manager Stashkevych I.Y., LLC "Trading company" Rud"
We would like to indicate that law firm "Pravova Dopomoga" has become a reliable partner for legal services provision and we can recommend it as a team of qualified professionals who are easy and pleasant to deal with
The hotel business is quite popular and profitable in Ukraine. At the same time, this process is rather troublesome and requires thorough legal preparation.
In our article, we will talk about how to open a hotel business in Ukraine.
First of all, let's deal with the term "hotel" itself. It should be clarified which premises are suitable for a temporary stay and meet the definition of the hotel because not all businesses that provide hotel services can be defined exactly as a hotel facility and, accordingly, receive certain certificates.
The legislation defines a hotel as any establishment whose activities are related to the provision of accommodation (temporary), room service, catering services for visitors, etc., and whose house or complex of premises consists of at least 6 rooms. In addition, the hotel has sole management.
The hotel has 3 characteristic features:
a company, i.e. a legal entity, with a single manager;
the premises have six or more rooms;
temporary accommodation and visitor services are provided.
However, room services for temporary accommodation may also be provided by both individuals and legal entities if such an establishment has less than 6 rooms and provides a limited number of services. In this case, they are not defined as hotels, but as accommodation facilities similar to hotels.
Important! Temporary accommodation facilities may be both individual and collective.
Collective facilities include:
hotels and facilities for temporary accommodation of people;
camping areas;
specialized and recreational areas;
congress centers, etc.
Individuals facilities include:
rented living premises;
rooms in family-type houses;
individual accommodations and others.
What are the types of hotels?
There are many different types of hotels. Among the main ones we can distinguish: hotel, agrotel, aquatel, apartment hotel, apart-hotel, botel, holiday home, guest house, hotel and office complex, camping, club-hotel, congress hotel, cruise ship, hotel residence, palace hotel, tourist complex, tourist train, mountain refuge, flotel, hostel, and others.
The type of hotel depends on the means of accommodation and specialization. For example, agrohotel is located in the countryside and has facilities for agricultural activities during the holidays. Aquatel is a hotel located on the ship, withdrawn from service as a vehicle, and is located on the stationary.
On what criteria are hotels given stars?
Firstly, the number of stars is assigned to hotels only after they have undergone evaluation and certification procedures, which are carried out by the relevant accredited bodies. As a result of the evaluation hotels are assigned from 5 to 1 star.
When hotels are evaluated, they are checked, in particular, for compliance with the material and technical equipment, the list and quality of services provided and the qualifications of the staff.
You may also like: Categories and Classes of Hotels and Restaurants: Requirements and Conditions for Obtaining
Material and technical requirements for hotels and peculiarities of the location of the restaurant on the territory of the hotel
There are a number of material and technical requirements for the premises and equipment of the hotel:
Design and construction must be carried out in accordance with the State Building Standards (SBS) and relevant regulations, the fact of compliance with which must be confirmed by the act of acceptance of the building or group of premises.
Convenient access routes with established road signs and safe paths for pedestrians.
Signage with information about the types and names of the hotel should be installed on the facade.
Natural and artificial lighting in the rooms is mandatory, and the light in the corridors and passageways shall be available 24 hours a day.
Electricity, water supply, and sewerage systems, heating systems that maintain the temperature in the rooms from 18 to 22 ° C, and ventilation, and telephone connection shall be installed.
The area of the room for accommodation must be at least 8 m2. It must be equipped with: furniture, bedding, and toiletries according to the number of residents, lights on the ceiling and the walls, and door locks with an internal fuse. The room's bathroom must have a sink, toilet, bathtub, or shower.
In addition to rooms for visitors, the hotel should have special rooms for guest services with amenities, storage rooms (if necessary), restaurants/cafes, and (or) kitchens for self-cooking.
Convenient facilities for people with disabilities must be provided by the hotel. For example, ramps installed at the front door, elevators, etc.
Qualified service personnel with appropriate training for the job to be performed.
Requirements for the services provided in the hotel
Mandatory minimum hotel services include:
24-hour guest reception;
catering services or opportunities for self-cooking;
daily cleaning of rooms with replacement of bed linen – at least once every five days, and replacement of towels – at least once every three days;
storage of valuables and luggage of visitors.
Hotels must establish and comply with certain safety requirements concerning the lives and health of guests and staff.
Pursuant to applicable law, hotels must:
be located in safe eco-zones;
guarantee the personal safety of visitors, as well as the safety of their property;
store and transport food products in accordance with sanitary norms;
be equipped with fire protection systems in accordance with Fire Safety Regulations;
contain evacuation schemes for people and procedures for staff and guests in emergency situations (such as natural disasters, fires, etc.)
comply with sanitary, hygienic and anti-epidemiological standards.
The sound level in the living space must not exceed the permissible limits.
Service personnel must undergo regular medical examinations.
In addition, hotels must have an ecopassport or conclusion of environmental services, confirming the absence of harmful effects on the environment, as well as a certificate on the ecological state of the environment.
Requirements for the hotel location on land plots
The area of the land for the hotel is determined according to the developed project, taking into account the conditions of the area where it will be located, its functional composition (specialization), and its category.
The area of the land plot must allow for the location of the recreation area, utility areas, parking lots, as well as landscaping;
All hotels, except motels, should be located near public transport stops, within a radius of no more than 700 meters. Motels are mainly located on highways.
The hotel must provide for:
1. Areas near the hotel entrance (at least 0.2 square meters per visitor);
2. Areas for temporary parking of cars, as well as for picking up and dropping off passengers from buses;
3. Driveways through the territory, free entrances to all entrances to the hotel;
4. For certain categories of hotels and hotels of the corresponding purpose, the sites should additionally contain sports and children's playgrounds, as well as winter gardens, greenhouses, recreation and leisure areas, etc;
5. Only open parking lots may be included in the area of the hotel plot.
Hotels of 4 stars and above must have guarded parking lots. The number of spaces for cars is designed depending on the category of the hotel (motel) and is calculated as a percentage of the number of rooms in the hotel. In addition, the hotel areas can also be allocated parking spaces for company vehicles.
For example, for hotels up to 3 stars the number of parking spaces should be at least 20, and for hotels from 4 stars - at least 25 parking spaces.
Requirements for the planning and functional structure of hotel rooms of different purposes
Dwellings
The residential category of premises includes:
living quarters,
rooms for service personnel,
lounges,
children's rooms, etc.
Superior rooms (apartments, suites, presidential suites and duplexes) must be composed of two or more rooms for accommodation and have at least 2 bathrooms.
All rooms must have built-in closets for clothes and linen. Rooms with more than three living rooms must have designed dressing areas of at least 6 square meters.
All hotel rooms should have windows for natural lighting of the rooms.
The floor service room should be divided into blocks at the rate that one block includes 30 beds in hotels of category 5*****, 40 beds - 4****, 50 beds in hotels 3***, and 60 beds in hotels 2 -**. In hotels 1* and 2** it is possible to place such rooms through the floor and it is also possible to place only one room for duty personnel.
Important! In 3-star hotels and above, the availability of lounges is mandatory.
Recreation room
5-star hotels should be equipped with a children's room.
As part of the premises of 3 to 5-star hotels should be a room for business meetings. This could be:
business center;
rooms for business meetings;
universal conference rooms with audio and video equipment.
Sports and wellness areas
It is recommended to equip 3-star hotels with facilities for sports or recreation – swimming pool, sauna, gym, solarium, etc. The number of visitors in such rooms can be no more than 10% of the hotel capacity and in the sauna no less than 1% at a time.
3-star hotels and above must have a medical room with a capacity of up to 500 people and an area of up to 36 m2.
Classification and requirements for the hotel room stock
Hotel rooms are available in the following types:
a presidential suite - a room consisting of 3 or more rooms and a kitchenette. Such a room includes an office, living room and bedroom;
apartments consist of 2 or more rooms (bedroom, living room, or dining room) and a kitchen;
a suite consists, as a rule, of only a bedroom and a living room;
a duplex suite is a two-story suite consisting of two or more rooms and has an interior staircase.
a semi-suite studio room consists of one room, part of which is used as a living room or kitchenette.
standard room is a first-category room, consisting of one room and a bathroom.
In addition, there are several requirements for water supply, sewerage, heating, ventilation, and air conditioning systems, electricity and electrical equipment, elevators, communications, and alarm systems. All these requirements are enshrined in the state building standards (SBS), details of which you can find out by contacting our lawyers.
Owners and staff of hotels must comply with sanitary and hygienic, environmental requirements, as well as requirements for energy saving and fire safety.
All hotel design solutions must ensure fire safety, in particular, there should be certain distances between hotels and adjacent premises (structures), unobstructed access of fire trucks to fire hydrants, to all rooms, and main evacuation exits/entrances to the premises. All hotels shall be equipped with automatic fire alarm systems.
Sanitary and environmental standards imply that hotels of all categories, especially 4 and 5-stars should install centralized or room water purification systems.
Violations of sanitary and hygienic requirements of fire safety can lead to penalties from the fire and sanitary control authorities.
You may also like: How to Obtain a Permit from the Fire Control Authorities?
Requirements for the restaurant location in the hotel
There are certain requirements for the restaurant's location on the territory of the hotels. In particular, in 4 and 5-star hotels, it is mandatory to place a restaurant of "Superior" and "Luxury" class. In addition, in 5-star hotels, in addition to the restaurant, there should be an additional reception area and catering areas for staff.
For 1 to 3-star hotels, it is recommended to place a catering facility on the hotel premises. Hotels that have no purpose of certification and assignment of the category are not required to provide catering services at all.
You can learn more about restaurant classification here.
Restaurants located in hotels should be divided into open restaurants, which can serve both visitors and just guests, and closed restaurants, which serve only residents of that hotel. The entrance to the restaurant or bar on the first floor for 2-star hotels and above must be solely from the hotel, and for restaurants in 3-star to 5-star hotels it can be from the hotel or through a separate entrance from the street.
Regarding fire safety requirements for the placement of restaurants for 50 people or more in hotels, it is necessary to provide at least one evacuation exit from these premises to the stairwell or directly outside. It is allowed to place summer restaurants and cafes on the territory of hotels provided that the number of people staying there does not exceed 50 people at a time.
In addition, there are certain fire and sanitary requirements for the premises of restaurants and their equipment. There is also a need to obtain certain permits such as a Fire Declaration, Alcohol License, as well as the development of the HACCP system and registration of facilities (premises and equipment).
There are certain sanitary and qualification requirements for restaurant staff, just like hotel staff.
Even the musical background of the restaurant (playing music tracks and performing "live" music), which does not violate the copyright of those music tracks, requires passing a certain procedure.
Please note! For restaurants of "High" and "Luxury" class the musical arrangement is a direct requirement in accordance with the level of their services.
You may also like: How to Legally Play Music Tracks in a Hotel or Restaurant?
Consequently, establishing a hotel, and especially a hotel with a restaurant requires a thorough knowledge of construction, fire, sanitary, and even environmental regulations, requirements for the classification and certification of facilities, interior, technical equipment, and staff qualifications.
Lawyers of our company can provide qualified theoretical and practical assistance, and will accompany you at any stage of your activities.
You can find out the cost of legal support and analysis of your business plan for starting a hotel or restaurant here.
Didn't find an answer to your question?
Everything about starting a hotel and restaurant business in Ukraine here.
We are ready to help you!
Contact us by mail [email protected] or by filling out the form: