Key issues of buying a ready-made charitable foundation under martial law
Cost of services:
starts at 35 000 UAH
Charity foundation
from 50 000 UAH
Charitable foundation with a register of volunteer organizations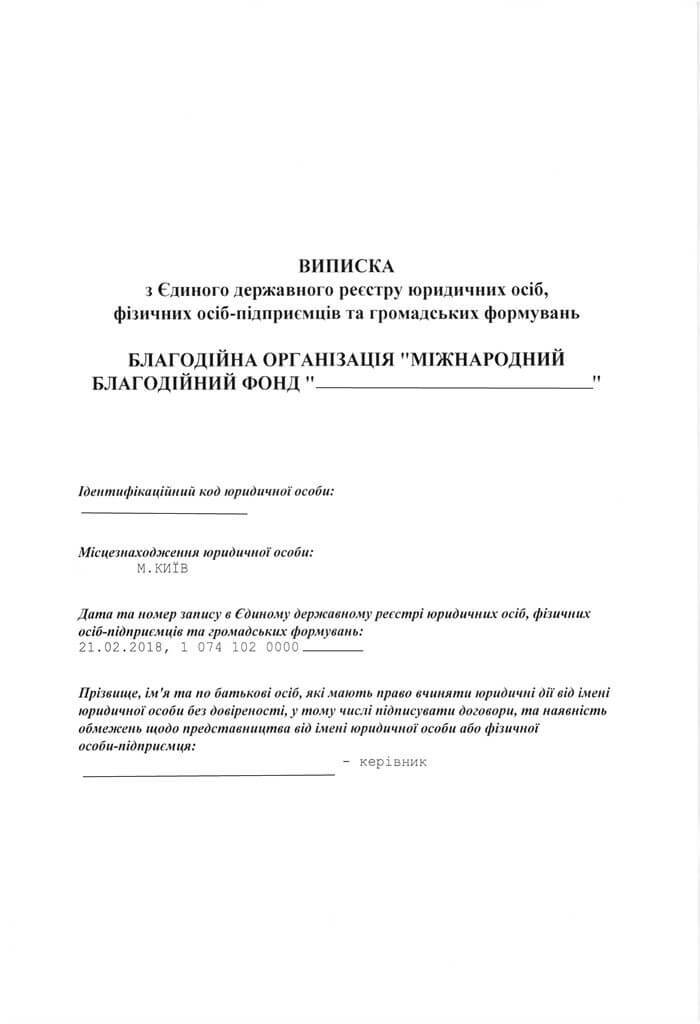 Reviews of our Clients
General director I.Logvinenko , Bravo Airways
Bravo Airways company expresses its gratitude to law firm "Pravova Dopomoga" for high quality and timely provision of legal services.

Chief ophthalmologist of Ukraine, Oksana Vitovska, All-Ukrainian alliance of ophthalmologists
We would like to express sincere gratitute to the team of Law firm "Pravova dopomoga" and personally to Volodymyr Gurlov for professionalism and purposefulness in your work.
G. Zeynep Kucuk, SANOVEL ILAC SAN. ve TIC. A.S.
Helped with the liquidation of a foreign representative office in Ukraine
L. Chervonyuk, LLC "Vitalux"
Vitalux company highly appreciates results of cooperation with Law firm "Pravova dopomoga", can characterize it as a reliable partner and based on personal experience is ready to recommend it to interested persons...
Partner, Denis Y. Lysenko, Vasil Kisil & Partners
... we would like to express our respect and gratitude for the fruitful cooperation.
... our work on joint projects assured us of your high level of professionalism

General director Skibinskiy V., Yokogawa Electric Ukraine Ltd.
Yokogawa Electric Ukraine Ltd. recommends Vladimir Gurlov and his team of lawyers as a reliable legal partner and advisor for foreign businesses in Ukraine...
General Manager Stashkevych I.Y., LLC "Trading company" Rud"
We would like to indicate that law firm "Pravova Dopomoga" has become a reliable partner for legal services provision and we can recommend it as a team of qualified professionals who are easy and pleasant to deal with
President Tedeev E.S., Ukrainian wrestling association
Ukrainian wrestling association would like to express its sincere appreciation to the team of Law firm "Pravova Dopomoga" for mutually beneficial cooperation
Since the organization of charitable activities is now in almost the highest demand, we will give answers to a number of other frequent questions. One of them is about the purchase of a ready-made charitable foundation.
We do have ready-made charitable foundations of various "ages", which we can re-register for you and give answers to related questions.
If you wish to start the activity related to receiving and redistributing charity aid right now, please contact our specialists and we will find the best option for you - buying a charitable foundation with a history, or registering a foundation personally for your needs and goals.
You may also like: Is It Possible to Get Charity in Cryptocurrency?
How is the procedure for buying (re-registering) a charitable foundation under martial law?
One of the first registration actions that became available during martial law was the establishment of charitable organizations. However, the demand for purchasing a ready-made foundation was and remains unchanged, as it has many advantages.
In particular, the "history" of charity activity, which is synonymous with reliability for foreign benefactors, as well as the availability of the entire package of documents, including a certificate of inclusion in the register of non-profit organizations.
The procedure of creating a new foundation is simpler than re-registering an existing foundation under martial law. But if you do decide that you need a ready-made foundation, the procedure will be as follows:
clarification of key points: after making an advance payment, our employees provide documents on the foundation for review, clarify from you the information needed to re-register the foundation;
preparation of documents by our lawyers, their coordination with the Client;
signing the documents by the Client and sending them to the address specified by us;
registration of changes in the Unified State Register. After our employees receive signed documents, the changes take a few business days.
Of course, if you are interested in the "history", i.e. several years of existence of the foundation - you need to make sure that the foundation hasn't been operating during all these years, and all the reports were filed on time. Do not run the risk of getting a foundation with debts, revoked non-profitability status or problems with regulatory agencies.
What exactly can be changed when buying a ready-made charitable foundation, is it possible and should the name be changed?
You can change everything, including the name. But we do not recommend doing this, because the registries may be updated intermittently.
There may be a situation that the name will remain in the registry of non-profit organizations for a long time, and you will have to prove each time that it is the same organization with the EDRPOU code. And this is clearly not what the new owners of the foundation want, especially in a situation where time is of the essence. So you need to choose either any name, or a working fund.
You may also like: May a Charitable Foundation Be Registered During a War?
If the purpose of creating or buying a charitable foundation is to help the warfighters and the AFU, do these factors have an impact?
It affects registration and re-registration by no means.
Can I open a bank account during martial law?
Yes, you can. Traditionally, the manager must come in person to the branch of the selected bank with personal documents and documents for the charitable foundation. However, you should make an appointment in advance, and find out if the branch you want is open.
If you need help, we will arrange everything on a turnkey basis, including making an appointment at the bank.
Who can donate to a charitable foundation?
Benefactors can be private individuals and legal entities. That is, for example, any government agencies cannot be benefactors.
You may also like: Receiving Donations in the Foundation Account
What are the types of charitable giving?
Article 5 of the Law of Ukraine "On Charitable Activities and Charitable Organizations" defines the types of charitable assistance, including:
gratuitous transfer of money, property, property rights, as well as the right to use the property to beneficiaries;
free provision of services and works for the benefit of beneficiaries;
public collection of donations;
holding of charity auctions and other charity events;
charitable grants – targeted assistance, that is the transferred currency values for their intended use within a specified period of time.
In the near future there will be an article on receiving and further distribution of humanitarian aid in Ukraine on our website. You can get useful answers there or contact our specialists for personal development of an activity scheme for your charitable organization.
You can find out the service fee here.
How can I formally send aid to Ukraine from abroad?
First of all you will need to find a charitable organization you trust. You will need to sign a donation agreement with the organization. But you do not always have to conclude a contract. Often the money is just transferred to the appropriate accounts. But if you need to report to someone about your charitable assistance, you can have a dialogue with the organization.
Today, you can purchase or register a charitable foundation in Ukraine and make it easier to help locally. A foreign person has the right to become a member of a charitable organization in Ukraine as well.
We will help you develop an algorithm so that it will not cause discontent with the controlling Ukrainian bodies during or after the war.
Didn't find an answer to your question?
Everything about charitable foundations here.
Cost and availability of ready-made charitable foundations here.
We are ready to help you!
Contact us by mail [email protected] or by filling out the form: