Legalization of unauthorized construction in Ukraine
Cost of services:
from 65 000 UAH
Support of construction with a building passport
from 54 000 UAH
Self-build legalization
from 150 000 UAH
CC1, CC2, CC3 project support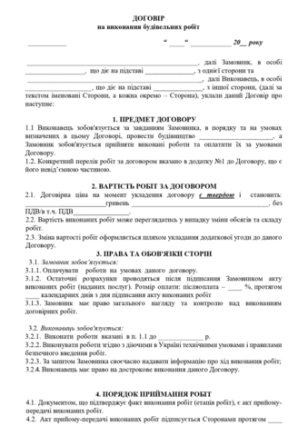 Reviews of our Clients
President Tedeev E.S., Ukrainian wrestling association
Ukrainian wrestling association would like to express its sincere appreciation to the team of Law firm "Pravova Dopomoga" for mutually beneficial cooperation
G. Zeynep Kucuk, SANOVEL ILAC SAN. ve TIC. A.S.
Helped with the liquidation of a foreign representative office in Ukraine
Chief ophthalmologist of Ukraine, Oksana Vitovska, All-Ukrainian alliance of ophthalmologists
We would like to express sincere gratitute to the team of Law firm "Pravova dopomoga" and personally to Volodymyr Gurlov for professionalism and purposefulness in your work.
General director I.Logvinenko , Bravo Airways
Bravo Airways company expresses its gratitude to law firm "Pravova Dopomoga" for high quality and timely provision of legal services.

General Manager Stashkevych I.Y., LLC "Trading company" Rud"
We would like to indicate that law firm "Pravova Dopomoga" has become a reliable partner for legal services provision and we can recommend it as a team of qualified professionals who are easy and pleasant to deal with
L. Chervonyuk, LLC "Vitalux"
Vitalux company highly appreciates results of cooperation with Law firm "Pravova dopomoga", can characterize it as a reliable partner and based on personal experience is ready to recommend it to interested persons...
General director Skibinskiy V., Yokogawa Electric Ukraine Ltd.
Yokogawa Electric Ukraine Ltd. recommends Vladimir Gurlov and his team of lawyers as a reliable legal partner and advisor for foreign businesses in Ukraine...
Partner, Denis Y. Lysenko, Vasil Kisil & Partners
... we would like to express our respect and gratitude for the fruitful cooperation.
... our work on joint projects assured us of your high level of professionalism

Among the issues associated with unauthorized construction, the following can be highlighted:
You do not acquire ownership rights to such real estate.
Your heirs will be unable to inherit property constructed without proper authorization.
You cannot subdivide it or allocate shares.
You cannot legally sell, gift, or exchange it.
You cannot legally connect it to utility networks.
The problem of unauthorized construction has been in existence for quite some time. At one point, it was linked to overly bureaucratic procedures for obtaining construction permits or delays in the construction process. For instance, construction may have begun legally as far back as the 2000s but remains unapproved for use to this day. Other reasons may include undocumented land ownership rights (e.g., "unaccepted" inheritance) or the mistaken belief that one can build first and resolve the documentation later.
Let's delve into each of these reasons that lead to unauthorized construction and explore the current options available for legalizing such construction and acquiring ownership rights.
It is possible to independently bring a house into operation if you have a good understanding of the current legal framework during the construction process. When determining the path to commissioning for a client (several options are available), we conduct a thorough analysis of legal documents and technical specifications for the constructed property and create a detailed plan for the client. Legalizing construction may not always be feasible, but it is always possible to follow the procedural route to obtain the necessary permits. While this can be complex in certain situations, it provides legal protection for the client at the outset of the construction project.
You may also like: What Should a Property Owner in Ukraine Do During a War While Abroad?
What constitutes unauthorized construction?
Several criteria classify an object as unauthorized construction.
The first criterion is when construction takes place on a land plot under the following conditions:
Ownership or usage rights are not properly documented (e.g., no property ownership, lease, superficies, emphyteusis, servitude, permanent property use, trust management, etc.).
The construction does not align with the designated land use (for instance, building multi-story residential houses on land designated for agricultural purposes).
The second criterion is construction without proper permits, which is a common occurrence in practice, especially when it comes to home extensions or reconstructions.
For example, someone may add a second floor to their house, significantly increasing the living space. For such types of work, it was necessary to obtain either a construction passport (for residential construction up to 500 square meters) or urban planning conditions and restrictions.
The third criterion is a significant violation of construction regulations. For instance, if there are specific restrictions on construction on the property (such as distance requirements from utility lines), and these restrictions are not adhered to during construction (e.g., building too close to a gas pipeline passing through your land). In such cases, it would be advisable to obtain a construction passport. This document would provide the property owner with information about the restricted construction area and how to properly position the building per construction regulations from the beginning of the construction process.
Failure to address these issues results in violations and, as a consequence, the inability to obtain approval for the construction. In cases of such violations, homeowners may be required to reconstruct to bring the construction into compliance with construction regulations, or, in the worst-case scenario, face the demolition of unauthorized construction.
Please note! Clients often seek assistance after renovating or modifying existing homes. There is a common misconception that, because they have documentation proving ownership of the property, any additions are considered separate from the main structure and can be addressed later. However, the entire structure, including unauthorized modifications, loses its distinct status from the original property due to its unauthorized nature, and it completely acquires the status of unauthorized construction.
You may also like: How to Verify a Land Plot in Ukraine Before Buying?
When is it unnecessary to obtain construction permits and occupancy approvals?
Often, clients who seek our assistance are unsure about which construction activities necessitate permits and which do not require occupancy approvals upon completion.
There is indeed a list of construction activities that do not require such permits, and we can outline the common "clear" criteria for this distinction that we encounter in practice while reviewing clients' documents. Here is this list:
These are works carried out without interfering with the load-bearing or enclosing structures of a building.
This includes building houses, structures, or buildings without the need for foundation construction.
Demolition and dismantling.
Installing facilities to improve accessibility for people with limited mobility.
This involves the restoration of specific building elements that have sustained damage without altering their geometric dimensions.
A legal expert will determine whether permits are necessary or not. They will also assist in selecting the most appropriate approach for implementing the project and renovation plans in compliance with building norms and standards
Simplified procedure for commissioning unauthorized construction
This process is ideally suited for structures constructed between August 5, 1992, and April 9, 2015 (up to 500 square meters in size).
We frequently guide clients through the commissioning process using this simplified procedure. However, there are specific conditions that must be met when implementing it.
One of our clients has approached us to partition a house between two co-owners. Previously, they had undergone a reconstruction of the house, physically dividing it into separate units. However, the property rights were officially registered as joint fractional ownership.
Dividing a building with unauthorized construction is expressly prohibited by law. To begin, it is necessary to commission the self-reconstructed building and then proceed with the documentation for the division, including the registration of rights in the registry.
We have successfully guided this procedure by opting for the simplified approach to commissioning, which involves submitting a declaration to the relevant authority. Following the registration of the declaration and the formal documentation of consent for division among co-owners, we proceeded to divide the land plot and the house. Subsequently, we submitted the necessary documents, resulting in the acquisition of two distinct postal addresses and the registration of property rights for each individual owner.
For landowners who submitted documents for commissioning without obtaining documentation for construction work execution, and for the operation of such properties, there are no penalty sanctions applied.
The primary conditions for eligibility for this simplified procedure are as follows:
Established property ownership or land use rights.
The designated use of the land plot must conform to construction requirements.
A cadastral number has been assigned to the land plot.
Construction was carried out without violations of construction norms and regulations.
If there are multiple co-owners, documents for commissioning are submitted to the state architectural and construction control authority on behalf of all co-owners.
Legalization of unauthorized construction through the court
An individual can seek recognition of ownership rights to unlawfully constructed real estate through a court process, provided that such construction does not infringe upon the rights of others. However, the key criterion that the court will assess is whether the applicant fulfilled their primary obligation to approach the relevant authorities regarding the acceptance of the construction for use and whether the denial of such acceptance was legally justified.
However, after obtaining a court decision recognizing one's property rights to the unlawfully constructed real estate, it is necessary to follow the standard procedure to put this property into operation. This entails submitting a declaration of readiness for the operation of the unauthorized construction, for which ownership rights have been granted by the court's decision.
The standard procedure for legalizing unauthorized construction
In cases where taking advantage of construction amnesty is not possible, there exists a general procedure for putting unauthorized construction into operation. This process is typically governed by local regulations. However, let me illustrate a practical example of how we successfully guided a client through the process of commissioning their house in one of the residential areas in the Kyiv region.
On behalf of the client, we applied to the local self-government authority, seeking permission to retain the unauthorized construction. In our case, the client had acquired the land plot prior to commencing construction through a purchase agreement, which meant they owned the land and the intended use of the property aligned with their construction plans.
After receiving a favorable decision on the application, we gathered the necessary documents to obtain a building passport. Upon obtaining the passport, we followed the standard procedure, submitting interim construction documents and finalizing this phase with a technical inventory and the registration of a declaration confirming the property's readiness for operation. We also provided the documents for the assignment of a postal address, registered the property rights in the official registry, and then handed over the complete document package to the client. We managed all aspects comprehensively.
There are several ways to legalize unauthorized construction. It is crucial to undergo this process, as unauthorized construction status only comes with disadvantages.
Avoid risking your investments and property; instead, seek our assistance.
Check out the cost of legalizing unauthorized construction here.
We are ready to help you!
Contact us by mail [email protected] or by filling out the form: