What should the owner do with real estate in Ukraine during the war while he is abroad?
Cost of services:
from 250 USD
Documents Audit
from 1700 USD
Full support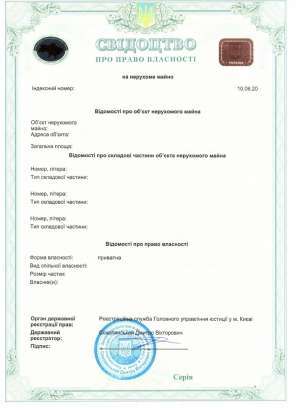 Reviews of our Clients
Partner, Denis Y. Lysenko, Vasil Kisil & Partners
... we would like to express our respect and gratitude for the fruitful cooperation.
... our work on joint projects assured us of your high level of professionalism

G. Zeynep Kucuk, SANOVEL ILAC SAN. ve TIC. A.S.
Helped with the liquidation of a foreign representative office in Ukraine
General Manager Stashkevych I.Y., LLC "Trading company" Rud"
We would like to indicate that law firm "Pravova Dopomoga" has become a reliable partner for legal services provision and we can recommend it as a team of qualified professionals who are easy and pleasant to deal with
General director I.Logvinenko , Bravo Airways
Bravo Airways company expresses its gratitude to law firm "Pravova Dopomoga" for high quality and timely provision of legal services.

L. Chervonyuk, LLC "Vitalux"
Vitalux company highly appreciates results of cooperation with Law firm "Pravova dopomoga", can characterize it as a reliable partner and based on personal experience is ready to recommend it to interested persons...
Chief ophthalmologist of Ukraine, Oksana Vitovska, All-Ukrainian alliance of ophthalmologists
We would like to express sincere gratitute to the team of Law firm "Pravova dopomoga" and personally to Volodymyr Gurlov for professionalism and purposefulness in your work.
General director Skibinskiy V., Yokogawa Electric Ukraine Ltd.
Yokogawa Electric Ukraine Ltd. recommends Vladimir Gurlov and his team of lawyers as a reliable legal partner and advisor for foreign businesses in Ukraine...
President Tedeev E.S., Ukrainian wrestling association
Ukrainian wrestling association would like to express its sincere appreciation to the team of Law firm "Pravova Dopomoga" for mutually beneficial cooperation
From the onset of the full-scale invasion in Ukraine, people's primary concern has been their safety. Throughout the year of the war, individuals have sought refuge within the country or abroad.
Our article is aimed at those who have chosen to spend a specific period outside Ukraine but are confronted with a pressing question: what should be done with their property back home, especially residential real estate? Managing and safeguarding the integrity of their property remotely, both legally and physically, is a challenging task.
One of the major issues arises from the activities of fraudsters who take advantage of the absence of property owners.
These unscrupulous individuals engage in illegal actions such as unauthorized transfer of property ownership, falsification of ownership documents, or improper disposal of real estate. Additionally, there is the unfortunate possibility of property destruction or damage resulting from missile attacks or collateral damage during military operations.
While the owner is residing abroad or in a different region within the country, questions inevitably arise regarding property management, maintenance, and even handling legal documentation from a distance. These include matters like selling, renting, or even facilitating inheritance procedures.
To address these concerns, we have compiled some practical tips for property owners in Ukraine during armed conflict. These recommendations can provide valuable insights into the precautionary measures that can be taken to ensure some peace of mind regarding the safety of their properties. However, if you prefer to avoid dealing with these matters and wish to secure the safety of your property in Ukraine, our team of experienced lawyers is ready to offer comprehensive services for managing your real estate during your absence.
You may also like: Which Countries Grant Ukrainians Residency or Citizenship through Real Estate Investment?
How to protect your property in Ukraine from scammers?
During times of war, fraudulent activities related to real estate have become more rampant. This is mainly because property owners have left the country, some areas are engulfed in conflict, and notarial archives have been destroyed.
For instance, the notarial archives in Mariupol have been completely wiped out, as most notaries failed to relocate or transfer them to safe zones. The most prevalent scheme involves the forgery of documents, especially those in physical format, where property rights are not recorded in the official registry. The most common falsifications include manipulated BTI (Bureau of Technical Inventory) certificates to establish ownership rights for fraudulent individuals or granting them power of attorney to sell your property without your knowledge.
To safeguard your property from illegal activities, owners can bring their documentation in line with the requirements of the current legislation. The first step is to register your rights in the electronic registry. This can be accomplished by submitting a set of documents that validate your ownership to the state registrar. After reviewing the documents, the registrar will decide whether to include them in the official registry or request additional modifications if necessary.
Discussions are underway in the corridors of the Verkhovna Rada (Ukraine's parliament) to establish procedures for cases where documents have been destroyed. It is being proposed that an extract from the registry should be recognized as a valid document to confirm property rights, thereby relieving owners of the burden of proving their ownership in court.
However, until such decisions are finalized and an implementation framework is established, it is of utmost importance to ensure proper documentation for your property in Ukraine. Additionally, it is advisable to carefully consider your plans for the property moving forward.
You may also like: Sale of Real Estate by a Legal Entity in Ukraine
Disposition of real estate in Ukraine
We were contacted by a client living abroad who wished to stay there even after the military operations in Ukraine concluded. She decided to sell a building and a plot of land in Ukraine. We successfully facilitated the entire process remotely, providing a comprehensive turnkey solution.
However, during the document preparation, we encountered an issue. The previous notary who handled the initial agreement failed to properly update the property rights in the registry and inaccurately stated the technical specifications of the property.
To proceed with the new agreement, we had to rectify this situation. Here are the steps we took:
Obtained a new technical passport.
Obtained consent from the other co-owner.
Deregistered the minor child and other individuals previously registered.
Gathered all the necessary documents for the transaction.
Completed all the required registrations in the appropriate registries.
Signed the contract through a power of attorney.
Ensured oversight of the payment and funds transfer to the client.
In addition to assisting with the agreement, we also provided guidance on executing and notarizing powers of attorney and statements abroad. The goal was to ensure that the notary, based on correctly executed statements and powers of attorney, would authenticate the agreement without any objections.
Now, let's address the question: Which documents related to property transactions can be processed abroad? And where should they be processed — by a notary or at a consulate?
First and foremost, let's talk about a power of attorney — a document that allows your representative in Ukraine to manage and carry out specified actions with your property.
When is it sufficient to have an apostille certification on a power of attorney, and in which cases is legalization required? Who is responsible for registering the power of attorney?
The answer to these questions depends on the country where you reside and the international agreements that Ukraine has ratified.
An apostille is a certification that is attached to documents issued by countries that are part of the Hague Convention on the Legalization of Documents. This means that if your document is issued in one of these participating countries (such as Austria, Belgium, Italy, Germany, Portugal, the United States, Turkey, France, Switzerland, Sweden, and others), you need to obtain an apostille for it to be recognized in Ukraine
In Bulgaria, Estonia, Latvia, Lithuania, Moldova, Poland, Romania, Serbia, and the Czech Republic, all types of official documents are accepted without the need for additional certifications (consular legalization or apostille certification), regardless of which Ukrainian authorities issued them and for what purpose.
Legalization of a power of attorney is required if the document is issued by a country that is not a participant of the Hague Convention. In such cases, the document needs to be authenticated by the signature and seal of a Ukrainian consular office in the country where the power of attorney was issued (for example, Canada, China, Egypt, and others).
According to the law, a power of attorney prepared abroad for property matters in Ukraine is valid for a period of 2 months. It's important to act promptly as document preparation takes time, and you also need to register the power of attorney in Ukraine if a consular office issued it.
The decision of whether to handle the property matters in Ukraine on your own depends solely on your willingness and capabilities. However, it's worth noting that for most property-related actions, you will need to be physically present to submit the required documents to the relevant government agencies and notaries, and wait for all the paperwork to be completed.
It's essential to consider that a lack of familiarity with the intricacies of document processing can result in going back and forth between different institutions, attempting to navigate through bureaucratic procedures, which can be time-consuming and frustrating.
Disposing of real estate may be a viable option if:
You want to sell or gift a property, but you are currently residing abroad.
There is an inheritance matter that needs to be addressed, but you are unable to handle it personally.
You wish to undertake remote activities such as property reconstruction, changing the intended or functional use of the property.
You may also like: Legal Assistance for Buying or Selling Real Estate in Ukraine
Tips for safeguarding your real estate in Ukraine
Currently, it is highly advisable to register your property information in the State Registry in Ukraine. The reasons are simple: physical documents can be easily destroyed or fall into the wrong hands, while the electronic registry is safeguarded by a secure system and accessible to authorized notaries and government registrars. Utilizing the registry offers convenience for all parties involved.
Once you have registered your property, you can set up notification alerts, commonly referred to as "beacons." These alerts ensure that whenever any actions are taken regarding your property in the registry, you receive timely notifications. This allows for swift and responsive actions on your part.
It is essential to ensure that your real estate documents are properly prepared in accordance with the current legal requirements. Without the appropriate documentation, it can be challenging to seek compensation for property damage, and it may even require resorting to legal proceedings.
While there is no exhaustive list of documents that confirm property ownership, some commonly used ones include:
Contracts for various purposes (such as purchase and sale, donation, lifelong support, rent, and exchange)
Inheritance agreements
Agreements for the division of inherited property
Certificates of property rights, inheritance rights, or shared ownership rights between spouses
State deeds
Court decisions.
If a property owner decides to sell their real estate and needs to ensure that their documents comply with current legal requirements, it can be quite challenging, and sometimes even impossible, to resolve this remotely without the help of a specialist.
Until all the information from the physical documents is accurately entered into the official state registry, you won't have the freedom to freely manage your property: whether it's selling, gifting, exchanging, or inheriting it.
Moreover, when examining paper documents, discrepancies often arise in various data fields. These can include:
Technical specifications of the property not matching the actual measurements.
Errors in the personal information of the property owner.
Typos or mistakes in the names of the authorities responsible for certifying and registering real estate in accordance with the laws at the time.
Such discrepancies can lead to issues when it comes to entering the information into the registry. Let me share an interesting case with you: In 2010, we handled a client's land survey documentation. However, they never received the official state deed due to a common problem of unavailability of the necessary forms. When the client approached us later to register their property, we carefully reviewed all the documentation and discovered a surprising problem. It turned out that the same cadastral number had been assigned to two different plots, and the registered plot's configuration did not match the actual configuration used by the owner—it matched that of a neighboring plot. The origin of this mix-up remains unknown, but it clearly needed to be rectified.
You may also like: How to Start Building Residential Property for Sale in Ukraine?
Remote processing of inheritance for real estate in Ukraine
Since the outbreak of the war, many individuals have relocated abroad, making it difficult for them to personally handle the inheritance of real estate in Ukraine. This situation poses challenges for both heirs and deceased individuals who may be residing outside the country or in temporarily occupied territories.
The main issue arises when it comes to submitting necessary applications and providing the required documents within the six-month timeframe for accepting the inheritance. Failure to meet this deadline would necessitate initiating a legal process through the courts. To avoid such complications, clients seek our professional assistance to ensure their right to inherit is fully exercised within the designated timeframe.
Through a contractual agreement and power of attorney, we offer comprehensive remote services to facilitate the processing of all essential documents from any location around the world. Furthermore, we can extend our assistance in managing your property in Ukraine until it is sold or until your return.
Our team offers comprehensive protection services for your real estate in Ukraine while you are abroad. Our range of services includes:
Registration of property details in the official registry.
Verification of the accuracy and completeness of your property documents.
Preparation of all necessary paperwork for property transactions, including sales, exchanges, and donations.
Handling of inheritance matters, including organization, documentation, and representation on behalf of our clients.
Protection of property rights against any unauthorized actions by third parties.
Assistance with the registration process for land plots, from initial formation to the entry of relevant information into the registry.
Legal support for obtaining permits and documents required for construction, reconstruction, or changes in the functional purpose of premises.
Check out the cost of our services here.
If you own commercial or private real estate in Ukraine and seek the guidance of experienced legal professionals to safeguard your interests, feel free to reach out to us.
We are ready to help you!
Contact us by mail [email protected] or by filling out the form: