Licensing Of Homes For Elderly People, People With Disabilities, Boarding Schools And Other Social Institutions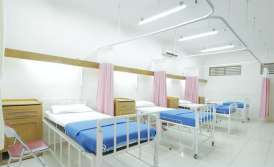 Licensing Of Homes For Elderly People, People with Disabilities, Boarding Schools And Other Social Institutions
Social institutions, which, in addition to social assistance, provide also health care services, have been existing in Ukraine for many years, but licensing of their activities has become more intense only in recent years.
This trend can be observed due to several factors:
The introduction of social welfare facilities into the list of health care institutions in May 2018;

The introduction of enhanced monitoring of compliance with the licensing legislation, including through the renewal of scheduled inspections of such facilities;

License-based financing of the health care facility.
We constantly work with such institutions, and therefore clearly understand their problems. This material will cover key issues of the licensing of social institutions.


Related article: Where To Find A List Of Equipment Needed For A Doctor's Office?
Licensing of a doctor's office at a nursing home or other social institution
Since it's a quite expensive thing to have a whole staff of doctors, in practice social institutions cover the necessary medical functionality with nurses specialized in massage, physical therapy, dietology, etc. That is why they most often contact our firm for assistance in starting a doctor's office at the institution, rather than a full health care facility.
The latest version of the licensing regulations on medical practice really provides for the possibility of opening doctor's offices, which by their nature are not health care institutions. However, the possibility of opening doctor's offices is limited for social institutions.
The fact is that medical treatment in such doctor's offices may be provided to:
Employees of the institution or enterprise (not persons who receive social and medical services there);

Pupils and boarders of educational institutions (in case of "presenting" persons who will receive medical services as pupils, the institution will fail the inspection by the Ministry of Health).
Despite all these facts, a doctor' office in social institutions will violate the license law, which means that the institution, even after obtaining a license, risks losing it during the inspection. That is why the only option is to set up a health care institution, namely, a social welfare facility.
Chief Medical Officer of the social welfare facility
Any social welfare facility shall have a Chief Medical Officer (CMO) in the staff. It's quite difficult to find the right person for this position, as it can only be held by a physician with a clearly defined qualification. And therefore, you should think about a suitable candidate on a first-priority basis.
In addition, a CMO shall have a separate office.
A CMO can in no way affect the current head of the institution, because according to the current legislation, the management of economic (organizational, financial) and medical departments shall be carried out by different people.
Related article: Private Nursing Homes
Medical and nursing staff at nursing homes and other social institutions
As it was already mentioned, the staff resource register of an institution very often does not include the position of a particular doctor. And services are usually provided by a nurse who has completed the relevant specialization.
However, regulations governing the qualifications and functions of health care workers stipulate that, in most cases, nurses shall work under the supervision of the appropriate specialist doctor.
For example, a physiotherapy nurse must work together with a physiotherapist. That is why, when applying for a license and specifying a narrow profile nurse or a narrow profile medical office, for example, for electrotherapy, without having a specialist doctor, you are likely to be refused a license by the Ministry of Health.
You may also like: Medical License Denial Reasons
The problem of the social institution subordination
In practice, we often deal with a situation when educational institutions, such as boarding schools or educational institutions for children with relevant medical conditions (musculoskeletal disorders, various forms of tuberculosis, etc.) cannot obtain a license due to inadequacy of the legislation and peculiarities of its interpretation by the Ministry of Health.
The fact is that when an institution has certain words in its name, for example, "boarding school", the Ministry of Health interprets it as a confirmation of referring the institution to the social welfare facilities (the sphere governed by the Ministry of Social Policy), although in reality such institutions are under the supervision of the Ministry of Education.

Related article: Equipment Of Doctor's Offices: What Problems May Arise?
Given the current practice of the licensing authority, the fight against the need to define an educational institution as a social welfare facility seems rather complicated and usually fruitless.
In practice, institutions specify the information that will enable them to obtain a license and, accordingly, to retain funding, valuable equipment and employees.
So, as you can see, the procedure for obtaining the necessary license and the process of equipping the doctor's offices in a social institution can raise many questions. We have a proven experience in this area, which allow us to provide you with any answers you need.
We are ready to help you!
Contact us by mail [email protected] or by filling out the form: