Registration of a building passport: construction of a private house in Ukraine
Cost of services:
from 65 000 UAH
Support of construction with a building passport
from 54 000 UAH
Self-build legalization
from 150 000 UAH
CC1, CC2, CC3 project support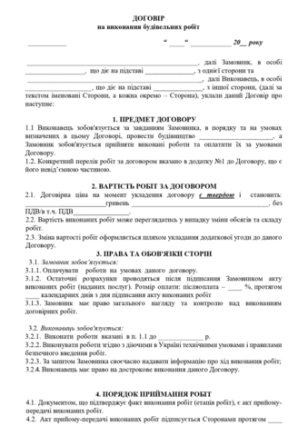 Reviews of our Clients
Chief ophthalmologist of Ukraine, Oksana Vitovska, All-Ukrainian alliance of ophthalmologists
We would like to express sincere gratitute to the team of Law firm "Pravova dopomoga" and personally to Volodymyr Gurlov for professionalism and purposefulness in your work.
G. Zeynep Kucuk, SANOVEL ILAC SAN. ve TIC. A.S.
Helped with the liquidation of a foreign representative office in Ukraine
L. Chervonyuk, LLC "Vitalux"
Vitalux company highly appreciates results of cooperation with Law firm "Pravova dopomoga", can characterize it as a reliable partner and based on personal experience is ready to recommend it to interested persons...
Partner, Denis Y. Lysenko, Vasil Kisil & Partners
... we would like to express our respect and gratitude for the fruitful cooperation.
... our work on joint projects assured us of your high level of professionalism

General director I.Logvinenko , Bravo Airways
Bravo Airways company expresses its gratitude to law firm "Pravova Dopomoga" for high quality and timely provision of legal services.

President Tedeev E.S., Ukrainian wrestling association
Ukrainian wrestling association would like to express its sincere appreciation to the team of Law firm "Pravova Dopomoga" for mutually beneficial cooperation
General Manager Stashkevych I.Y., LLC "Trading company" Rud"
We would like to indicate that law firm "Pravova Dopomoga" has become a reliable partner for legal services provision and we can recommend it as a team of qualified professionals who are easy and pleasant to deal with
General director Skibinskiy V., Yokogawa Electric Ukraine Ltd.
Yokogawa Electric Ukraine Ltd. recommends Vladimir Gurlov and his team of lawyers as a reliable legal partner and advisor for foreign businesses in Ukraine...
If you're planning construction, you'll require the necessary permits. Essentially, this process involves obtaining either a building permit or acquiring urban planning conditions and restrictions. There are situations where only a building permit is necessary, such as when constructing a private residence for personal use.
This represents a streamlined procedure, eliminating the need for project development and approval, expert assessments, as well as technical and authorial oversight during the construction phase. However, having a building permit is a mandatory requirement.
Today, we will explain how to obtain this permit for the construction of your own home.
If you'd like to know not just the process but also who can assist you with it, please reach out to our experts. We will aid you in obtaining the building permit and provide comprehensive support throughout the construction process, including the final phase of putting it into operation.
You may also like: Construction During Wartime: How to Operate Under a Declaration?
What types of structures can be built with only a building permit?
Under a simplified process, based on a building permit, you can construct the following:
Residential, holiday, and garden houses: provided they do not exceed a height of 2 floors plus an attic and have an area of up to 500 square meters.
Utility buildings, structures, and garages.
You can also carry out the reconstruction of such objects.
A building permit is also required when making modifications to enclosing and load-bearing structures and/or common utility engineering systems, as well as in construction involving the installation of foundations.
Why might a building permit be denied?
A crucial aspect of obtaining a building permit is having proper documentation of property ownership or land use rights. In practical situations, questions often arise when a client initially planned construction based on one set of designs but decided to make changes during the construction process. In such cases, a new building permit is not issued; instead, amendments are made to the existing permit that has already been issued and used as the basis for obtaining construction permits.
There are only three reasons for the planning and architecture authority to refuse the issuance of a building permit:
Submission of an incomplete set of documents.
Non-compliance of the proposed development with urban planning documentation and building regulations.
The client's decision to decline obtaining a building permit.
You may also like: How to Start Residential Construction for Sale in Ukraine?
What documents are required for obtaining a building permit?
Documents that validate property ownership or land usage rights.
In the case of reconstruction projects, you'll need documents that confirm ownership rights to the real estate situated on the land parcel.
A site development plan.
If there are multiple co-owners, the application must be signed by all co-owners.
Let's explain what a development intention plan is and where to obtain it separately.
The plan should include the following information:
The locations of buildings and structures.
Distances to adjacent plots and objects.
Red lines.
Building regulation lines.
Access points to buildings and structures.
Facades and floor plans with dimensions, a list of engineering systems, and their connection points.
Clients often attempt to create this plan themselves, but they may face a permit denial because they fail to provide adequate information. For example, clients sometimes incorrectly specify the type of construction object as "individual (country), cottage, residential house" instead of "private house," "two-story house," or "single-story," and so on.
Additionally, these clients often neglect to indicate the presence of buildings and engineering networks existing on adjacent land plots and their distances. They may also fail to adhere to construction regulations, especially regarding protective zones that run along or across the land plot. After facing rejection, they turn to us, and we promptly and successfully rectify all errors.
You may also like: Commissioning Real Estate Properties
Procedure for obtaining a Building Passport
To obtain a building passport, you should initiate the process through the authorized agency responsible for architecture and construction, either by visiting the Administrative Services Center (ASC) or by using the electronic platform within the construction sector.
Once you have submitted the required documentation, the authorized agency will evaluate your application for a building passport, provided that your construction plans align with urban planning documents, construction norms, and regulations.
The timeframe for the architectural authority to issue the building passport is 10 business days.
We efficiently compile the necessary document package and expedite the issuance of the building passport, as we proactively review local land management and urban planning documentation from both technical and legal perspectives.
Is it necessary to obtain a building permit during wartime?
During the period of martial law in Ukraine and for one year after its conclusion, the obligation to acquire a construction permit for residential, country, and garden houses has been lifted. However, this exemption applies only to structures with a height not exceeding 2 stories, plus an attic, and a total area of up to 500 square meters.
Moreover, there is no need for a permit in the following cases:
Construction of utility buildings, structures, and garages.
Reconstruction or major repairs of such objects.
Under this simplified process, certified architects or designers are required to upload a development intention plan for the land plot into the electronic construction system. The registration number of this plan will be necessary when submitting a notice of the commencement of construction work, instead of the usual building permit number.
However, this "simplification" does not apply to protected cultural heritage zones. In essence, it does not work in cities and areas with significant historical landmarks because the boundaries of historical areas might not be defined and approved, and the historical reference plans may not be included in the construction registry by local authorities. This constitutes a constraint on land usage, meaning that construction within these areas can only proceed after obtaining permission from the cultural heritage protection authority.
In essence, it appears that this "simplification" has caused more issues than benefits. Nevertheless, constructing without a building permit is not a mandatory requirement for the client but rather an option. Therefore, in locations where it is technically challenging to upload a development intention plan, the client still has the opportunity to obtain a building permit and commence construction.
We have received inquiries from construction clients who have faced challenges with authorities refusing to grant building permits. These refusals typically do not stem from incomplete document submissions but rather from discrepancies in the development intention plan that do not align with construction regulations.
These discrepancies often arise when clients incorrectly mark red lines, building regulation boundaries, fail to indicate distances accurately or overlook construction restrictions within protected zones, among other issues.
We offer a comprehensive suite of services, starting from initial sketches to the creation of development intention plans, document submissions, and ultimately obtaining the building permit on behalf of our clients.
If you are currently uncertain about whether you need a building permit for your project and seek a hassle-free process to secure all necessary approvals, don't hesitate to contact us.
We are ready to help you!
Contact us by mail [email protected] or by filling out the form: