Immigration permit for foreigners with relatives in Ukraine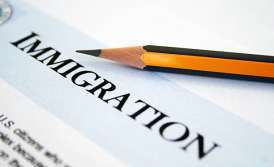 Immigration (Permanent Residence Permit) in Ukraine has many advantages: a foreigner does not lose his/her citizenship and can reside in the country for an unlimited period of time, work (without obtaining additional permits), do business, study, buy property, etc.
The procedure for obtaining a Permanent Residence Permit consists of several stages, one of which is obtaining an Immigration Permit. Today we will elaborate on the process of obtaining this document, the nuances of the procedure, timing and peculiarities for those who plan to immigrate to Ukraine through family ties.
You may also like: May I Stay in Ukraine While Waiting for Ukrainian Citizenship
Who can get an Immigration Permit in Ukraine?
It will be easiest to immigrate for persons who have children or parents who are citizens of Ukraine, as well as if the second spouse (a husband, a wife) is a citizen of Ukraine. But there is one condition here - the marriage must cover the period of at least two years.
To confirm the children's citizenship of Ukraine, you must have a certificate. We talked about the procedure for obtaining it in more detail here.
In addition to the passport, you will need to submit the following documents to the migration service:
confirmation of family relations with a citizen of Ukraine (certificates of birth, name change, marriage, etc.);
proof of residence abroad and in Ukraine;
proof of Ukrainian citizenship of a spouse, child or parent.
Let's consider the situation when such relatives as a brother or sister, a grandfather or grandmother, a grandson or granddaughter are citizens of Ukraine. We should note right away that brothers and sisters must be related not only by their mother's or father's side.
In addition to the documents listed above, you will need to submit:
information on criminal record in the country of previous residence;
medical certificates of absence of diseases stipulated by the Ministry of Health (including chronic alcoholism, substance abuse, drug addiction, certain infectious diseases);
documents confirming permanent residence of the relative in Ukraine;
a document confirming payment for administrative services.
In Ukraine you can also get a Permanent Residence Permit if you are the mother, father, husband or wife of an immigrant, the same applies to their children under the age of 18.
The key aspects you need to pay attention to here. The first is that in addition to all of the previously mentioned documents, you must also submit another notarized consent of a relative-immigrant to your immigration to Ukraine, and their guarantee to provide you with a financial support in the amount of at least the established living wage in Ukraine.
The second point concerns minor children if they migrate with only one parent. For example, the other stays in another country. Most often this happens after a divorce. Then the parent of the child who will not immigrate must provide you with a notarized permission for a child's immigration to Ukraine.
It should be noted that your relative must have documents for permanent residence in Ukraine, if he has a temporary residence permit, it will not be the basis for obtaining a permit for immigration.
You may also like: What Option for Legalization of Residence in Ukraine Is Better to Choose?
What do you need to keep in mind when getting an Immigration Permit in Ukraine?
Regardless of the grounds that entitle you to obtain a permit to immigrate to Ukraine, the mandatory condition in any case is the legality of stay in Ukraine. That is, if the entry was made on the basis of a visa, the period will be specified on the visa label, and in case of the visa-free country - 90 days cumulatively for the last 180 days. These time limits must not be violated.
Our lawyers will help you to understand the grounds, correctly draw up and execute all the documents.
The Migration Service accepts the application only if all the documents are properly executed (you cannot then bring, replace, correct them, etc.). That is, everything must be drawn up correctly and comply with the requirements.
In case of errors, inaccuracies, falsifications, providing false information (for example, verification will reveal the presence of a criminal record, name change, having another citizenship, etc.), you may be rejected an Immigration Permit. In this case, you may not reapply for the permit for at least one year.
The Immigration Permit is valid for one year. The exceptions are permits issued during the quarantine period - they are extended to two years.
During this time, the foreigner must apply for a Permanent Residence Permit. In case of failure to obtain a residence permit during the immigration permit validity period, the entire procedure for obtaining a permit has to be repeated.
Our specialists undertake the entire procedure of obtaining the permit, arrange the process, meet deadlines, and prepare documents for submission in advance.
Please see the cost of services for obtaining a Permanent Residence Permit in Ukraine here.
If you want to stay in Ukraine legally, we'll find the best option for you. Please contact us for personal consultations.
Didn't find an answer to your question?
Everything about the procedure for obtaining a Permanent Residence Permit in Ukraine here.
We are ready to help you!
Contact us by mail [email protected] or by filling out the form: