Technical passport for real estate: everything you need to know
Cost of services:
from 65 000 UAH
Support of construction with a building passport
from 54 000 UAH
Self-build legalization
from 150 000 UAH
CC1, CC2, CC3 project support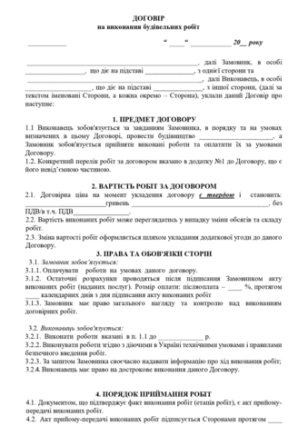 Reviews of our Clients
General director Skibinskiy V., Yokogawa Electric Ukraine Ltd.
Yokogawa Electric Ukraine Ltd. recommends Vladimir Gurlov and his team of lawyers as a reliable legal partner and advisor for foreign businesses in Ukraine...
Partner, Denis Y. Lysenko, Vasil Kisil & Partners
... we would like to express our respect and gratitude for the fruitful cooperation.
... our work on joint projects assured us of your high level of professionalism

General Manager Stashkevych I.Y., LLC "Trading company" Rud"
We would like to indicate that law firm "Pravova Dopomoga" has become a reliable partner for legal services provision and we can recommend it as a team of qualified professionals who are easy and pleasant to deal with
President Tedeev E.S., Ukrainian wrestling association
Ukrainian wrestling association would like to express its sincere appreciation to the team of Law firm "Pravova Dopomoga" for mutually beneficial cooperation
L. Chervonyuk, LLC "Vitalux"
Vitalux company highly appreciates results of cooperation with Law firm "Pravova dopomoga", can characterize it as a reliable partner and based on personal experience is ready to recommend it to interested persons...
General director I.Logvinenko , Bravo Airways
Bravo Airways company expresses its gratitude to law firm "Pravova Dopomoga" for high quality and timely provision of legal services.

G. Zeynep Kucuk, SANOVEL ILAC SAN. ve TIC. A.S.
Helped with the liquidation of a foreign representative office in Ukraine
Chief ophthalmologist of Ukraine, Oksana Vitovska, All-Ukrainian alliance of ophthalmologists
We would like to express sincere gratitute to the team of Law firm "Pravova dopomoga" and personally to Volodymyr Gurlov for professionalism and purposefulness in your work.
A technical passport is a document that is prepared as a result of conducting a technical inventory of real estate properties.
A technical passport is not a legally binding document; rather, it serves as a technical profile of the real estate, complete with textual and graphical data. It contains information about the technical specifications of the property, its components, volume, and area.
A technical passport is required for the following types of properties:
Houses
Apartments
Rooms within dormitories
Garages and standalone parking spaces, which are considered independent real estate entities (not to be confused with garages situated on the same property as residential cottages or garden homes – in such cases, the technical inventory is conducted in relation to the main property, with the garage being considered an accessory).
Unfinished construction projects
Separate real estate properties that have arisen through amalgamation, division, or share allocation.
Today, we will discuss the situations in which you may need a Technical Passport and the process for obtaining one. If you require comprehensive support for construction or real estate transactions in Ukraine, please do not hesitate to reach out to our experts.
You may also like: Construction Passport Application: Building a Private Home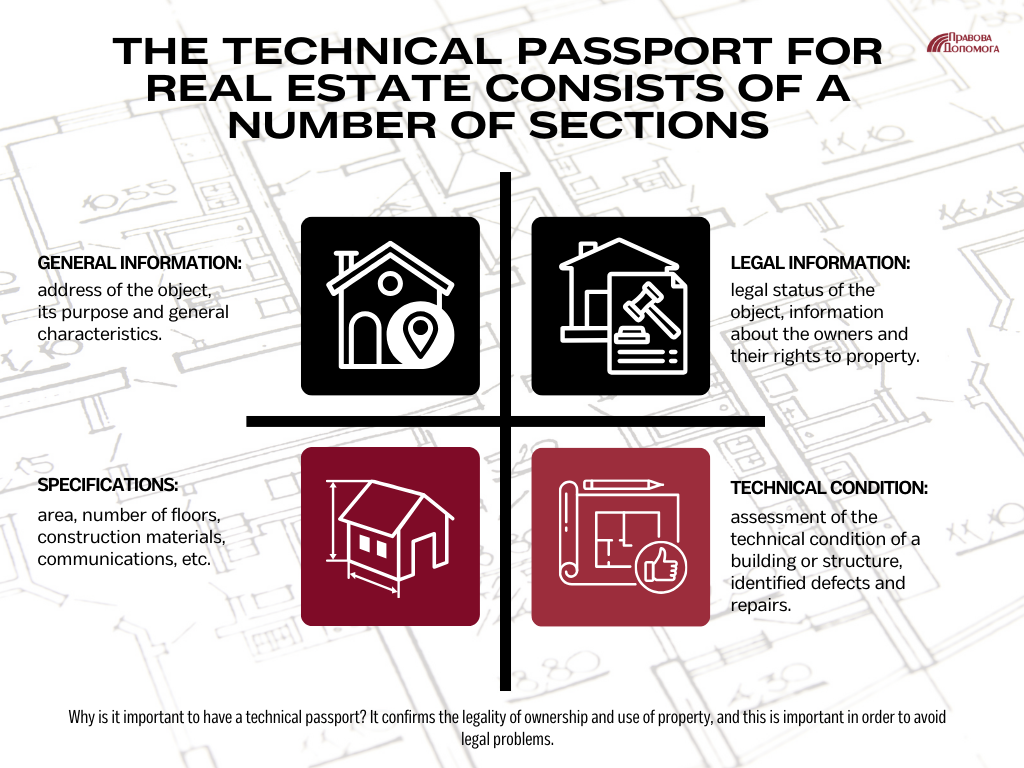 When is it necessary to obtain a new technical passport?
When commissioning a property for use following construction, major repairs, or reconstruction.
Prior to registering ownership rights for a property that has unfinished construction.
When dividing or reallocating property held in common joint ownership after the notarization of a real estate division agreement held in common joint ownership.
It's important to note that, in the case of property held in common joint ownership, a Determination of Shares in the Right of Common Joint Ownership Agreement must be concluded before dividing it in kind. This means terminating the right of common joint ownership and acquiring the right of common fractional ownership.
When accepting self-built unauthorized structures into use through the building amnesty process.
When converting summer cottages (garden houses) into residential properties.
It's worth emphasizing that the legislation does not mandate updating the data in the technical passport or creating a new technical passport when there is a change in property ownership (e.g., through a sale).
You may also like: Legalization of Unauthorized Construction in Ukraine
Procedure for conducting technical inventory and creating a technical passport
Technical inventory involves two main categories: primary and repeat.
Primary technical inventory takes place during the initial assessment of a real estate property.
Repeat technical inventory is conducted for a real estate property to identify and document changes in the property's characteristics over a specified period of time.
The process of conducting a technical inventory for real estate property involves the following steps:
Preparation for Property Examination: This phase includes preparatory actions designed to ensure a successful property examination. It may involve preliminary research, action planning, gathering necessary documentation, and more.
Property Examination: During this stage, the property is physically inspected to gather comprehensive information about its condition, characteristics, and unique features.
Measurement Procedures: Measurements are carried out to collect precise data regarding the property's dimensions, location, and other parameters.
Identification of Structural Components: In this phase, the property's structural elements, such as walls, floors, roofs, and more, are identified, and their condition and characteristics are determined.
Documentation of Technical Inventory Findings: The final results of the inventory are documented in an inventory file, which may include reports, drawings, photographs, and other materials providing a detailed description of the property's condition.
If there are no buildings or other real estate structures on the property, information regarding this absence is entered into the Unified State Electronic System for Construction.
Technical passports are generated in electronic format and are registered in the Register of Construction Activity. Upon the customer's request, a printed copy of the technical passport can be provided.
To separate a portion from shared ownership, divide property, or consolidate, a Technical Feasibility Statement is created to assess the technical possibility of segregating a part from a real estate object. When evaluating the technical feasibility for division, consolidation, or separation, the engineer takes into account the following factors:
The real estate property should not include unauthorized structures.
The initial consideration is the possibility of dividing land plots; in cases of division, consolidation, or separation among co-owners, it is prohibited to allocate, for example, only a house to one party and a garage to another (all objects must be divided with consent or based on ownership shares).
The land plot should have an exit to the street with a minimum width of 3.5 meters (if this is not possible, a shared entrance can be arranged).
Clearances from the most prominent structural wall should be at least 1 meter (to allow for maintenance).
For residential, dacha, or garden houses to be divided, they must have separate street entrances that, after division, become distinct, self-contained houses.
Since data regarding technical inventory is mandated to be entered into the Register of Construction Activity, if, during such work, it is discovered that unauthorized construction exists on the property, information about this unauthorized construction is also recorded in the register.
It's worth noting that as of August 1, 2021, all information concerning technical inventory is electronically input into the construction activity system. The technical inventory engineer bears responsibility for the accuracy and completeness of the data entered into this system.
For houses of a country estate type with auxiliary buildings and structures, garden (summer) houses, and garages (parking spaces), the technical passport information remains valid for one year from the date of the technical inventory.
You may also like: Commissioning of Real Estate
When can an old passport be used for property ownership registration?
Before January 1, 2013, property ownership registration for real estate properties was primarily the responsibility of communal organizations, such as the Bureau of Technical Inventory (BTI). This registration was conducted using paper documents. Nowadays, state registrars at Administrative Service Centers and notaries handle property ownership registration.
Starting from 2013, when registering property ownership rights, state registrars request information from the BTI to access details about registered rights, effectively "updating" information from the old records and paper documents.
Technical property data is technically sourced by state registrars from the Register of Construction Activity. However, this applies solely when the submitted documents lack technical property information.
Furthermore, to update the Register of Construction Activity with current data, state registrars are obliged to obtain information from the Unified State Electronic System for Construction, even for property rights that originated before January 1, 2013. This requirement applies irrespective of whether the documents include technical characteristics or not.
In essence, when registering property rights in the state registry, a new technical passport must be acquired. For example, if an individual possesses a property ownership certificate and intends to register ownership rights when transferring the property, a new technical passport is issued to meet the legal requirements in place at the time of the technical inventory.
However, there is one exception!
For property rights registered before January 1, 2013, if these rights are registered based on applications submitted during a state of emergency and within one year from the date of the state of emergency's cessation or cancellation, the information provided by the BTI is considered equivalent to the data contained in the State Register of Property Rights to Real Estate. In such situations, a new passport is not necessary.
Issuing a technical passport for an incomplete construction project
An incomplete construction project refers to a structure for which the builder has obtained construction permits, and construction has progressed to a certain stage, but it is not yet ready for occupancy.
In our practice, we commonly prepare technical passports and register ownership rights for incomplete construction projects, primarily with the intention of the property's sale by its owner.
An incomplete construction project, specifically a residential dwelling constructed without the use of public funds, can be put into use without:
Completing interior finishing work.
Installing flooring.
Installing doors, plumbing, electrical, and gas equipment.
Constructing internal partitions in attached or integrated rooms.
Establishing electrical and gas supply systems within them.
To accurately specify the number of constructed floors, we determine the number of levels where enclosing structures and floorings have been completed. In essence, if there are enclosing structures (such as walls) and a roof in place, we can proceed with a technical inventory and the property's activation, especially for properties under construction based on their construction permits.
If construction has adhered to an approved project, all the work outlined in the project should be finished, and the equipment should be installed and tested.
Essentially, our initial evaluation involves examining the property's condition to ascertain the feasibility of a technical inventory and whether subsequent actions, such as sales or other planned operations, can be pursued.
During a subsequent technical inventory, a comparison is made between the data established during the initial technical inventory, and the following steps are taken:
Verification of compliance with the actual usage and purpose of the property and its components.
Analysis of the real estate's characteristics, including identifying any changes due to new construction, reconstruction, major repairs, wear and tear, or damage to buildings and structures on the property.
Inspection of the condition of engineering networks and sanitary-technical devices.
Evaluation of the state of structural elements of the property, including materials, and the identification of possible defects, damages, or other changes in the structure of the property.
We collaborate with specialists from various fields in the construction industry, including certified professionals authorized to perform technical inventory work on real estate properties. Therefore, technical inventory is included as part of our comprehensive service packages for construction support and real estate transactions.
For instance, we recently concluded the division of a jointly owned property, a house, between two co-owners. This process involved the engagement of certified professionals, including a land surveyor, geodesist, inventory engineer, and a notary.
We began by subdividing the land plot, resulting in different cadastral numbers, and then registered ownership rights for the newly formed land parcels in the registry. Subsequently, having obtained the Conclusion on the Feasibility of the Technical Division, we notarized the Agreement on the Division of Real Estate in Kind (the house). This effectively terminated the joint ownership rights to the house and allowed us to register individual ownership rights for each separate real estate component.
If you need the assistance of an expert in obtaining a technical passport and guidance for real estate transactions, please do not hesitate to reach out to us.
You can find the cost of construction support services here.
The cost of real estate transaction support can be found here.
We are ready to help you!
Contact us by mail [email protected] or by filling out the form: