In which cases it is necessary to obtain a medical practice license during rendering of massage services?
Cost of services:
from 16 000 UAH
1-2 specialties
from 16 000 UAH
Alteration
from 24 000 UAH
More than 3 specialties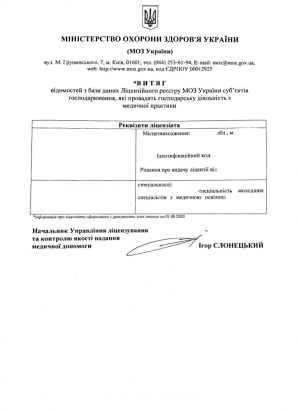 Reviews of our Clients
Director I. Garkusha, "Medyk" LLC
During provision of the services legal experts of the firm proved to be a professional team
Director L. Susenko, Medychni diagnostychi systemy LLC
We would like to express our appreciation to law firm "Pravova Dopomoga" for the provided services related to licensing of medical practice
I. Pruzhnyak , Sole trader I. Pruzhnyak
Despite complexity of licensing procedures, your lawyers got a positive decision about issuance of license for medical practice after the very first submission of documents...
Director S. Sokolova, LLC "Company"Nika-S"
Quick work of your lawyers allowed us to continue our medical practice without unnecessary breaks related to obtainment of the new license. Due to this we managed to avoid financial losses and continued providing high quality dental care services to our clients
Director A. Stelmakh, Private enterprise "ESTO"
We got consultations about organization of the medical center's work, formalization of labor relations with employees, legal regulations on use of different medical equipment...
N. Gorova, Sole trader N. Gorova
I want to recommend this firm to everyone, who wants to start his or her own medical practice...
S. Lyubynetskyi , Sole trader S. Lyubynetskyi
Without any recommendations I chose law firm "Pravova dopomoga" among all other companies on the market and not once did I regret my choice...
Director Mykhailo Bogdanovych Havrylyshyn, Kalush City Center of Primary Health Care
…we can confidently recommend the lawyers of Law firm «Pravova dopomoga» as reliable legal partners on the matters of medical practice licensing and other procedures related to the Ministry of Health of Ukraine.
Chief physician Romanyuk E.V., Municipal non-profit enterprise "Central district hospital of Busk"
... Having used the services of the Law Firm "Pravova dopomoga", we managed to solve our problems, as well as found a qualified and reliable partner.
Currently the tendency for opening of beauty salons, spa salons and salons for rendering of massage services does not slow down in Ukraine. At first glance, the organization of such a business does not cause any particular difficulties, except, actually, rent of premises, hiring of staff and significant financial investments.
In which cases is it necessary to obtain a medical practice license during rendering of massage services?
Related article: Organized an opening of the massage room
Quite often, massage can have a medicinal character or a therapeutic effect on the human body. And in such cases, it will not simply be a matter of starting a company, but of compulsory obtainment of a license for medical practice. The staff, in this case, should already have an appropriate medical education and meet the qualification requirements.



So how do you know if you need a license?

This material will cover the signs and characteristics of "therapeutic massage", which is subject to licensing at the Ministry of Health.

What can qualify massage as "therapeutic" and require licensing of this type of activity:

If, massage is given by a professionally trained specialist with a medical education.


Related article: Some requirements for personnel of health care institutions
The ultimate goal of providing massage services.
If the goal of the provision of massage services is preventative care (i.e. prevention of a disease), diagnognostics (detection of a disease), treatment (elimination of the harmful effects of a disease on the human body) or rehabilitation (recovery of a certain part of health).
If the massage was prescribed by a doctor and given by a doctor, that is, a person with a medical specialty and appropriate education.

Impact techniques applied to the human body.
If during the provision of massage services, the person who is providing it is using manual means of impact- manual therapy (i.e., actions aimed at treating the musculoskeletal system, internal organs of a person using the actions of the hands of another person).

The consequences to which itled.
If, by receiving massage services, a person has got rid of a certain illness or medical condition, such massage is also considered therapeutic.


In individual cases, massage can be considered "therapeutic" if there are other, additional signs. But the signs listed above make it possible for the regulatory authorities to assume that it is the therapeutic massage services are being provided.

Related article: Comments in regard to licensing of activities of massage practitioners
Conclusions
If the massage services at your establishment has at least one of the above signs, this means that it has healing properties and is subject to licensing.
Important! For conducting these activities without an appropriate license you are facing, as a minimum, a fine of up to 34 thousand hryvnia, and in the worst case scenario - criminal liability (Article 138 of the Criminal Code). If you carry out such actions as: examining a patient, establishing a diagnosis, counseling, prescribing and determining means and methods of impacting the human body without a license, you can potentially be prosecuted.
However, it should be noted that criminal liability comes only in the event of serious consequences for a person.
Our company has already handled quite a few cases of licensing massage rooms, rehabilitation centers and spa salons, so if you need help in this area, we are glad to be of service to you.
If you want to find out if the services that you provide fall under the category of "therapeutic massage" and get the appropriate license for medical practice - you can get in touch with us in any way convenient for you.
We are ready to help you!
Contact us by mail

[email protected]

or by filling out the form:
We are ready to help you!
Contact us by mail [email protected] or by filling out the form: