The issue of labor relations registration in medical institutions
Cost of services:
from 16 000 UAH
1-2 specialties
from 16 000 UAH
Alteration
from 24 000 UAH
More than 3 specialties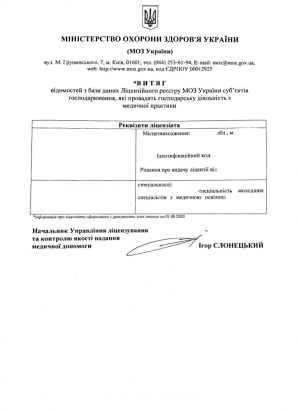 Reviews of our Clients
Director I. Garkusha, "Medyk" LLC
During provision of the services legal experts of the firm proved to be a professional team
Director L. Susenko, Medychni diagnostychi systemy LLC
We would like to express our appreciation to law firm "Pravova Dopomoga" for the provided services related to licensing of medical practice
I. Pruzhnyak , Sole trader I. Pruzhnyak
Despite complexity of licensing procedures, your lawyers got a positive decision about issuance of license for medical practice after the very first submission of documents...
Director S. Sokolova, LLC "Company"Nika-S"
Quick work of your lawyers allowed us to continue our medical practice without unnecessary breaks related to obtainment of the new license. Due to this we managed to avoid financial losses and continued providing high quality dental care services to our clients
Director A. Stelmakh, Private enterprise "ESTO"
We got consultations about organization of the medical center's work, formalization of labor relations with employees, legal regulations on use of different medical equipment...
N. Gorova, Sole trader N. Gorova
I want to recommend this firm to everyone, who wants to start his or her own medical practice...
S. Lyubynetskyi , Sole trader S. Lyubynetskyi
Without any recommendations I chose law firm "Pravova dopomoga" among all other companies on the market and not once did I regret my choice...
Director Mykhailo Bogdanovych Havrylyshyn, Kalush City Center of Primary Health Care
…we can confidently recommend the lawyers of Law firm «Pravova dopomoga» as reliable legal partners on the matters of medical practice licensing and other procedures related to the Ministry of Health of Ukraine.
Chief physician Romanyuk E.V., Municipal non-profit enterprise "Central district hospital of Busk"
... Having used the services of the Law Firm "Pravova dopomoga", we managed to solve our problems, as well as found a qualified and reliable partner.
When licensing activities in medical practice, quite often, clients have a number of questions regarding the conclusion of labor relations with employees who will work for them - first of all, we are talking about medical personnel: doctors and junior specialists.

The solution to this issue is very important, since compliance with the entire procedure in accordance with applicable law should protect the rights and interests of both the employer and the employee.

So, today we will talk about finding a job in the area of medicine and a job under an employment contract for a doctor, a junior employee.
What fine could one be facing for the wrong registration of the employee?
Proper formalization is a prerequisite for the safe conduct of business, since fines for the unreported workers have been goin up every year, in proportion to the increase in wages.

For example, in 2019, a fine for one unreported employee is UAH 125190.00.
You will have to pay the same amount of fine if the following facts have been discovered at your enterprise:
The employee actually works full time, and has been reported as working part-time (short hours);

Payment of wages without accrual and payment of UST (Unified Social Tax) and tax on personal income (payment of wages in envelopes).
In this material, we will help you figure out how to do the right thing, using the example of an enterprise that is planning to provide medical services and obtain an appropriate license for medical practice.
Related article: Employment of physicians with foreign diplomas in Ukraine
Peculiarities of employment at work in a medical institution
Since both sole traders and and legal entities can obtain a license and carry out activities in medical practice, the procedure for registering employees for them will be somewhat different.
The difference is that if a healthcare institution, that is, a legal entity, plans to get a license for medical practice, then it is necessary to formalize an employment relationship, for example, with a medical director, prior to obtaining a medical license.
As for other medical personnel, it is necessary to formalize employment relations with them within one month from the date of obtaining a license for medical practice.
However, in any case, one should not allow a person to actually perform work at your enterprise without prior proper formalization of their employment.
You can find out whether the internal doubling up of medical workers is allowed in our other material.
Related article: Can a person with a medical degree work as a junior specialist?
The procedure for formalization of employment relations
Step 1: Conclude an employment contract with an employee.
An employment contract is subject to mandatory signature, if required by the employee and in other cases provided for by Art. 24 of the Labor Code.
If the employee does not insist on the mandatory conclusion of such an agreement, and the Labor Code does not require it, then an employment agreement can be drawn up in the form of an order or instruction of the owner / body authorized by them (for example, the Director) to hire the employee. In such an order, it is necessary to indicate the day the employee was hired and the actual time they began to fulfill his labor duties.
Proper formalization of an employee will affect the future obtainment of a license. Our lawyers can help you understand the issue, and support the entire process of obtaining a license from A to Z.
Step 2: Notify the tax authorities of the assignment of the employee.
After completing these mandatory steps, the employment relationship is considered to be properly formalized, and the employee can actually begin to perform their work at your enterprise.
If you have any questions about the formalization of workers in a medical institution, you can seek advice fromour specialists.
We are ready to help you!
Contact us by mail

[email protected]

or by filling out the form:
We are ready to help you!
Contact us by mail [email protected] or by filling out the form: