How to obtain a license for the destruction of precursors?
Cost of services:
from 8000 UAH
Usual price for getting a license for operations with precursor chemicals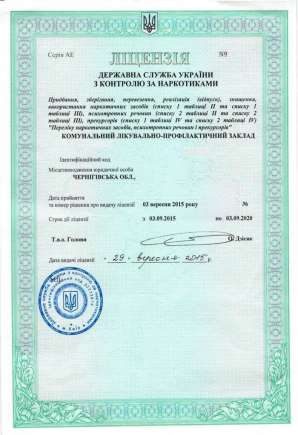 Reviews of our Clients
Director Odnoshevna V.M., LLC "Svitlo-Chimservice"
After contacting the firm for consultations and help we weren't disappointed. The work was done quickly, qualitatively and within expected terms...
Director Zibrov O.Y., PE "Svitlochim"
During cooperation with the law firm "Pravova dopomoga" its lawyers always gave full consultations and recommendations on different matters...
Director Bulat S.P., The limited liability company "Vidgy Farming"
Our company would like to express our gratitude to you for highly professionally performed work.
We often receive requests for a License for Destruction (Utilization) of Precursors. Clients are interested in what it is and what is needed to obtain it. Therefore, in this publication we will explain what the license is, where to get it, and what is needed to obtain it.
What is a License for Destruction of Precursors?
A License for Destruction of Precursors is primarily a license to handle precursors. This type of activity is most often licensed under a license to handle precursors in general - when they are stored and used.
Where to obtain a License for Destruction of Precursors?
You should apply to the State Service of Ukraine on Medicines and Drug Control. Please note that the Ministry of Environmental Protection and Natural Resources won't help you with this, because the disposal of hazardous waste is a slightly different topic.
You may also like: How To Arrange Employment Relations With A Driver Transporting Precursors?
What is needed to obtain a License for Destruction of Precursors?
Since it is a licence for the handling of precursors, the applicant must fully comply with the requirements set out in the regulations governing the handling of narcotic drugs, psychotropic substances and precursors.
There are also certain requirements to the premises, to use which you shall get a permit at the National Police.
In addition, all personnel who will have access to the precursors will need to obtain certificates of criminal record and narcologist's certificates. We have repeatedly written about the list of documents and requirements for licensees in our previous publications, so more details can be found here:
Requirements For Premises For Storing Precursors
How To Prepare Documents For Obtaining A Precursor License?
Our lawyers can save you time and obtain a permit at the National Police in Kyiv and all necessary certificates for the staff. We know the requirements of both the licensing authority and the National Police, which guarantees you a successful completion of the case.
Personnel requirements or do they need higher education for destruction of chemicals?
To obtain the licence, the head of the company or department/ unit dealing with precursors must prove his/her professional suitability. While according to the licensing regulations, it may be a certificate, credentials or professional certificate, they do not specify what these documents should represent.
Therefore, according to the rule adopted by the The State Service of Ukraine on Medicines and Drug Control, the document confirming the competence level is a diploma of higher education, in particular in the "Chemistry" specialty. The licensing authority clearly follows this practice despite any comments.
You can find more information about the personnel requirements here.
If you need a Licence for Destruction of Precursors, don't hesitate to contact us. We can help you select the right type of license and get it for you quickly and easily.
Did you find no answer to your question?
We are ready to help you!
Contact us by mail [email protected] or by filling out the form: