How to hire a foreigner in Ukraine in 2023?
Cost of services:
from 400 USD
When Client is elegible and has all the necessary documents
from 1300 USD
Premium (includes preparation of additional documents)
Negotiable
For large groups of foreign employees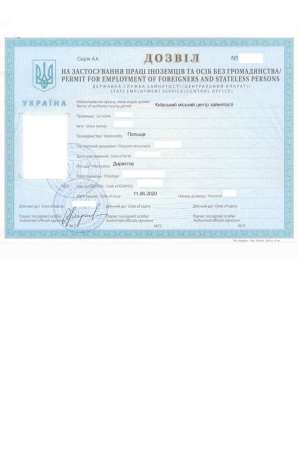 Reviews of our Clients
Daniel Holmes, Citizen of USA
Based on our positive experience of cooperation with Volodymyr Gurlov and his team we can recommend them as a reliable legal advisor on the matters of Ukrainian law...
Nowadays Ukrainian companies can employ foreign workers in various spheres. It is not uncommon to invite famous foreign cooks, IT workers, and specialists in specific fields to work.
Our company provides services to Ukrainian employers, as well as foreign businesses operating in Ukraine, as part of the employment of foreign employees, obtaining work permits for them.
Today we will tell you how to hire foreign employees in Ukraine, what you need for this, and how to formalize employment after obtaining Work Permit.
You may also like: Relocation of IT Specialists in Ukraine
Do all foreigners need a work permit in Ukraine?
No, there are certain categories of foreigners that can be employed without a work permit:
Foreigners who have a Permanent Residence Permit in Ukraine;
Refugees with legal status in Ukraine;
Employees of foreign representative offices;
Professional artists, athletes, and artists;
Clergymen.
There are still rare categories of persons who do not need to obtain a Work Permit, but in most cases, if you want to invite a foreigner to work, and he/she has a Permanent Residence Permit or refugee status - you will need to obtain a Work Permit.
Please note! If you want to invite a foreigner already working in Ukraine on the basis of a work permit - he/she will need to obtain a new work permit for your company.
Who needs to apply for a work permit in Ukraine?
The employer is responsible for obtaining a work permit in Ukraine. The head of the company submits an application to the employment center, indicating the position and grounds for the permit.
If you plan to hire an employee holding several positions in your company, it is enough to get a permit for one of them. Read more about the rules on combining jobs here.
Both legal entities and sole proprietorships in Ukraine can hire a foreign worker.
Of course, our specialist can submit the application on behalf of your company, as well as prepare the application itself and other documents, on the basis of a power of attorney.
What are the wage requirements for a foreign worker?
The requirements for the salary of foreign workers are set depending on the category to which the particular employee is classified:
The first (special) category includes executives and top managers, whose salaries cannot be at the minimum level. This is because such wages are set for downtime, and unskilled labor.
Separate requirements are set for gig specialists of DIIA CITY residents, due to the fact that the average salary of employees of such companies cannot be lower than 00.
The latest changes in legislation abolished the requirements for the minimum wage of a foreign worker, but, of course, it must not be lower than the minimum established in Ukraine and comply with the above requirements.
Please note! After employment, the foreigner's salary can only be paid in hryvnias. You can agree on payment of wages pegged to a certain currency, but the payment must be made in hryvnia. We extensively covered on this matter here.
You may also like: Why Can the Work Permit of a Foreigner Be Revoked?
How long does the whole procedure for obtaining a work permit take?
Obtaining a Work Permit involves the following steps:
Preparation of the package of documents – depends on the speed of providing the necessary information and documents;
Submission of documents to the Employment Center, Administrative Services Center, through an electronic office or other method established by law – 1 day;
Review of documents by the Employment Center and issuance or refusal to issue a Work Permit – from 7 to 10 business days.
The overall period of obtaining a Work Permit depends primarily on the speed of preparing the package of documents. Our lawyers will advise you on the optimal algorithm of action and will independently prepare a template of the application and help you develop a draft employment agreement.
The full list of documents to be submitted to the Employment Center is as follows:
Application on behalf of the employer;
Foreigner's passport, incuding a notarized copy with certified translation into the Ukrainian language;
Color photo 3,5x4,5 cm;
Copy of labor agreement/contract or gig-contract - the draft must be certified by the employer's signature;
Receipt of payment of the state fee;
Power of attorney for the representative.
You can find the full procedure for obtaining a Work Permit in Ukraine here.
What to do after getting a work permit for a foreigner?
After obtaining a Work Permit for a foreign employee, you will have 90 days to sign the employment agreement, a copy of which you submitted when applying for the Permit.
Once the employment agreement has been signed, a copy of it must be submitted to the Employment Center within 10 days.
Attention! Violation of these deadlines will result in the revocation of the Work Permit and you will have to start the whole procedure all over again. The state fee paid is not refundable in this case.
Notification of employment of an employee is submitted to the tax authority - it must be submitted by the time the employee officially goes to work. At the same time, the notice itself does not differ in form from the notice on hiring a citizen of Ukraine.
It will also be necessary to issue a employment record book for the employee. In 2021 in Ukraine, the law on electronic employment books came into force, but they are not yet used.
Please note! The foreign employee will need to get a TIN in Ukraine - we will help you to include this step in the process of getting a Work Permit and registration of the employee, without delaying the procedure.
What taxes will I have to pay for my foreign employee?
When paying wages to a non-resident, you will have to pay the following taxes:
18% personal income tax;
1.5% military tax;
22% unified social tax.
The tax social security benefit cannot be applied to the salary of a foreign employee.
When calculating the unified social tax it will be necessary to state that the employee is a foreigner.
Please note! There are certain categories of workers, for which separate rates can be set, for example, IT specialists. This question will be clarified to you by our lawyers when obtaining a Work Permit.
You may also like: Outstaffing in Ukraine.
Our company offers you the following services:
Analysis of your situation and legal advice on obtaining work permits for foreign employees;
Preparation of documents and applying for a Work Permit in Ukraine;
Communication with the Employment Center on all issues;
Obtaining TIN for foreigners, arranging insurance polices, translation, and notarization, as well as other services that will be required in the process of obtaining a Work Permit for foreign nationals;
Consultation of a lawyer on personnel records, salaries to foreigners, etc.
You can see the cost of obtaining a Work Permit for a foreign worker or a group of workers here.
For comfortable work of your new employees in Ukraine, we can also assist them with obtaining a Temporary Resident Permit based on the Work Permit in Ukraine.
Do you want to easily and safely employ a foreign worker? Don't hesitate to contact us! We can take care of the whole process and if required we will help you with keeping HR records of your company.
Didn't find an answer to your question?
See more information about the employment of a foreign worker here.
We are ready to help you!
Contact us by mail [email protected] or by filling out the form: