Problems of foreign business in Ukraine and their solutions
Cost of services:
from 900 USD
Business registration in Ukraine
from 2300 USD
Foreign director
from 1400 USD/month
Basic support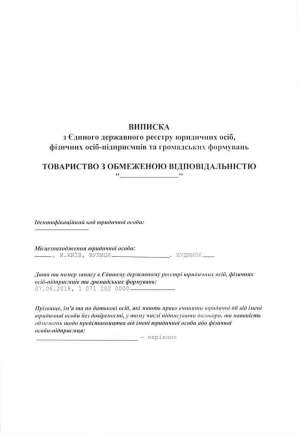 Reviews of our Clients
L. Chervonyuk, LLC "Vitalux"
Vitalux company highly appreciates results of cooperation with Law firm "Pravova dopomoga", can characterize it as a reliable partner and based on personal experience is ready to recommend it to interested persons...
General Manager Stashkevych I.Y., LLC "Trading company" Rud"
We would like to indicate that law firm "Pravova Dopomoga" has become a reliable partner for legal services provision and we can recommend it as a team of qualified professionals who are easy and pleasant to deal with
G. Zeynep Kucuk, SANOVEL ILAC SAN. ve TIC. A.S.
Helped with the liquidation of a foreign representative office in Ukraine
General director I.Logvinenko , Bravo Airways
Bravo Airways company expresses its gratitude to law firm "Pravova Dopomoga" for high quality and timely provision of legal services.

Chief ophthalmologist of Ukraine, Oksana Vitovska, All-Ukrainian alliance of ophthalmologists
We would like to express sincere gratitute to the team of Law firm "Pravova dopomoga" and personally to Volodymyr Gurlov for professionalism and purposefulness in your work.
President Tedeev E.S., Ukrainian wrestling association
Ukrainian wrestling association would like to express its sincere appreciation to the team of Law firm "Pravova Dopomoga" for mutually beneficial cooperation
Partner, Denis Y. Lysenko, Vasil Kisil & Partners
... we would like to express our respect and gratitude for the fruitful cooperation.
... our work on joint projects assured us of your high level of professionalism

General director Skibinskiy V., Yokogawa Electric Ukraine Ltd.
Yokogawa Electric Ukraine Ltd. recommends Vladimir Gurlov and his team of lawyers as a reliable legal partner and advisor for foreign businesses in Ukraine...
Ukraine attracts foreign investors for many reasons. They include cheaper labor force, a freer tax regime, and even a lower cost of resources. For example, Ukraine offers a favorable tax burden for entrepreneurs in the IT sphere - 5% of the Single Tax Rate.
But any entrepreneur must calculate in advance all the risks of starting a business in Ukraine and for this purpose, it is necessary to understand not only the general rules of doing business in Ukraine, but also the main problems that foreign businesses may face here.
Today, our lawyers will tell you about such problems and how to avoid them.
If you are planning to start a business in Ukraine and want to do it safely and easily, you are welcome to contact our experts for a personal consultation. We will not only make the whole process clear, but also take care of any legal issues for you.
You may also like: What Legal Structure to Choose for a Business in Ukraine: Sole Proprietorship or LLC?
What problems does a foreign business face in Ukraine?
Confusing and volatile tax laws.
Despite the fact that tax rates in Ukraine are much more tempting than in most European countries or America, the tax laws may be confusing.
The multitude of regulations, which you need to know and take into account in your work, is not the entire problem. The main hitch is that you need to be on familiar terms with the tax office where your company will be registered, and be clearly aware of the practices of that particular tax authority. All taxes must be paid on time, as well as all compensation, salaries and overtime payments for staff.
A simple solution to this problem will be a tax consultation at the start of your business, which will help you determine the best scheme of taxation, as well as the services of a Ukrainian accountant and a HR specialist. Hiring an outsourced specialist will cost you much less than wasting time trying to figure out the system on your own, or tax penalties due to incorrect record keeping.
Services of a tax lawyer will help you not only to understand the system to the necessary extent, but also to take into account such nuances of doing business as avoiding double taxation, if you work with foreign counterparties, or the procedure of withdrawing profit from Ukraine.
Corruption and inspection authorities.
Another problem that entrepreneurs often face in Ukraine, especially in those spheres of activity which require a license, is a constant inspection by the controlling authorities.
These can be inspections by the body that issued the business license, tax inspections, sanitary and epidemiological inspections or fire inspections - it all depends on the type of business you are going to conduct.
There is a general opinion that the issue of successfully passing an inspection can only be resolved with the help of a bribe. Of course this is not true, but it will be difficult to pass any checks or obtain permits for any business, if you do not adhere to the letter of the law to the smallest detail.
Ukraine is in a constant process of reforms and fighting corruption, which on the one hand gives business hope to reduce pressure from government agencies, but on the other hand can create unexpected delays. So, for almost a year no construction licenses have been issued in Ukraine due to the fact that the state authority responsible for their issuance is under reform because of the fight against corruption.
You may also like: How to Start an Online Business in Ukraine?
Rules of document flow.
Record keeping, preparation and filing of reports, appeals to the state authority on any occasion must be always made in Ukrainian. Ukrainian is the state language, and therefore it is obligatory for official business documents, employees of state authorities rarely speak English or any other foreign language.
Moreover, the services that business needs - mobile operators, the National Communications Commission, contractors also tend to communicate in Ukrainian. This means you will definitely need staff with knowledge of the Ukrainian language and appropriate skills to run your business, or a permanent contact person.
Please note! All employees must be employed according to the Ukrainian legislation and monthly personnel issues must be settled in due time: accrual of salary, dismissal, vacations, sick leaves, etc. Our company offers the solution to all these within the foreign business support services.
Low sensitivity to developments.
Despite the rapidly developing economy, Ukraine has been slow to open up to unfamiliar business schemes or other business innovations.
Thus, despite its popularity abroad, Ukraine has not yet adopted documents that would regulate activities under the outstaffing scheme. Such activities have a number of significant limitations and remain semi-legal. Often, various alternatives have to be developed to operate under this scheme.
Another example is the lack of normative regulation of the cryptocurrency environment. At the same time, the issue of opening a cryptocurrency account in Ukraine, as well as ways to withdraw cryptocurrency is becoming more and more relevant for entrepreneurs in Ukraine.
Of course, these are not the only problems that may arise. There is also the problem of a large number of uncommissioned properties and the need to check the real estate developer - in case you are planning to invest in real estate, etc.
Business in Ukraine involves a huge number of opportunities, but no less many risks. True, most of them can be avoided at the start of your business. This is exactly what we offer. Our team will:
Advise on starting a business in Ukraine in your particular case;

Advise the most optimal business structure for registration;

Help to understand the tax optimization issues in Ukraine;

Carry out all registration activities aimed starting a business in Ukraine;

Provide assistance with obtaining necessary licenses and other permits;

Solve all the issues related to the foreign director employment, if necessary;

Undertake all personnel and accounting issues whenever you need;

Become your legal partner for many years.
This is only a part of the services we offer. We also help with employment of foreign specialists, including top managers in Ukraine through obtaining Work Permits.
The cost of legal services for starting a business in Ukraine, as well as the business legal support services can be seen in our company's commercial offer. Or contact our specialists to prepare a personal package of services for you.
Didn't find an answer to your question?
All about opening a foreign business in Ukraine is here.
We are ready to help you!
Contact us by mail [email protected] or by filling out the form: