How to get a work permit for hazardous work in 2023?
Cost of services:
from 25000 UAH
Permit obtainment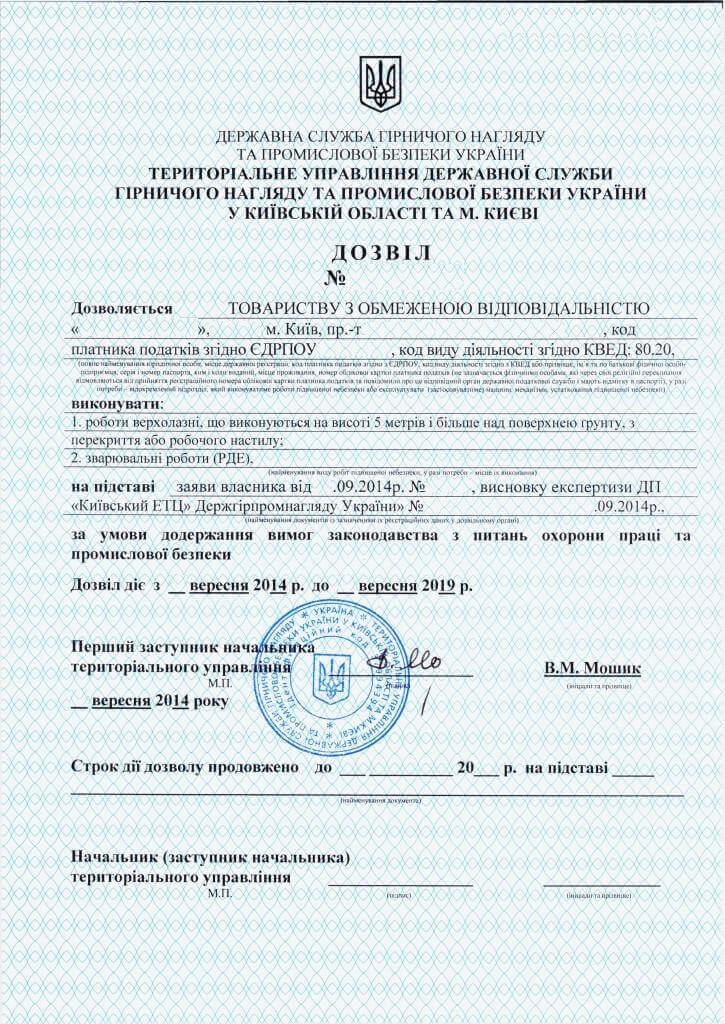 Reviews of our Clients
Rector, Doctor of Law, Professor M. M. Kurko, Interregional Academy of Personnel Management
We wish to your firm continuous development and strengthening, new prospective and loyal clients!
If you want to conduct your business without any problems with the state authorities, as well as safely for yourself and your employees, the issue of occupational safety at the enterprise plays an important role.
This is especially important when it comes to high risk work or the operation of high risk facilities, machines, mechanisms. Any business entity, whose activity involves these works, must obtain a relevant Permit or Declaration.
Today we will talk about the High Risk Work Permit and the procedure for obtaining it in practice.
You may also like: Declaration Of The State Labor Service
Essence of the case: Permit to work on mining equipment
In 2019, our company was contacted by a Client who needed a High Risk Work Permit to operate mining equipment. They needed this Permit for further work as well as for participation in the tender.
The Client wanted to know the answers to the following questions:
What kind of work requires a High Risk Work Permit?
What documents shall be collected and provided to obtain the Permit?
Who issues such permits?
How to train the personnel and employees at the enterprise?
Our task was to help the Client understand the process and to obtain the Permit for them within the shortest possible time.
You may also like: Construction Permit And Declaration
What kind of works and equipment are considered high risk and require permits?
First of all, it was necessary to determine whether our Client's business activity falls into the category of high risk works or operation of high risk machines and mechanisms. The same should be done, if you need to obtain the Permit.
The works that require the Permit include:
Manufacturing, use and all works related to explosive and unsafe substances of hazard class 1 and 2 as well as equipment for such works.
Explosive works and those related to explosive energy, as well as equipment for such works.
Underground and surface mining operations;
Gas hazardous operations;
Utilization of weapons, etc;
Construction of main gas and oil pipelines, etc.;
Equipment for mining, sorting, processing, etc. minerals.
As for our Client, their case fell under the section of mining operations, respectively, required the Permit.
You may also like: What Permits Do You Need To Trade In Fuel
What documents do you need to obtain the High Risk Work Permit?
Working with the Client's documents, we have developed an algorithm of actions to bring all necessary documents in line with the requirements of the law. To obtain such a Permit, you should first obtain the expert commission's opinion.
For this purpose, it was necessary to carry out the following work with the documents:
To form and fill out an application to obtain the commission's opinion;

To make amendments to the company's Charter, which did not meet the latest requirements of the law at that time;

To prepare a package of documents for submission to the expert commission:
a document confirming the right to use the premises;
the company's organizational structure;
an employment sheet;
minutes and certificates for engineering and technical employees on labor protection;
minutes and certifications for employees of specialties performing high risk operations;
certificates of availability of equipment and tools used for high risk operations;
equipment certificates.
Once we have prepared all documents, the next step was to submit them for evaluation to an expert commission, which issued its positive opinion confirming that our Client's company complies with all legal regulations and requirements. This opinion and the application were submitted by our lawyers to the local labor service for a 5-year permit.
Our employees also went to the Client's company to carry out internal audits and to train the employees of the plant.
Despite the current changes in legislation in the sphere of permits and declarations, we managed to obtain the High Risk Permit in a short time, which allowed the Client to start work and take part in the tender.
If you want to obtain the High Risk Permit, don't hesitate to call us. We will help you decide on the types of permits you need, as well as will get them for you.
Didn't find an answer to your question?
We are ready to help you!
Contact us by mail [email protected] or by filling out the form: