Obtained ITIN certificate for a foreign person in Ukraine
Cost of services:
5000 UAH
Obtainment of TIN
from 15000 UAH
Get TIN in 1 day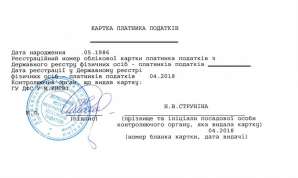 Reviews of our Clients
Daniel Holmes, Citizen of USA
Based on our positive experience of cooperation with Volodymyr Gurlov and his team we can recommend them as a reliable legal advisor on the matters of Ukrainian law...
In December 2016, our company was contacted by a Client from the United Kingdom to get an individual taxpayer identification number (ITIN) in Ukraine. The Client enquired of the procedure duration and whether this procedure required his personal presence in Ukraine. The Client was coming to our country only for a few days. It would therefore desirable to have the ITIN ready by the time of his arrival.
Our company's lawyers reassured the Client that his personal presence was not required either when submitting the documents or receiving the ITIN certificate. To get an individual taxpayer identification number in Ukraine, the Client had only to provide us with the apostilled power of attorney issued in the Client's language and country (the apostille is not valid in all countries - ed.). We can ourselves translate the document into Ukrainian language and carry out all necessary actions and procedures to register the Client at the State Department of the State Financial Service of Ukraine in the city of Kyiv and obtain the ITIN certificate.
The procedure was successfully completed. The Client sent us the power of attorney by courier service, which was promptly translated and notarized by the translation agency which our company cooperates with. Hereupon, the ITIN certificate was obtained in three days. The Client was pleased and thankful to get the individual tax identification number in Ukraine without leaving the UK, as well as to have the required document prepared by the time he arrived in Ukraine.
We are ready to help you!
Contact us by mail [email protected] or by filling out the form: