Introduction of amendments to the medical practice license in Ukraine: our experience
Cost of services:
from 16 000 UAH
1-2 specialties
from 16 000 UAH
Alteration
from 24 000 UAH
More than 3 specialties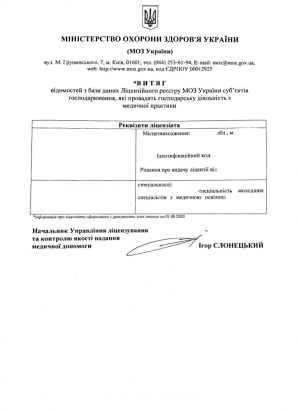 Reviews of our Clients
Director I. Garkusha, "Medyk" LLC
During provision of the services legal experts of the firm proved to be a professional team
Director L. Susenko, Medychni diagnostychi systemy LLC
We would like to express our appreciation to law firm "Pravova Dopomoga" for the provided services related to licensing of medical practice
I. Pruzhnyak , Sole trader I. Pruzhnyak
Despite complexity of licensing procedures, your lawyers got a positive decision about issuance of license for medical practice after the very first submission of documents...
Director S. Sokolova, LLC "Company"Nika-S"
Quick work of your lawyers allowed us to continue our medical practice without unnecessary breaks related to obtainment of the new license. Due to this we managed to avoid financial losses and continued providing high quality dental care services to our clients
Director A. Stelmakh, Private enterprise "ESTO"
We got consultations about organization of the medical center's work, formalization of labor relations with employees, legal regulations on use of different medical equipment...
N. Gorova, Sole trader N. Gorova
I want to recommend this firm to everyone, who wants to start his or her own medical practice...
S. Lyubynetskyi , Sole trader S. Lyubynetskyi
Without any recommendations I chose law firm "Pravova dopomoga" among all other companies on the market and not once did I regret my choice...
Director Mykhailo Bogdanovych Havrylyshyn, Kalush City Center of Primary Health Care
…we can confidently recommend the lawyers of Law firm «Pravova dopomoga» as reliable legal partners on the matters of medical practice licensing and other procedures related to the Ministry of Health of Ukraine.
Chief physician Romanyuk E.V., Municipal non-profit enterprise "Central district hospital of Busk"
... Having used the services of the Law Firm "Pravova dopomoga", we managed to solve our problems, as well as found a qualified and reliable partner.
For private practitioners and healthcare facilities obtaining a medical license is a challenging and long-awaited result. At the same time, not all of them know that the approval of their package of documents by the Ministry of Health during licensing is not final. In case of a certain list of changes, the documents and information will have to be submitted again.
Failure to inform the licensing authority about the changes that occur in your activity may result in fines, license cancellation, and in particularly difficult cases of medical damage - even in criminal liability.
In this publication, we will elaborate on the changes and the form they should be reported.
General requirements for making changes to a Medical License
As a general rule, the licensing authority must be informed about any changes in the data specified in the documents submitted for obtaining a license. In practice, this means that even minor changes such as the replacement of medical equipment (purchase, modification or deletion) must be agreed upon. This is complicated by the tight deadlines for notification. The notification period shall not exceed one month.
To make changes to a Medical License, you need to prepare a new version of the information and a cover letter specifying the items that have been amended. At the same time, according to the new rules of making changes, since spring 2020, the licensing authority does not make a decision to make / not to make changes, but simply attach the documents to the licensing case, and performs a superficial inspection of documents.
Such a superficial inspection may result in an unscheduled inspection of the licensee's activity in terms of its compliance with licensing requirements (in fact, it may lead to revocation of the license). At the same time, such an inspection may take place within a significant period of time after the changes have been introduced, and therefore an error in documents may become a time bomb.
Please note! Taking into account such rules, it is extremely important that the documents be as clear and complete as possible, which can be achieved with high-quality legal assistance of the experts. It's worth noting that the minimum non-compliance with licensing requirements may be the ground for the audit. In fact, the members of the commission are guided solely by their own subjective point of view, and you can't know whether the documents have passed the superficial inspection.
Our lawyers will provide you with qualified assistance in making changes to your Medical License in Ukraine, and will register these changes on the first attempt.
In contrast to obtaining a license, the changes are considered longer (in practice, it takes about a month, compared to 2 weeks), and do not require an official payment.
Below we will consider the specific points of this procedure, which most often cause difficulties for our Clients: both healthcare institutions and doctors practicing as sole proprietors.
Related article and ideo: Execution Of Documents For A Medical License
Changes in the staff of the healthcare facility
Changes to the Medical License in terms of personnel concern only the medical and nursing staff. It means that such positions as administrators, cleaners, orderlies, etc., are not subject to approval by the Ministry of Health.
The following changes in medical personnel are subject to approval:
change of the main job to a part-time job or vice versa;
change of position: for example, when an ophthalmologist receives an additional certificate in pediatric ophthalmology, and begins an appropriate practice;
Update of qualification documents: for example, obtaining a qualification category or a new certificate of a specialist doctor;
recruitment of new medical workers, even in already open specialties, and termination of employment with doctors and young specialists.
Related article: Can A Person With A Medical Degree Work As A Junior Specialist?
A special case of reporting changes is the inability to enter into an employment agreement with employees specified at the time of applying for a license within one month from the date of obtaining the MOH approval. In this case, the licensee shall take the following actions:
to approve new specialists in necessary specialties;
to submit an application for termination / suspension of activity in the specialty / specialties.
From the technical point of view, changing the staff does not always mean preparing new information in full size (and with a large scale of work it can significantly complicate the work), but may be limited to providing the licensing authority with only information, following no particular form, on the admission of doctors. A professional lawyer can assess the scope of changes, and protect the Client from preparation of unnecessary documents, as well as greatly simplify the procedure for making changes.



Changes in the address of the healthcare facility
You are moving. In practice, moving means changing the material and technical base. To notify the licensing authority of such changes (provided that the staff does not change), you must properly get new premises for use. For example, to rent or purchase premises, as well as obtain a SES Certificate. We can help you quickly get a new SES Certificate for the clinic or doctor's office.
The report of changes must clearly specify which address will now be used for medical practice and which address should be removed from your license.
You are expanding your network. In this case we are talking about saving the original address and adding new.
In addition to the actions already mentioned in the previous paragraph, it is necessary to provide the new address with personnel and equipment, medical devices, etc.
The notice should focus on opening an additional address, which will make it impossible for the MOH specialists to misinterpret documents and will not lead to replacement of one address with another.
You're closing a doctor's office or a healthcare facility. It will be sufficient to submit an application to close the address. If this is your only address, you can provide:
- an application for temporary suspension of activities, for example, due to lack of necessary personnel;
- an application for license cancellation, if the activity is terminated permanently.
Related article: Management Of Legal Risks In Health Care
Liability for failure to notify about changes in Medical License information
The most likely result of failure to inform about changes in the license may be its cancellation. While the licensee is usually given time to bring itself in line with the law after the first inspection, in practice there is not always enough time to take all the actions to eliminate violations. That's why the second inspection may be the last one.
In addition, the Code of Administrative Offences provides for the possibility of imposing a fine of UAH 17,000 to 34,000 for business activities in violation of licensing regulations. A failure to notify of changes to a Medical License may be interpreted exactly this way.
The last, but not the least, of consequences is criminal liability. For example, in the case of failure to inform about a new employee, whose activity caused serious consequences for the patient's health, this fact may negatively affect the results of the court proceedings and the identification of persons responsible for such damages.
Related article: Why Is It So Important To Apply In Advance For Legal Assistance During The License Inspection?
How to make changes to a Medical License in Ukraine?
Making changes to a Medical License is not always obvious, but an important element in the activity of doctors practicing as sole proprietors or healthcare facilities.
Changes to the Medical License are made according to a specific procedure, which has its differences depending on the information, which is no longer relevant and needs to be updated.
According to the existing procedure, making changes is a risky procedure, which requires the involvement of an appropriate expert, as since spring 2020 the changes can't be preliminary approved by the licensing authority. The Ministry of Health registers all changes, and poor-quality documents serve as the basis for an unscheduled inspection of the licensee.
Do you want to make changes to your Medical License? Don't hesitate to contact us! We will take care of the timely change of information and properly executed documents.

We are ready to help you!
Contact us by mail

[email protected]

or by filling out the form:
We are ready to help you!
Contact us by mail [email protected] or by filling out the form: