Our lawyers registered a charity aimed at protection of homeless animals
Cost of services:
from 9000 UAH
Charity Fund Registration Fee
32000 UAH
Foreign Charitable Fund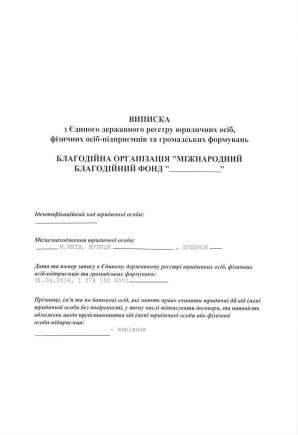 Reviews of our Clients
Palyonko O., Сaritable organization "International charitable fund"My native village"
I was convinced that the principle "We treat every client as a single one" indeed applies to this firm and is not just a loud motto...
In May of 2018 our firm was retained by a Client who wanted to start charitable work in Ukraine. The main field of activity of the charity was supposed to be help for homeless animals.The Client wanted to focus public attention on the problem of homeless animals, as well as cruelty to animals. The plan was to involve public activists, volunteers and all those not indifferent. Therefore, the Client was interested in whether they needed to establish an additional public organization and, in general, how best to organize this kind of a business.
Our lawyers began work by providing advice on the above issues. When there is hesitation, what is better to choose: a public or charitable organization; it is necessary to proceed from the goals for which it is created, and not from the methods of carrying out activities. If it is planned to a greater extent to raise funds and other resources to provide assistance, then this should be a charity. A charitable organization, similarly to a public organization, has the right to focus public attention to a particular problem in any legal way: through the existing media, establish their own media, for example brochures, booklets; interact with public authorities, including . submitting proposals and solicitations for solving public problems.



After considering the information we provided, the Client decided to choose a charitable organization in the form of a charitable foundation and was pleased that a single organization can cover the whole range of activities that they plan to carry out. The Client was certain that any organization was created by the constituent assembly, where the organization's governing bodies were elected, including the audit committee. Therefore, they were about to begin the search for like-minded people to create an organization. However, during the consultation, we assured our Client that one person was enough to create a charitable organization in the form of a charitable foundation, and the audit committee can not be elected until the number of participants in the fund is less than ten people.

Related article and video: Charitable Foundation: How To Establish? Our Experience In Ivano-Frankivsk Region
It was useful for the Client to find out that it was possible to start the organization registration process "right there and then" and in order to make this process as quick as possible, immediately after the consultation we suggested to go to a notary to draw up a power of attorney for our specialists. To which the Client agreed. Soon, other registration documents were prepared and signed by the Client, which were then submitted for registration on the same day. The very next day, a charitable organization was registered in the Unified State Register.
If you want to register a charitable organization in a short time, as well as get professional advice and be confident in the quality and reliability of legal services, you can contact our lawyers.
We are ready to help you!
Contact us by mail

[email protected]

or by filling out the form:
We are ready to help you!
Contact us by mail [email protected] or by filling out the form: