Ludomania in Ukraine: what does the new casino law say about personal data protection in casinos?
Cost of services:
Negotiable
Gambling License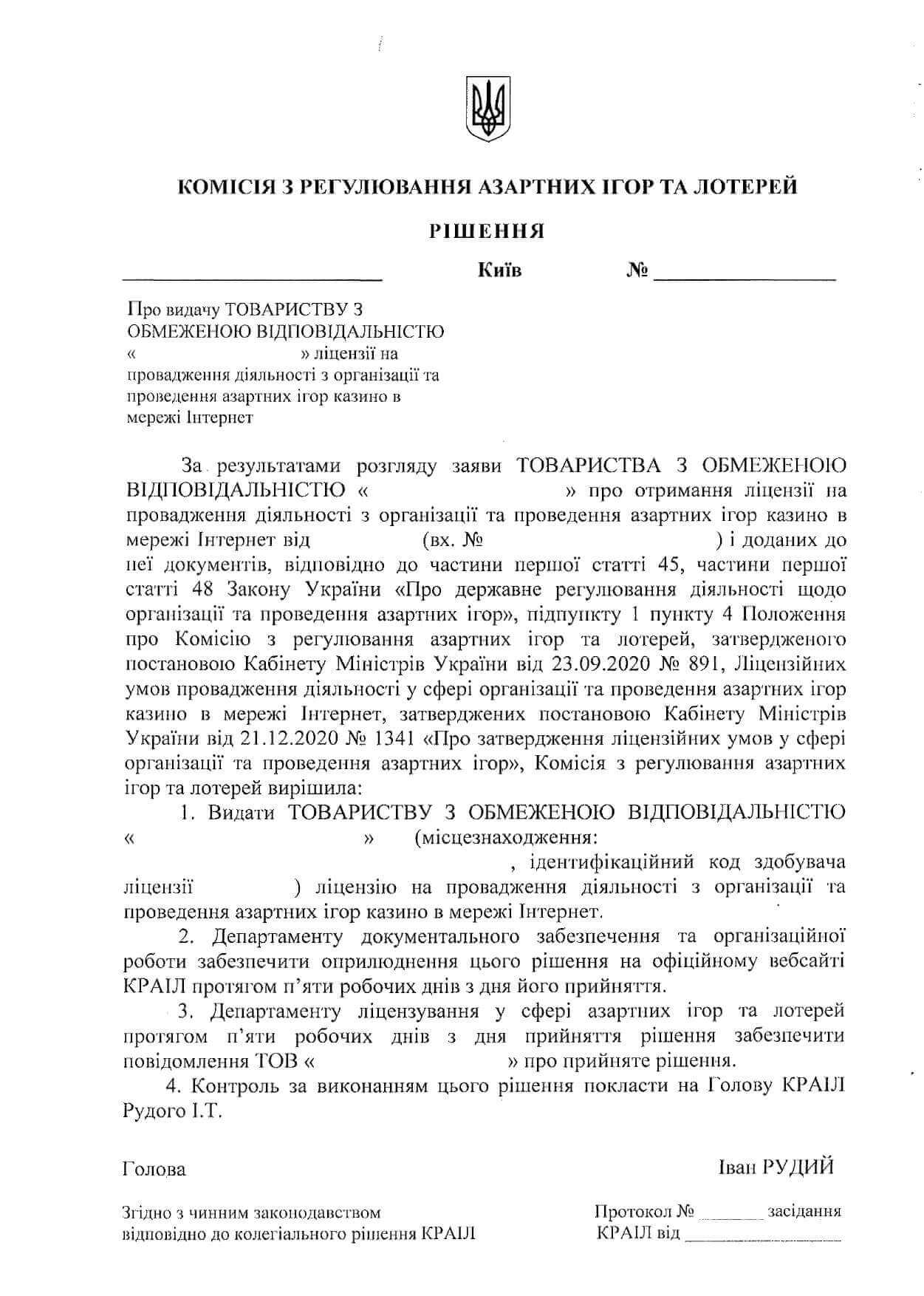 Reviews of our Clients
Chief ophthalmologist of Ukraine, Oksana Vitovska, All-Ukrainian alliance of ophthalmologists
We would like to express sincere gratitute to the team of Law firm "Pravova dopomoga" and personally to Volodymyr Gurlov for professionalism and purposefulness in your work.
General director Skibinskiy V., Yokogawa Electric Ukraine Ltd.
Yokogawa Electric Ukraine Ltd. recommends Vladimir Gurlov and his team of lawyers as a reliable legal partner and advisor for foreign businesses in Ukraine...
General Manager Stashkevych I.Y., LLC "Trading company" Rud"
We would like to indicate that law firm "Pravova Dopomoga" has become a reliable partner for legal services provision and we can recommend it as a team of qualified professionals who are easy and pleasant to deal with
General director I.Logvinenko , Bravo Airways
Bravo Airways company expresses its gratitude to law firm "Pravova Dopomoga" for high quality and timely provision of legal services.

Partner, Denis Y. Lysenko, Vasil Kisil & Partners
... we would like to express our respect and gratitude for the fruitful cooperation.
... our work on joint projects assured us of your high level of professionalism

L. Chervonyuk, LLC "Vitalux"
Vitalux company highly appreciates results of cooperation with Law firm "Pravova dopomoga", can characterize it as a reliable partner and based on personal experience is ready to recommend it to interested persons...
G. Zeynep Kucuk, SANOVEL ILAC SAN. ve TIC. A.S.
Helped with the liquidation of a foreign representative office in Ukraine
President Tedeev E.S., Ukrainian wrestling association
Ukrainian wrestling association would like to express its sincere appreciation to the team of Law firm "Pravova Dopomoga" for mutually beneficial cooperation
Bohdan Kosohatko, a lawyer at Pravova Dopomoga Law Firm, commented to Focus publishing house on the new Сasino Law in Ukraine.
Below is the full text of the material, part of which was used in the article on the Focus portal.
Possible conflicts in the legislation regulating the gambling business in Ukraine
The new draft law on legalization of gambling is written quite competently, correctly and prudently in terms of legislative technique, but it, as all draft laws, of course, contain a number of shortcomings.
Let's take a short walk through the problematic points, and what can threaten the future owners of a gambling business.
Additional regulations must be adopted.
The first thing that strikes the eye is a systemic problem for the Ukrainian legislator: the newly developed main law (or any other legal act) creates obligations for other state authorities to develop more specific regulations to govern certain activities. In the case of casino licences, the draft law envisages further creation of regulations governing the issuance of specific types of licences.
As practice shows, this will create some conflicts or result in the failure to create such legislative acts, as it was with outstaffing and, until recently, with disinfectants.
Protection of personal data in the sphere of gambling.
The new law obliges the Gambling and Lottery Regulatory Commission to establish a special procedure for keeping a register of persons with restricted access to gambling. However, there are no specific deadlines for the creation of such an act. Accordingly, in practice, this may result in personal data being transferred on the basis of how it is actually possible, rather than how it would have to be in accordance with the letter of the law.
Evaluative notions and their vagueness in legal acts.
There is also another common problem in Ukrainian legislation. For example, the draft law provides for three options for restricting a person's access to gambling:
On one's own volition.
At the request of legal representatives or a family member of the first degree of kinship.
By court order.
However, the second option is prescribed rather vaguely, and based on the text of the draft law, one of the reasons why a relative can apply for a restriction is the difficult situation of the family. But it is not clear how to determine this difficult situation.
The draft law also provides that if one family member has applied for restriction of access to gambling for another family member, the authorized body may decide to restrict access to this person, if there are reasonable grounds. But the procedure for consideration of such applications and "reasonable grounds" are not clearly defined yet.
In addition, creating the possibility for the National Commission to limit people's freedom of action on the basis of the so-called "reasonable grounds" provided by the relevant law is at least an unfounded violation of human freedom of action, and thus of human rights.
Lack of a mechanism protecting personal data and identifying foreigners.
So, it turns out that a person can be recognized as a gambling addict in another country, but because of legislative inaccuracy and technical impossibility of identification, he/she can easily come to Ukraine, and get access to your gambling establishment without any problems.
Taking into account the norms of such serious international legal acts as the GDPR, the legislator should have provided for a special procedure for processing personal data of players.
You may also like: GDPR In Ukraine: When And How To Apply It?
In addition, the proposed draft law does not define the persons who will own or manage the information in the ludomania register. It only stipulates that the registry is state property. Let's assume that the owner of such information is also an authorized state body, but then we have a discrepancy with the provisions of the Law of Ukraine "On Protection of Personal Data", because Article 5, paragraph 3 provides that "the administrator of personal data, the owner of which is a state authority or a local government body, except for these bodies, can only be an enterprise of state or communal form of ownership, which belongs to the management of this body." In our case, the managers will also be the organizers of lotteries, casinos, etc., i.e. enterprises of the private form of ownership.
Of course, we can hope that everything will soon become clear and the law will be written clearly. But if you are already thinking about starting an online casino or other gambling establishment in Ukraine, it will be more reliable to use the services of qualified lawyers who will find a solution even if the legislation is imperfect, and help legalize your business.
Call us, we will help you prepare for a casino license in Ukraine, as well as ensure its legal existence and activities in the current conditions.
We are ready to help you!
Contact us by mail [email protected] or by filling out the form: