Who are ethnic (foreign) Ukrainians, and on the basis of what documents can they live in Ukraine?
Cost of services:
starts at 800 USD
TRP on the basis of work in Ukraine
from 600 USD
Residence permit extension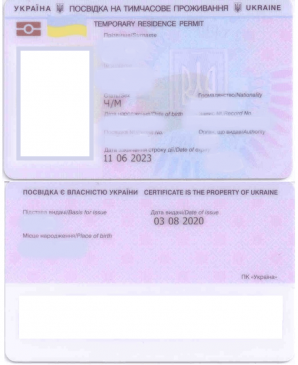 Reviews of our Clients
Daniel Holmes, Citizen of USA
Based on our positive experience of cooperation with Volodymyr Gurlov and his team we can recommend them as a reliable legal advisor on the matters of Ukrainian law...
Foreign Ukrainians refer to individuals who are citizens of other countries but have Ukrainian heritage or Ukrainian ancestry and recognize Ukraine as their homeland based on their ethnic origin. In other words, they have Ukrainian roots.
The National Commission on Foreign Ukrainians is responsible for deciding whether to grant or deny the status of foreign Ukrainian. The processing time for documents typically takes up to three months.
To obtain this status and a certificate as a foreign Ukrainian, documents can be submitted either in Ukraine to the Ministry of Foreign Affairs or abroad to the relevant diplomatic mission.
The status of a foreign Ukrainian is ideal for individuals who, for various reasons, do not wish or are unable to obtain Ukrainian citizenship but still want to live or stay in Ukraine for an extended period.
The significant advantage is that they can retain their original citizenship while having a legitimate basis for permanent residence in Ukraine for themselves and their families.
Conditions for obtaining the status of a foreign Ukrainian
These include not holding Ukrainian citizenship, being at least 16 years old, and providing documents that prove Ukrainian heritage, such as birth certificates or other records showing Ukrainian ancestry. Additionally, documents confirming residency in Ukraine may be required, along with other relevant documents.
If the required documents are not available, or as additional evidence, testimonies from at least three individuals, including Ukrainian citizens or foreign Ukrainians who already have Ukrainian citizenship, or from public organizations of foreign Ukrainians, may be accepted.
Furthermore, a characterization and a petition from a foreign Ukrainian public organization, of which the individual is a member, may be submitted.
Currently, Ukrainian diplomatic institutions collaborate with approximately six hundred such public organizations in different countries worldwide.
The most crucial requirement is a genuine Ukrainian national identity, which encompasses several key aspects:
Social and psychological: A sense of Ukrainian ethnic heritage, self-identification as a bearer of Ukrainian values, culture, language, and traditions, and a deep awareness of the shared historical destiny and future prospects with other members of the Ukrainian ethnicity
Active engagement in the Ukrainian cultural and informational landscape: A conscious effort to actively promote Ukrainian culture in its diverse forms, ideas, and expressions
The procedure, terms and documents for obtaining the status of an ethnic Ukrainian
To obtain the status of an ethnic Ukrainian abroad, you will need to provide the following documents:
Completed application form in the designated format.
Passport.
Copies of documents that confirm your Ukrainian ethnic heritage or ancestry, such as birth certificates or other relevant documents for you or your relatives, as well as any documents that verify your residence in Ukraine.
Two color passport-sized photos (30 x 40 millimeters).
Receipt of payment for the services of the Ministry of Foreign Affairs, which is equivalent to 10 US dollars.
In addition, you will need to provide the following information:
If you were born in Ukraine, you need to provide the last place of residence in Ukraine. If you were taken out of Ukraine as a minor, you will need to provide information about the last place of residence of your parents in Ukraine.
If you previously held Ukrainian citizenship, you will need to provide the number and date of the Decree of the President on the loss of Ukrainian citizenship.
The processing time for an application to obtain the status of an ethnic Ukrainian abroad is typically around 90 days. The decision can result in either granting or denying the status.
Once approved, the issued certificate is valid for 10 years with an option for re-registration by submitting a corresponding application.
The Commission responsible for matters concerning foreign Ukrainians reviews the documents and issues the certificate. The commission meets as needed but no less than once every three months.
During a recent commission meeting, foreigners from Azerbaijan, Argentina, Armenia, Israel, Kazakhstan, Moldova, Germany, Poland, Finland, and Turkmenistan were granted the status of ethnic Ukrainians.
You may also like: FAQs on Permanent Residency in Ukraine
What rights does the certificate of a foreign Ukrainian grant?
Obtaining the status of a Ukrainian citizen living abroad comes with a range of benefits, including:
Free multiple-entry visa for up to five years without needing additional invitations;
Permit for immigration to Ukraine and the possibility of obtaining permanent residence;
Spouses and children of Ukrainian citizens living abroad can also obtain permits for immigration and permanent residence;
The right to work in enterprises, institutions, and organizations, or engage in other employment activities on an equal basis with Ukrainian citizens;
Access to higher education in Ukraine on a state-funded basis, subject to annual quotas;
Eligibility to acquire Ukrainian citizenship.
Please note! A Ukrainian citizen living abroad who resides in Ukraine enjoys the same rights and obligations as a Ukrainian citizen, with exceptions as established by the Constitution, laws of Ukraine, or international treaties.
You may also like: Immigration Permit to Ukraine
An alternative to residency permits or citizenship in Ukraine
Our experienced lawyers have a successful track record in assisting Ukrainian expatriates from Brazil, Canada, and the Czech Republic with visa and immigration permit applications.
We start by carefully evaluating each client's unique situation, thoroughly reviewing their documents, and providing assistance in preparing requests or obtaining duplicates/copies of documents through legal channels to verify their status as a foreign Ukrainian.
If needed, our lawyers can also assist in drafting appeals to consulates/the Ministry of Foreign Affairs, obtaining recommendations from non-governmental organizations, and more.
We help compile and submit the necessary document package to obtain a certificate of a foreign Ukrainian.
If necessary, our lawyers will prepare the required documents for obtaining a immigration permit to Ukraine.
Recently, we had a client from Brazil who already had the status of a foreign Ukrainian and needed to urgently come to Ukraine to take care of his ailing grandmother, who couldn't provide an invitation due to being in the hospital.
Our team of experts thoroughly reviewed the client's documents and provided detailed consultation on how to obtain a visa without an invitation.
We also guided the Client on the process of obtaining a Permanent Residence Permit, as he intended to stay for a longer period and wanted to bring his spouse along. We provided a list of required documents from Brazil and took care of the rest in Ukraine.
It's worth mentioning that after two years, the same couple approached us again, this time seeking assistance with obtaining Ukrainian citizenship for their daughter.
We are a team of accomplished professionals who excel in handling legal matters with ease and efficiency.
Didn't find an answer to your question?
Feel free to reach out to our experts for information on the cost of obtaining the status of a foreign Ukrainian.
Check out the cost and requirements for obtaining a Permanent Residence Permit here.
Check out the cost and requirements for obtaining a Temporary Residence Permit here.
We are ready to help you!
Contact us by mail [email protected] or by filling out the form: