Who are ethnic (foreign) Ukrainians, and on the basis of what documents can they live in Ukraine?
Cost of services:
starts at 800 USD
TRP on the basis of work in Ukraine
from 600 USD
Residence permit extension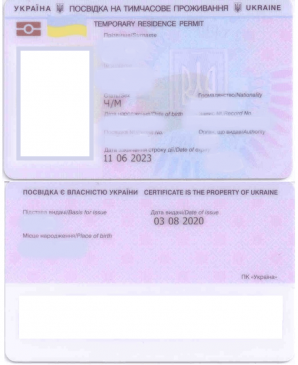 Reviews of our Clients
Daniel Holmes, Citizen of USA
Based on our positive experience of cooperation with Volodymyr Gurlov and his team we can recommend them as a reliable legal advisor on the matters of Ukrainian law...
Citizens of other states with Ukrainian ancestry, whose ancestors were Ukrainians and who recognize Ukraine as their homeland (Ukrainian ethnic origin) are foreign Ukrainians. In other words, they are persons originating from Ukraine.
The decision on granting or not granting a person the status of foreign Ukrainians is made by the National Commission on Foreign Ukrainians. The period of consideration of documents is usually up to three months.
To obtain the status and the certificate of a foreign Ukrainian, documents can be submitted in Ukraine to the Ministry of Foreign Affairs or abroad to the corresponding diplomatic institution.
Requirements for obtaining the status of a foreign Ukrainian
One of the requirements is that you are not a citizen of Ukraine, and that you are 16 years old. It is obligatory to have documents confirming the Ukrainian origin of the person. For example, a birth certificate or other documents on birth of a foreign citizen or his/her relatives in Ukrainian territories, documents confirming the fact of residence of a person on the territory of Ukraine, and other documents, if required.
In the absence of such documents or in addition to them, testimonies of Ukrainian citizens or foreign Ukrainians who already have such status may be accepted. But there is a mandatory condition: testimonies must be given by at least three people.
Characteristics and application from a non-governmental organization of foreign Ukrainians, a member of which is a foreigner, shall also be provided.
So, today about six hundred of such non-governmental organizations in different countries of the world cooperate with diplomatic institutions of Ukraine.
You may also like: Frequently Asked Questions about Permanent Residence in Ukraine.
What rights does the certificate of a foreign Ukrainian give?
Obtaining the status of a foreign Ukrainian has a number of advantages, including:
obtaining a free multi-entry visa for a period of five years, without providing any additional invitations;
obtaining a permit to immigrate to Ukraine and, accordingly, a permanent residence permit;
the wife and children of a foreign Ukrainian may obtain an immigration permit and a permanent residence permit;
the right to work at companies, institutions and organizations or perform other labor activities on the same basis as citizens of Ukraine;
admission to higher educational institutions under the state order, in accordance with the quotas annually established in Ukraine;
acquisition of Ukrainian citizenship.
Please note! A foreign Ukrainian residing in Ukraine is equal in rights and obligations to a citizen of Ukraine, with the exceptions established by the Constitution, laws of Ukraine or international treaties.
You may also like: Permit to Immigrate to Ukraine
How can we help?
Our lawyers have a successful practice of obtaining visas for entry into Ukraine and immigration permits for foreign Ukrainians from Brazil, Canada and the Czech Republic.
Recently, a citizen of Brazil, who already has the status of a foreign Ukrainian, came to our company, and he had to come urgently to take care of his ailing great-aunt, who could not issue an invitation for him, because she was in the hospital.
First of all, our specialists have studied the documents of the Client and provided detailed advice on obtaining a visa. We also explained how it could be done without an invitation.
Considering that the Client was coming for a long time, and wanted to take his wife with him, we offered to prepare documents for permanent residence, provided a list of documents to be taken from Brazil, and we arranged the rest in Ukraine.
The pleasant fact is that after two years, these spouses again turned to our specialists for Ukrainian citizenship for their daughter.
We are a team of specialists, so we can solve any legal problem quickly and easily.
Didn't find an answer to your question?
The cost and conditions of obtaining a Permanent Residence Permit here.
The cost and conditions of obtaining a Residence Permit here.
We are ready to help you!
Contact us by mail [email protected] or by filling out the form: