Legal risk management in healthcare
Cost of services:
from 16 000 UAH
1-2 specialties
from 16 000 UAH
Alteration
from 24 000 UAH
More than 3 specialties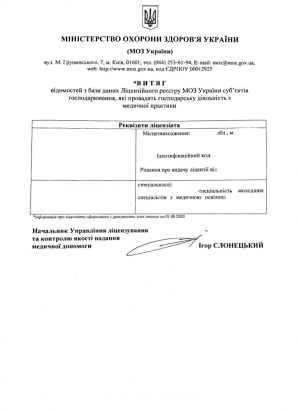 Reviews of our Clients
Director I. Garkusha, "Medyk" LLC
During provision of the services legal experts of the firm proved to be a professional team
Director L. Susenko, Medychni diagnostychi systemy LLC
We would like to express our appreciation to law firm "Pravova Dopomoga" for the provided services related to licensing of medical practice
I. Pruzhnyak , Sole trader I. Pruzhnyak
Despite complexity of licensing procedures, your lawyers got a positive decision about issuance of license for medical practice after the very first submission of documents...
Director S. Sokolova, LLC "Company"Nika-S"
Quick work of your lawyers allowed us to continue our medical practice without unnecessary breaks related to obtainment of the new license. Due to this we managed to avoid financial losses and continued providing high quality dental care services to our clients
Director A. Stelmakh, Private enterprise "ESTO"
We got consultations about organization of the medical center's work, formalization of labor relations with employees, legal regulations on use of different medical equipment...
N. Gorova, Sole trader N. Gorova
I want to recommend this firm to everyone, who wants to start his or her own medical practice...
S. Lyubynetskyi , Sole trader S. Lyubynetskyi
Without any recommendations I chose law firm "Pravova dopomoga" among all other companies on the market and not once did I regret my choice...
Director Mykhailo Bogdanovych Havrylyshyn, Kalush City Center of Primary Health Care
…we can confidently recommend the lawyers of Law firm «Pravova dopomoga» as reliable legal partners on the matters of medical practice licensing and other procedures related to the Ministry of Health of Ukraine.
Chief physician Romanyuk E.V., Municipal non-profit enterprise "Central district hospital of Busk"
... Having used the services of the Law Firm "Pravova dopomoga", we managed to solve our problems, as well as found a qualified and reliable partner.
As healthcare specialists, our lawyers regularly receive requests from clients for advice on various issues or legal process support services.
In this article we will discuss legal risk management.
Our following publication will be devoted to another popular questions regarding business scaling.
Issues of concern and possible solutions
Regardless of the scale and consistency of the medical business, every business owner is interested in minimizing their liability. This issue is of particularly importance given the fact that people's lives and health are at stake here, so sanctions can be severe.
Related article: Why can a lawsuit be filed in court for advertising a private medical practice? How to promote your own company without breaking a law?
Our experience leads us to conclude that the key problems usually arise when interacting with:
1) Clients
Client conflicts are the most common form of legal risks in the medical business, which can result in financial and reputational losses. And doctors, as well as hospital management team can, in some situations, be even criminally prosecuted.
Problems of this kind are usually caused by:
Medical error;
Poor quality of health services.
To minimize the negative effects of such situations, it is necessary to:
Conclude a Medical Service Agreement;
Related article: Conclusion of the agreement by a family physician: Lawyers detailed analysis.
Obtain all necessary patient's consents;
Act in accordance with the protocols of medical care approved for a particular condition or disease.
2) Competitors
Competitor conflicts are a common situation that can be caused by a number of infringements:
Copying the trademark, name, advertising materials, etc.;
Comparative advertising, defamation, malicious dissemination of false information;
Acquisition, use, disclosure or inducement of trade secrets disclosure.
These problems can be avoided by following fair business practices and:
Properly checking and registering trademarks, conducting a comprehensive audit of advertising materials, and obtaining appropriate guarantees from advertising producers;
Checking databases or other information received from competitors to ensure that it is not a trade secret, and that the person providing you with the information is not restricted from using it.
We have seen many cases of health facilities using information on the lack of proper license, facilities and equipment or staff competence to hinder their competitors' business.
In most cases, these actions cannot be qualified as illegal (provided they are true), and therefore the only way to avoid adverse consequences is to duly bring all license documentation in line with the law.
Related article: Our experience in healthcare facility licensing under the new License Regulations in 2017-2018.
3) Regulators
Involvement of regulatory authorities may be requested by clients or competitors or for the purpose of scheduled or unscheduled inspections.
The most common inspection is carried out by the Health Ministry of Ukraine. It usually has a complex character: inspectors check the documents and information submitted during the licencing procedure, as well as all amendments.
Related article: Individual doctor's license
To successfully pass the inspection, ensure that:
the information presented coincides with actual information;
all reports and statistical data forms, registers and so on are properly drafted and kept.
Inspections can also be carried out by:
State Service of Ukraine on Food Safety and Consumer Protection;
State Service of Ukraine on Medicines and Drugs Control;
Antimonopoly Committee of Ukraine;
Other authorities.
The risk minimization plan based on the inspection results will vary depending on the authority to carry out the inspection.
Service: License inspection: Legal support of successful completion.
Conclusion
The healthcare sector is quite regulated that, on the one hand, has favorable implications and, on the other hand, gives rise to various potential risks.
The primary sources of legal risks are conflicts with patients and competitors, as well as inspections carried out by regulatory authorities. The list of problematic situations is not meant to be exhaustive, and the degree of risk should be assessed on a case-by-case basis.
In order to offset risks, it is necessary to:
Properly document relationships with patients and obtain all necessary consents;
Ensure compliance with medical protocols of treatment, develop inner policies and procedures;
Develop and ensure that all health records are maintained in accordance with the competencies and level of healthcare delivery;
Duly notify the licensing authority of all changes in the license;
Follow fair business practices when interacting with competitors.
Related article: What steps are to be taken to start private medical practice?
In the following article, we will discuss scaling and financing options for health business. The topic will be of particular interest to those who want to develop a network of healthcare institutions, including opening a franchise, as well as to attract third party investment.
We are ready to help you!
Contact us by mail [email protected] or by filling out the form: