Helped to replace founder of a charitable organization in Ukraine
Cost of services:
6000 UAH
Change of the head of charitable foundation
from 9000 UAH
Standard changes in the charter of organization
from 16000 UAH
Developing of specific charter of CO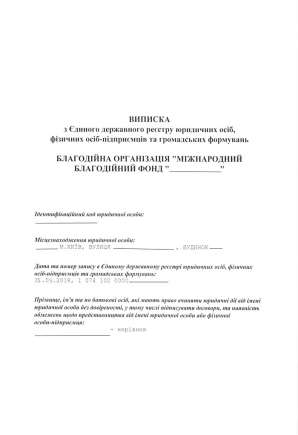 Reviews of our Clients
Palyonko O., Сaritable organization "International charitable fund"My native village"
I was convinced that the principle "We treat every client as a single one" indeed applies to this firm and is not just a loud motto...
In October 2016, our company was contacted by a Client who intended to change the data on the founder of the charity foundation. The request was associated with the need for a foreigner to act on behalf of the charity foundation for the purpose of raising funds. Given the non-resident's social networks and the amount of funds to be raised, the most reasonable solution was to make him a founder of the charitable foundation.
To become a founding member of a charitable foundation, a foreign citizen has to sign a number of documents, none of which is required to be certified by a notary. In general, the personal presence of a foreign person in Ukraine is not required. It is enough to sign documents and send them to Ukraine by any courier delivery service.
In practice, however, one may face some difficulties. If the delivery of documents takes a long time, the foreigner's personal presence in the country or a notarized power of attorney from him/her become a must. The thing is that the documents for registration shall be submitted no later than in three days following the signing date.
Thus, in the case of our Client, it was decided to make a notarized power of attorney, to apostille it in the country of issue and to send it to Ukraine, where our lawyers made a notarized translation of the document. No wonder that this procedure took long time.
Having received the documents from the foreign founder, our company's lawyers drafted a new edition of the charitable foundation's Charter, minutes of the general meeting, ensured notarization of the documents on the withdrawal of the charity's former founder, as well as took other necessary actions for the registration procedure.
The information on the new founder of the charitable foundation was entered in the Unified State Register of Legal Entities of Ukraine within the time allowed by law
Work with professionals will guarantee you not only the desired results, but also save you time and money, which may significantly increase if the documents certified by a notary require amendments due to any errors.
We are ready to help you!
Contact us by mail [email protected] or by filling out the form: